FOXBOROUGH, Mass. – Robert Kraft joined several members of the Patriots Women's Association, including two of his daughter-in-laws, in a special visit to The Women's Lunch Place in Boston on Thursday. Patti and Wendy Kraft, Raina Patricia, Linda Holliday, Rosanne Gregory, Lindsay Force, Alyssa Cannon, Julie Quinn, Nicole Perlstein and two Patriots Cheerleaders all participated in the event.
It was an opportunity for Kraft and the Women's Association members to "Celebrate Volunteerism" by preparing and serving lunch, distributing gift bags filled with toiletries and winter socks. Attendees spent time with the Women's Lunch patrons, many of whom are experiencing homelessness. The mood during the visit was uplifting, and the excitement in the room was evident. Several patrons donned pink Patriots hats won in a game of bingo and chatted amicably amongst each other.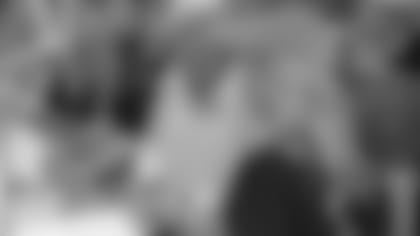 The fun-filled atmosphere was captured perfectly when one woman struck the pose of a running back throwing a stiff-arm to block a defender. While the pose was in jest, it symbolized the resilience of the women patrons and their will to overcome the challenges that face them. The moment added to a special feeling surrounding the event.
The visit was particularly special for Robert Kraft, because it was one that Myra Kraft made often.
"I feel great coming here because my sweetheart, Myra, this was her favorite place to come of all the volunteer work she did," said Kraft. "This Women's Lunch Place was a place that she felt so many people did so much good and really made a difference in women's lives. So, I try every year to come, especially now because I feel her presence."
Just as the players are adorned with the iconic red, blue and silver colors on their game jerseys, the volunteers all wore matching white aprons as they happily bustled around the kitchen preparing lunch. It was all meant to benefit the Women's Lunch patrons, but the ability to give back and the interaction between everyone present was a gift in itself.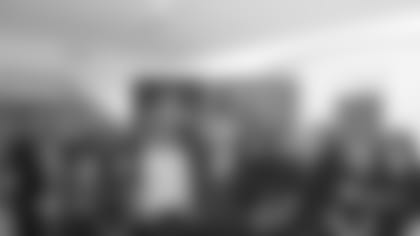 "We're just really thankful for the opportunity to be here," said Raina Patricia, wife of Patriots defensive coordinator Matt Patricia. "It's so rewarding for us to be able to give back to the community and help these women. What they do in this organization is just phenomenal and we're just happy to come back year after year and give back to the community."
It was a day full of appreciation, for both the volunteers and the patrons. But, it is more than the sole act of volunteering that makes it gratifying. The reward begins with seeing a smile on the face of a woman whose struggles have become a burden, and it ends with the embrace that says more than words could communicate.
Tuesday's visit to the Women's Lunch Place was part of the Patriots Charitable Foundation's ongoing Celebrate Volunteerism initiative, which recognizes deserving volunteers and encourages Patriots fans to give back in their communities. For more information about Celebrate Volunteerism and for a complete list of future initiatives, go to www.patriots.com/community.