When Sadie Snyder's friends, family and neighbors at Wingate Residences at Boylston Place in Brookline came out to celebrate her 107th birthday on Friday afternoon, someone special snuck on the guest list: Robert Kraft.
Sadie was 50 years old when the Patriots played their first game, and she has been a fan ever since. Her birthday wish was to meet Mr. Kraft, one he happily fulfilled. Like any birthday guest, Mr. Kraft came bearing gifts, including a custom made jersey with the number "107" on the back. 
With a tablet in hand, Mr. Kraft had a video queued up of the entire team, in unison, wishing Sadie a happy birthday.
"The whole team got together today. I told them where I was coming so Belichick and Gronk and Brady, the whole team, wanted to say something," he said.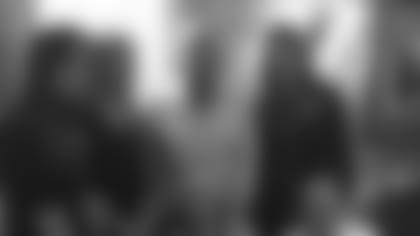 Sadie was born on Nov. 12, 1909 in East Boston, and though Mr. Kraft pressed for her secret to a long, healthy and happy life, she wasn't giving it away. She smiled and took it all in while wearing a sash and crown.
"It was just great," Sadie said. "I enjoyed the visit very, very much."
Sadie's family friend Ellie Taub was in town from Florida for the birthday party, and she said seeing her friend so happy made the day that much sweeter.
"I don't get to see her on a regular basis like I used to, so to see the love that surrounds her and the joy, it doesn't get much better than that," Ellie said.
RELATED LINKS