For any NFL prospect, being drafted is a surreal moment, the culmination of years of hard work and both the arrival of a dream but also the start of a new more challenging journey. For Sam Roberts, a lesser-known Division Two prospect, it was even more special, not only receiving that special call but getting it from the New England Patriots of all teams.
The moment was captured on Roberts' social media, as the celebration erupted around him in a blur of joy and Pats jerseys.
"It was so ironic because he grew up a Patriots fan," said Roberts' college head coach at Northwest Missouri State, Rich Wright, adding that Roberts would often attend Sunday film sessions wearing a Patriots jersey. "After it was all done, I called him and I said, 'Who called you?' And he said, 'Coach… Coach [Belichick] called me.' And I go, 'How was that?' And he goes, 'I don't remember 'cuz I couldn't breathe.' He just said it was the most unbelievable thing I've ever experienced and that's just great. It's what it's all about."
Roberts' journey to the NFL from Division 2 isn't unlike the many others who have gone before him. Fell through the cracks in high school, dominated at the lower level while dealing with complications of a season disrupted and disbanded due to COVID-19 but making the most of his opportunities.
After playing both on the offensive and defensive lines during high school football in Waynesville, Missouri, Roberts made the permanent move to defense when he arrived at Northwest Missouri.
"We have all 32 teams come here every year, just because of the success of our program, and they'd roll into the complex and be like, 'Who the hell is that?'" said Wright of Roberts' impressive physique. "He's imposing. I mean, he is all of 6-foot-5, he's 295 pounds. He'll shake your hand from across the room.
"He's got a lot of natural snap. I've been blessed, I've had five defensive linemen play in the NFL. I've been to two Super Bowls of former defensive lineman and quite frankly, he's got more upside than anybody I've ever had here."
Roberts blocked a field goal and picked up a sack, an interception and two passes defensed in his first college season, even earning Honorable Mention All-MIAA as a freshman. He'd build on that in his second and third seasons, logging 23 tackles-for-loss and 11 sacks before finding his senior season cancelled due to COVID-19.
"He finished his degree and had kind of contemplated going free agent [to the NFL] and was coming off of an abdominal injury, which he played through and really showed flashes of what he could do but didn't really show what he could do," said Wright. "I can remember walking with him out on the field and I just said, 'Sam, you need to come back for one more.' I said, if you put the type of tape I know you can put out there, you're gonna go from being a free agent to a draftee, so I guess I was prophetic from that standpoint."
Roberts did return in 2021 and had his best season yet serving as team captain and recording 6.5 sacks and 18.0 tackles-for-loss as he took his dominance to a new level, even winning the Cliff Harris Award as the top non-Division 1 defensive player in the country, while also being named First Team All-American and First Team All-MIAA.
"He's just one of those kids that's always done everything right. I was extremely proud of him. I had to explain to him who Cliff Harris was, you know, so I I'm old enough to remember him," said Wright, "I think for him, it kind of validated that he had arrived."
After wrapping up his final season, Roberts made his way to play in the Hula Bowl, earning a chance to go up against some NFL-bound competition.
"He is grown man strong and, and when he was at the Hula Bowl… Sam showed up and all these D1 guys are like whatever, and he threw them around like rag dolls," said Wright. "We had a tackle that was down there and he just said the tackle came back and he goes, 'How the hell you block this kid?' He goes, 'Welcome to my world every day.'"
Now Roberts enters a level playing field in the NFL where, if he produces, there will be no more questions about level of competition. His former coach thinks he has all the tools to be successful.
"I think he's got is his best football still in front of him. He's just starting to really figure out the position and with the type of coaching [in New England], I think he's gonna flourish. He's got a tremendous work ethic, very intrinsically motivated. He's gonna show up with complex every day and get after it," said Wright, adding that acquiring NFL technique will be Roberts' biggest challenge. "The thing that I think he needs to refine is just hand placement at times, having a good fit. He is so strong and has so much snap. I think that at times he can get away with that at this level and [in the NFL], that's not gonna be the case.
"We're not playing checkers anymore, we're playing chess. So, you've got some people at that level that are going to have his length and have strength and so that technique development's going to be what's important."
Roberts will arrive in Foxborough later this spring, as the page will quickly turn from the draft to OTAs and jumping into the deep end of professional football without much chance to catch his breath. But the potential is there and for a defense that already found one disruptive lineman in draft last season, Roberts could give them their second hit along the defensive line in as many drafts.
"He's got a chance to be special," said Wright. "Sixth-round draft choice, you say what you want. I've been doing this for 29 years and like I said, I've had guys that have played at that level. If he can figure it out, he's got a chance to have a good career."
Patriots Draft Pick Profile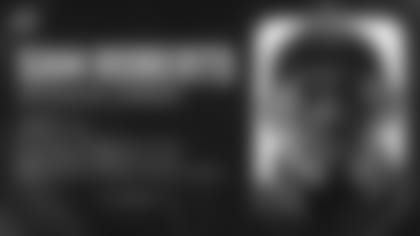 Strengths: Excellent NFL build with broad shoulders and good length… Absolute man amongst boys in division two, often tossing multiple offensive lineman aside on his way to the ball… Quick and powerful first step off the ball helps him gain an instant advantage over blockers… Blocked three field goals and two PATs during his career… Strong hands to stack and shed lower level offensive linemen with ease... Plays with controlled violence that jumps off the film… named captain as senior, praised for leadership by coaches.
Weaknesses: Small school pedigree requires significant projection to the NFL level… Will need to develop NFL technique to deal with professional offensive linemen on every down… Development of two-gapping ability will be a key factor in winning a roster spot as a rotational defensive lineman.
Personal: 2021 Cliff Harris Award winner given to the best non-Division 1 defender… All-State and All-Conference as both a junior and senior at Waynesville High School in Missouri… First Team All-American as senior at NW Missouri St. as well as First Team All-MIAA… MIAA Defensive Player of the Year.
Comparable NFL player: Christian Barmore – Roberts' aggressive play mentality and burst off the snap often bring back memories of what the Patriots 2021 second-round pick flashed at Alabama and in his first season in New England. Roberts' brute strength flashes against lower competition and if it can translate to the pros, the Patriots will have found a second disruptive defensive lineman in two years and perhaps an ideal complement to Barmore.
Table inside Article

| YEAR | GP | UA | A | TOTAL | TFL | YDS | SACKS | YDS | PD | FF | FR | INT | YDS |
| --- | --- | --- | --- | --- | --- | --- | --- | --- | --- | --- | --- | --- | --- |
| 2017 | 12 | 10 | 14 | 24 | 6.0 | 14.0 | 1.0 | 3.0 | 2 | 0 | 0 | 1 | 0 |
| 2018 | 13 | 25 | 25 | 50 | 13.0 | 67.0 | 6.0 | 50.0 | 0 | 1 | 0 | 0 | 0 |
| 2019 | 12 | 30 | 19 | 49 | 10.0 | 51.0 | 5.0 | 41.0 | 4 | 0 | 0 | 0 | 0 |
| 2021 | 13 | 37 | 24 | 61 | 18.0 | 81.0 | 6.5 | 54.0 | 0 | 1 | 0 | 0 | 0 |
| TOTAL | 50 | 102 | 82 | 184 | 47.0 | 213.0 | 18.5 | 148.0 | 6 | 2 | 0 | 1 | 0 |
Roberts was not invited to the Combine. Below are his Pro Day Results.
Table inside Article

| PLAYER NUMBERS | 2022 COMBINE AVERAGE |
| --- | --- |
| Height: 6-5 | 6-4 |
| Weight: 295 | 282 |
| 40 yards: 5.10 | 4.86 |
| Bench (225): 25 | 22 |
| Vertical jump: 30.0 | 32.1 |
| Long jump: N/A | 9'6" |
| Shuttle: N/A | 4.47 |
| 3-Cone: 7.82 | 7.37 |
Dane Brugler/The Athletic: Roberts has a hulking build with massive shoulders and a pass rush predicated on power with his heavy hands, forceful rip moves and bully tactics. He has a strong upper half in the run game but needs to refine his technique to leverage gaps. He blocked five kicks in college (three FGs, two PATs). Overall, Roberts' core stiffness will be easier to spot vs. NFL blockers, but he fires out of his stance with urgent power to fit in a rotation as a penetrating three-technique.