Free agency isn't set to open until March 10, but several teams have already begun their spring cleaning even with Foxborough blanketed under three feet of snow. A variety of interesting players recently hit the market as teams are attempting to clear some cap space and ride themselves of disappointing players.
From running backs (Reggie Bush, DeAngelo Williams, Peyton Hillis) to receivers (Brian Hartline, Harry Douglas, Jacoby Jones) to defensive players (A.J. Hawk, Will Blackmon, Kendall Langford), plenty of talent has recently become available.
The fact that these players were released makes them available immediately so teams don't have to wait to the start of free agency to sign them.
So with the unexpected infusion of players now on the market, PFW wondered which one might make the most sense for the Patriots. Running backs Shane Vereen and Stevan Ridley are set to become free agents so that position should draw interest. Vince Wilfork is due a $4 million bonus at the start of the new league year so perhaps a defensive lineman would make sense. Jerod Mayo and Dont'a Hightower are dealing with serious injuries and adding some linebacker depth wouldn't be a terrible idea.
Clearly there are a lot of options but this week's Samsonite Make Your Case asks: Which street free agent should the Patriots be interested in? Bush is, in many ways, a rich man's Shane Vereen. He's a dynamic runner and receiver, even if he never lived up to the No. 2 pick in the draft. He probably has more upside than Vereen both carrying and catching the ball, even at this point in his career.
Health is a consideration for both players. Vereen just played in 16 games for the first time after three injury-limited years. He's played in 14 or more games in 25 percent of his seasons (one of four). Bush has reached that mark in 56-percent of his seasons (five of nine). Bush notched 1,000-yard seasons as a runner in both Miami and Detroit. He's had 40 or more catches in seven of his nine campaigns. His age – he'll turn 30 this spring – and some off-field rumors are a consideration.
But if it's just about potential production, proven skills and health, Bush is every bit as good an option as Vereen if not better. In what is always a competitive, frugal and limited running back market, Bush seems like an intriguing option who may actually be a more financially feasible fit in New England than almost any other player.
If Vereen gets the money he's hoping for in free agency, the Patriots can't go into next season with just James White as the main option for the key role of third-down/passing back. That's where Bush would fit in quite nicely as a more than competitive veteran option. Vote Bush in 2015!
--AH PFW's Paul Perillo says ...
A.J. Hawk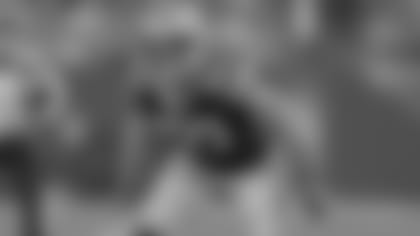 It wouldn't be a flashy move but since when are the Patriots the flashiest team when it comes to free agency?
Hawk is a veteran linebacker capable of contributing on all three downs. He's not the dynamic presence he was supposed to be as the fifth overall pick back in 2006, but he's turned in a solid career nonetheless. Given the uncertainty of Jerod Mayo and Dont'a Hightower's health, he could serve as a quality insurance policy.
First, Hawk has never missed a game and started 136 of his 142 games during his time with the Packers. He's been a steady performer with nine career picks, 19 sacks and an average of 70 tackles per year. He also has the flexibility to play different spots, which is something the Patriots obviously like.
Hawk wouldn't cost much money and could replace Mayo if the team opted to move away from the veteran's contract. Even if Hawk is simply brought in to provide depth, he would be a worthy addition to a talented but very thin linebacker corps.
--PP
Now it's your turn to cast a vote in this week's Samsonite Make Your Case poll.
http://polldaddy.com/poll/8688107/