The Patriots have had a few weeks to lick their wounds following their disappointing loss in Denver in the AFC title game, but the reality is the team appears poised to be strong once again in 2016. New England has few significant pending free agents and has a lot of roster flexibility at its disposal in order to create extra cap space.
With the new league year not set to kick off until March 9, the brass has been busy self-scouting its personnel while diving into the draft prospects and potential free agents who will be available at that time.
This week's Samsonite Make Your Case question of the week looks at the prospective moves the Patriots can make and asks: Which position is the Patriots greatest need heading into the offseason?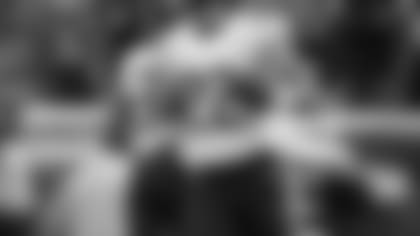 The Patriots had virtually no running game in 2015 and that shortcoming was a clear issue in the season-ending, "crash landing" in the AFC title game in Denver. New England has done little to invest in the backfield in recent years, allowing productive players to simply walk away in free agency. They've continued to try to piece together a bargain-basement committee-backfield that is built more to beat people with scheme and situational runs than actually line up and move the ball. It's time for the Patriots to find a guy who can - with the help of the line - run the ball between the tackles when the other team knows you might run.
Tom Brady can't do it all and isn't getting younger. On a roster that has relatively few holes, New England needs to find a running back who can threaten a defense and find holes on early downs, even against a good defense. Balance out the offense and Brady and the passing attack will only be that much better, as will the team as a whole.
For the Patriots run of success to continue the team may need to find a guy either through free agency or the draft who can run with more success than has been the case of late. New England needs to be able to run better and a bit more if the team is to be in the running for a trip to Super Bowl LI.
--AH PFW's Paul Perillo says ...
With all of the injuries the Patriots suffered in 2015 it was remarkable that Malcolm Butler and Logan Ryan remained healthy all year. Butler turned in a solid season and emerged as the team's No. 1 corner while Ryan, although inconsistent, was serviceable as the No. 2 cover guy.
Beyond that, the Patriots had a lot of question marks. First, I'd like to move Ryan to the No. 3 spot and upgrade his position. I'd also like to add some additional depth so if something were to happen to Butler it wouldn't leave the likes of Leonard Johnson or Justin Coleman playing full time against opponents' top receivers.
Cornerback depth is hard to find, as Bill Belichick found out last year when he attempted to add three veterans and none made an impact on the season. He needs to try again - perhaps a veteran like Pittsburgh's Brandon Boykin via free agency - and hopefully the luck will improve.
It's hard to imagine the Patriots making it through an entire season with basically two corners again. Time to add some depth.
--PP
Now it's your turn to cast a vote in this week's Samsonite Make Your Case poll question.
[wysifield-embeddedpoll|eid="419666"|type="embeddedpoll"|view_mode="full"]