The Patriots held three more training camp practices, including two consecutive days in full pads, that could be the final open sessions in Foxborough this summer.
For offensive coordinator Bill O'Brien's group, the passing game has been on an upward trajectory over the last two weeks, with improved timing and cleanliness leading to quarterback Mac Jones finding more open receivers downfield each practice. However, as optimistic as these practices are for the quarterbacks and pass-catchers, they've also presented concerns with the Patriots makeshift offensive line dealing with multiple injuries.
New England is practicing primarily without projected starters Trent Brown, Cole Strange, Mike Onwenu, and free-agent addition Calvin Anderson (NFI). Brown has done more in the last two days, including some 11-on-11 work on Tuesday. But Onwenu (ankle) remains on the physically unable to perform list, while Strange hasn't practiced since sustaining what appeared to be a leg injury in the first padded practice, and Anderson has yet to practice this summer.
The Pats have shuffled through different combinations during practice sessions but have mostly leaned on, from left to right: Riley Reiff, Kody Russey, David Andrews, Atonio Mafi, and Conor McDermott. With backups or participants competing for a potential starting role at right tackle, the results have been mixed, leading to legitimate concerns about the offensive line overall.
On the one hand, New England's options at right tackle, and Brown's health, are unknowns that could stunt the positive momentum of the offense. But it's challenging to gauge how big of a deficiency the offense line will be until the Patriots have their full contingent of projected starters.
In particular, the Patriots interior trio that should feature Strange (left guard), Andrews (center), and Onweu (right guard) is a solid group on paper. With the interior responsible for the depth the quarterback has to operate in the pocket, having a sturdy "shelf" would allow Mac to make life easier on his offensive tackles by taking shorter drops or stepping up in the pocket. Along with accounting for potential mismatches on the edges with a quick release, the Pats can make it work offensively, even if there's a weaker link at one of the tackle spots.
Although it's a more drastic switch, there's also a potential re-configuration that could upgrade two spots, making Thursday night's preseason opener an intriguing showcase for rookies Atonio Mafi and Jake Andrews, and second-year C/G Kody Russey and Chasen Hines. Mafi is staying afloat as a rookie in his first NFL training camp, which is something, while Hines is improving with each padded practice.
Theoretically, if any of those three can put together good film in the preseason at guard, it could allow the Patriots to move Onwenu back to right tackle since the team's guard options might be better than their offensive tackle depth. New England's brass has been pretty locked in on Onwenu playing guard, but we saw the third-year standout fare well at right tackle as a rookie.
Ultimately, the cleanest projection is for McDermott, Reiff, or possibly Anderson upon his return to win the starting right tackle job outright. However, it's about finding the best five-man unit, which could lead the Patriots down several different paths in the trenches.
If healthy, I'm not hitting the panic button yet for the offensive line. We had reservations about right tackle and Brown's buy-in before camp even started. It remains our biggest concern, even more so than the quarterback and receiver talent. But, as long as that interior trio is healthy, O'Brien and offensive line coach Adrian Klemm will make it work.
Here are seven more takeaways from week three of Patriots training camp as the team heads into their preseason opener against the Texans on Thursday night: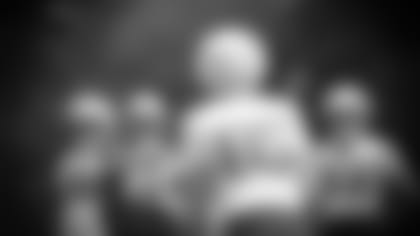 1. Temperature Check at Quarterback: Mac Jones Remains Ahead of Bailey Zappe
Whether you subscribe to a quarterback competition in Foxborough or not, the bottom line is that Jones has outplayed Zappe this summer, making this "competition" less about drama and more about performance. Zappe, who most expect to start on Thursday night with Jones sitting out, has had his moments on downfield throws. He made some of the best passes of camp in the first two weeks to Tre Nixon (slot fade), Tyquan Thornton (fade), and others. But his throw-to-throw ball placement has been inconsistent compared to Jones. Zappe has developed a habit of throwing more side-arm passes than before, maybe to throw around his offensive line since he stands at a shade over six feet tall. The mechanics and arm angles have led to more errant passes, especially at the first two levels, than usual for Zappe. The downfield playmaking between these two is probably about the same, but Jones's problem-solving pre-snap and accuracy have simply been better than Zappe's in practice. It'll be interesting to see how Zappe will look against the Texans.
2. Patriots WR Tyquan Thornton Playing Catch Up Three Weeks Into Camp
After missing time in the spring and now in training camp, it's been notable that second-year wide receiver Tyquan Thornton hasn't seen as much time with Jones since returning in last Friday night's in-stadium practice. Although he's repping more with receivers fighting for a roster spot rather than locks, Thornton has been very involved, and his speed has been a factor against the defensive backs he's facing. The former second-rounders explosiveness was evident when he zoomed past rookie Isaiah Bolden on a stutter-and-go move during 7s, and he had safety Josh Bledsoe beat on a post-corner route where the ball was a bit underthrown by Zappe.
However, Thornton's ability to win at the catch point remains an issue. Although he has a slender frame, at nearly 6-3, Thornton has some height to high-point the ball. Instead, Bledsoe and Myles Bryant had notable pass breakups where Thornton had a step but couldn't win at the catch point. Between his struggles to finish at the catch point and create first-level separation to complete his route tree, Thornton has been up and down. It's far too early to give up on a second-round pick heading into year two, especially since Thornton is the only true field-stretcher in the wide receiver room, but he has to start finishing plays down the field to earn more playing time. The other more experienced receivers are better at the details and at the catch point than Thornton.
3. First-Look at Rookie WRs Demario Douglas and Kayshon Boutte in Preseason Opener
On a related note, rookie wideouts Demario Douglas and Kayshon Boutte made good initial impressions in the first 12 camp practices. Although receivers coach Troy Brown slowed down the Douglas hype train in his media availability last week, Douglas's separation quickness, burst off the line, and crispiness through his route breaks are standout traits on the practice field. Douglas leads all receivers with 23 catches in team drills as a natural for the underneath quick-hitters out of the slot and is an absolute nightmare to cover in one-on-ones.
As for Boutte, once the arrow started pointing upward for the LSU product, he makes one standout catch per practice that catches the eye. On Monday, that was an incredible, full-extension one-handed catch in the corner of the end zone on a high throw by Malik Cunningham. Boutte's body control and hands make him an intriguing player. However, his skill set is a bit redundant to veterans JuJu Smith-Schuster and Kendrick Bourne, whereas Douglas's quick-twitch movements bring something different to the table. For Douglas, it's great to see him lose defenders in one-on-ones and light up 7-on-7. But that isn't real football. Douglas must show he can do it in games to totally buy into him contributing this season.
4. TE Mike Gesicki Starting to Catch On as Chemistry With Mac Jones Improves
After a sluggish start to training camp, a surprise because he was a spring standout, newcomer Mike Gesicki is starting to come on strong. Gesicki made two of the best catches we've seen in camp this summer over the last few days. First, a one-handed sideline grab on a wheel route with Jabrill Peppers draped all over him. Then, a ridiculous one-handed, toe-tapping grab in red zone work that was arguably the catch of camp so far.
Although the one-handed grabs are fun, Gesicki was on the receiving end of a well-timed crossing pattern from Mac that was the real eye-catcher. Those routes should be bread-and-butter plays, especially off play-action, and Gesicki complimented Jones for the touch and accuracy on the throw in rainy conditions. Jones's trust to put the ball into Gesicki's catch radius, as we saw on the one-handed grabs, is improving, while their timing is also taking a step forward as camp continues. Gesicki will be very involved in the passing game this season.
5. RB Rhamondre Stevenson Still Projects as Big-Time Factor in Passing Game
The word on the street all summer long for the Patriots lead back is that the coaches would like to manage his workload better than last season. In a breakout 2022 season, Stevenson was on the field for over 66% of the offensive snaps, which took a toll on him as the season wore on. Ideally, the Pats would lean more on second-year running backs Pierre Strong and Kevin Harris, while the team has also kicked the tires on several available free agents at the position.
Although it's smart to cut into Stevenson's usage a bit, it's clear by his 19 grabs in team drills that Jones relies on him in the passing game. Rhamondre doesn't have James White-like quickness at the top of routes, but he can get in and out of breaks well for a bigger back, has good hands, and is a mismatch against linebackers. Mac looks for him often in team drills, whether as a check-down option to take profits or as a matchup weapon on slower-footed coverage defenders. I might be the conductor of the Pierre Strong hype train at this point, but due to the chemistry with the quarterback, you wonder if the Pats will look to reduce Stevenson's workload by giving early-down work to Harris or a free agent (hello, Zeke?).
6. Rookie CB Christian Gonzalez Continues to Impress, Jack Jones Around the Ball
Look, it's early, and I try not to overreact to practice or put unfair expectations on guys. But Gonzalez looks like a stud. He lives in the receivers' hip pockets in man coverage and is making more plays on the ball from off-coverage and zone as he learns how to convert his tight coverage into pass breakups. Gonzalez logged his first interception of camp by reading a post-wheel concept from his zone assignment perfectly and logged another pass breakup on a comebacker to Kendrick Bourne, which was a good sign of progress. If he plays, Gonzalez will be a top player to watch on Thursday night.
As for Jones, his availability remains unknown, but he's a great ballhawk who leads the defense in pass breakups during team drills with seven and continues to look like their best option at outside corner opposite Gonzalez with Jon Jones in the slot. Jack is definitely more risk-taking ballhawk than a pure cover corner, but that'll work with Gonzalez and Jon Jones being more steady man-to-man defenders. Marcus Jones will also factor in at nickel/star.
7. Pats Defense Front Eats During Full-Team Drills Once Again
The Patriots defense front ranked third in the NFL with 56 sacks a year ago, and every indication from practice is that they'll be amongst the league leaders once again. Judon hasn't skipped a beat now that he's ramping up his participation, using his crossover/rip to go right inside the Pats tackles on several occasions. Josh Uche also beat McDermott with his speed throughout the week, Christian Barmore tossed poor Kody Russey to the ground with a "hump" move in one-on-ones, Deatrich Wise tallied a sack on Monday, and don't run outside zone toward Davon Godchaux. We've also seen rookie Keion White's explosiveness flash in one-on-ones, where his inside move beat McDermott and drew a holding call all at once, per the officials on-site. Yes, they're going up against a backup offensive line. Still, the Pats defensive front should be one of the best in football yet again. All this stuff is going to translate.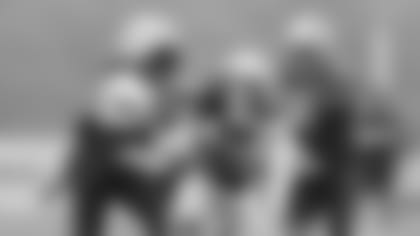 DISCLAIMER: The views and thoughts expressed in this article are those of the writer and don't necessarily reflect those of the organization. Read Full Disclaimer