Given the Patriots long-running success finding offensive linemen late in the draft or in other unconventional places, it wouldn't be a surprise to see seventh-round pick Andrew Stueber emerge and lock down an important role as a blocker with New England.
The seventh-round pick and Darien, Connecticut native has outstanding size that helped him have early success in high school, starting at right tackle as a sophomore then spending his final two seasons on the left side. In 2015, his team finished 12-0 and posted 4,873 yards of total offense, winning the school's first-ever state championship.
As a senior, Stueber would again anchor the left side in route to a second-straight state championship, while earning First Team All-State honors and also standing out as a defensive end on the other side of the ball.
Stuck on the line between Patriots and Giants fandom, Stueber recalled many of their classic games during his years growing up in Darien.
"I definitely remember having great rivalries between the Patriots and the Giants, a couple Super Bowls between them," recalled Stueber. "It was a pretty stark divide between either the Giants or the Patriots either way which side you leaned on, but definitely it was great growing up. I remember watching Patriots games growing up. They were always such a dominant team, and they played football with just such passion. It was such a great team to watch growing up."
The successful high school career helped Stueber line up FBS and Ivy League scholarship offers, but a trip to a Michigan satellite camp led to interest from the Wolverines that would ultimately culminate with Stueber landing with what was his favorite college team as a kid.
He'd make just one appearance as a freshman at Ann Arbor, then start the final two games of his sophomore season before tearing his ACL in spring practices, forcing him to miss the 2019 season. Returning from the injury, Stueber went on to start all 20 games of his final two seasons, including 14 as a senior at right tackle, being named Second Team All-American and Third Team All-Big Ten.
He was also a key part of the Michigan offensive line taking home the Joe Moore Award, given to the best offensive line in college football.
"That was a huge honor, that was something that Coach Sherrone Moore, starting day one in camp put up on the board where our goals would be. Our first goal was the Joe Moore Award," Stueber told former NFL offensive lineman and current Fox Sports analyst Geoff Schwartz. "That was a goal of mine all season, we just took it day by day."
A big, brutish offensive lineman, Stueber's size is certainly not in question at the next level, but whether he has enough athleticism to stay at tackle in the pros remains to be seen. Many scouts project he'll slide inside to guard, where he showed well during the week of practices at the Senior Bowl.
Though he started most of his games at tackle, he got experience playing at four of the five offensive line positions.
"I think versatility is the name of the game at the next level," said Stueber following the draft. "If you're able to play tackle or guard or even all three, your stock and kind of how much the team values you definitely goes up just in terms of your versatility. So, going to Michigan and being able to play almost every position except center, it really helped me. I've had exposure to a lot of these different positions and so, when I get there it's really whatever spot the coach and the team wants to put me in that they think is the best position to make the team win."
The Patriots made Stueber their final pick of the 2022 NFL Draft, making him just the latest Michigan man to matriculate from Ann Arbor to Foxborough. Specifically, Stueber will be reunited with former teammate Michael Onwenu, who will bring a degree of familiarity and help aid in the transition.
"It's exciting to kind of go there and know that I have former teammates and friends there who can help me kind of guide along," said Stueber. "I'll be able to ask them questions and kind of bounce off ideas and see how he does his business because obviously Mike has had such a great career so far and you know, he's nothing but going upwards. And so, I think that's a great person to kind of get behind and just see how he does his work, what his routines like and I'm just really looking forward to it."
Though his size might be what stands out most, his football intelligence, off-field leadership and snarly play are also big plusses for Stueber as he attempts to make the jump in level. Heading to a place close to his hometown with a collection of former teammates should position him well for success.
"I think the best situation for me came with the Patriots obviously selecting me," said Stueber. "I think it was a dream come true. I couldn't be more thankful for them for giving me this opportunity."
Patriots Draft Pick Profile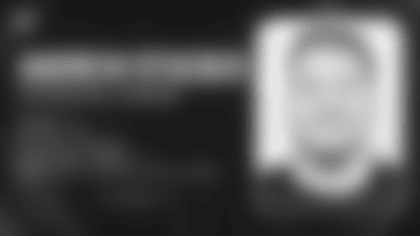 Strengths: Had ideal size and length…Understands blocking angles and big-picture concepts…Praised by coaches for football smarts and leadership…Powerful punch to jolt defenders backwards… At his best in pass protection where his length and strength shine…Played both tackle and guard spots in college and snapped at center during the Senior Bowl.
Weaknesses: Isn't a fluid athlete in space…Torn ACL during 2019…Four false starts in 2021…Can struggle in space on the second level…Shortcomings in the run game could be more glaring with a position move inside.
Personal: Two-time state champion at Darien (CT) High School…Also lettered in baseketball…No. 35 ranked tackle in 2017 recruiting class, No. 3 prospect from Connecticut…Two-time All-State selection at left tackle…. Selected as one of the top-20 players in the state for 2016 by the Connecticut High School Coaches Association as a senior…Named to the New Haven Register All-State team and listed on the USA Today All-USA Connecticut first team as a senior and second team as a junior…Named Walter Camp All-Connecticut first team as a senior and a junior.
Comparable NFL player: Adam Snyder: A big yet versatile offensive lineman, Snyder got some early action as a backup before emerging as a reliable starter at multiple positions, starting 88 of 141 career games.
Table inside Article

| YEAR | TEAM | GP | GS | POS |
| --- | --- | --- | --- | --- |
| 2017 | Michigan | 1 | 0 | |
| 2018 | Michigan | 13 | 2 | RT |
| 2019 | Michigan | | | Missed season due to injury |
| 2020 | Michigan | 6 | 6 | 4 RT, 2 RG |
| 2021 | Michigan | 14 | 14 | RT |
| TOTAL | | 34 | 22 | |
Table inside Article

| PLAYER WORKOUT NUMBERS | 2022 COMBINE AVG. FOR POS. |
| --- | --- |
| Height: 6-6.5 | 6-4 |
| Weight: 325 | 317 |
| 40 yards: N/A | 5.18 |
| Bench (225): 18 | 24 |
| Vertical jump: 24.5 | 26.5 |
| Long jump: 8'5" | 8'6" |
| Shuttle: 4.90 | 4.76 |
| Cone: 7.94 | 7.81 |
Lance Zierlein/NFL.com: Beefy right tackle prospect who succeeds with toughness and strength. Stueber is split-low with excess girth across his torso and might have teams considering him as both a guard and a tackle. He's strong in his uppers and lowers but would benefit from better bend for increased leverage. He plays with good feel for pocket depth and can neutralize power rushers but will have trouble successfully setting out to NFL edge speed. He's built for power and gap run schemes but is more of a neutralizer than finisher. Toughness, size, strength and potential as a two-position player add to his chances of playing in the league.
Dane Brugler/The Athletic: Overall, Stueber has NFL size, length and smarts, but he doesn't have the athleticism to hold up at tackle and needs to improve his balance and sustain skills to earn a living at guard. He has the potential to be a dependable backup who can step in and hold his own if asked to pinch-hit as a starting guard.