Nate Solder is known in the locker room, in Patriots Nation and across the NFL as a man dedicated to his family and giving back to the community, and for this, he received the Ed Block Courage Award, as voted by his teammates. Nate and his wife Lexi attended the ceremony on March 11. 
Each NFL team chooses one representative who exemplifies sportsmanship, strength and courage, and those in the Patriots locker room knew that Nate is all of those things. After powering through his own battle with cancer, Nate's son Hudson was diagnosed with Wilms' tumor, a rare form of pediatric kidney cancer, in 2015. In what is an unspeakably difficult time for the Solder family, Nate has persevered with positivity and strength.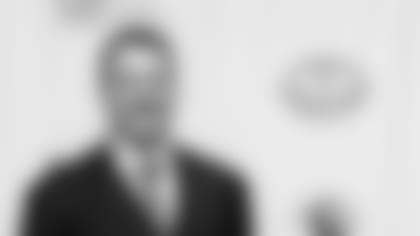 "When your son gets sick with a deadly disease like that, it really narrows your focus and a lot of the things you thought mattered, contracts, football games, championships, whatever it was, really doesn't matter," Nate said while accepting his award. "The things that are really important come into focus, and getting him healthy and all of the things we've done over the past year has been quite the journey." 
Nate wasn't the only Patriot to receive honors over the weekend. The Patriots training staff was named the 2016 Ed Block Courage Award NFL Athletic Training Staff of the Year. For the staff's work in keeping the Patriots healthy year round, they were selected by their peers across the league, and Jim Whalen, the team's head athletic trainer, said there was no greater honor.
"I think there's nothing more satisfying than to know that the people that have walked in your shoes, understand what you do and respect what you do and appreciate what you do and to be recognized by your peers is one of the greatest feelings that you can imagine," he said.
Stephon Gilmore was also selected by his former Buffalo Bills teammates as their representative. On the field, Stephon returned from major shoulder surgery at the end of the 2015 season with a strong season. Off the field, he has dedicated his time in both Buffalo and in his home state of South Carolina.  From hosting clinics to raising awareness for the Alzheimer's Association, Stephon is an example of strength, dedication and courage in the NFL. 
Though Stephon was given this honor, he was unable to attend the ceremony, as he and his wife welcomed a daughter that same weekend.
RELATED LINKS