When it comes to gymnastics, Samantha Vayo is calm, cool and collected. She's been competing for 20 years and walked away from this year's Special Olympics USA Games with multiple medals, but as Rob Gronkowski autographed her silver medal, Samantha couldn't help but show her excitement.
"I can't even say words because I feel so excited. I want to see Gronk that's my favorite," Samantha said earlier in the day through a sign language interpreter, her sister Erica.
Samantha's meeting with her favorite player was just an added bonus to an already memorable month of celebrating. Samantha and dozens of other Special Olympic medalists from the Massachusetts delegation were invited to training camp by the Patriots Foundation to honor their achievements at the Special Olympics USA Games in Seattle.
After watching practice, the athletes were greeted by Gronk, David Andrews, Rex Burkhead and Isaiah Wynn, who signed everything from rosters to gold medals.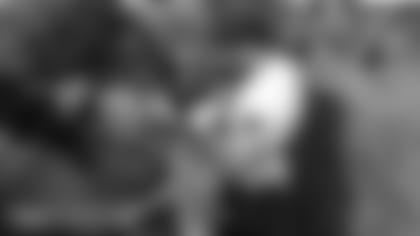 "I've never signed a medal before, so that was pretty cool," David said with a laugh. "There's a lot of guys and girls that played flag football, gymnastics and swimming. It was really awesome seeing them awesome going out there and competing. That's what sports are all about."
The athletes under the Patriots Foundation tent had enough "bling" to rival the Patriots own five Super Bowl rings. There were medals for swimming, scratch golf, flag football, gymnastics, bowling and more, and being welcomed by their hometown team capped off the celebrations, according to Kitty Zimmerman, whose daughter Rebecca competed in swimming this year.
"It's really cool. It's nice that they go away and they have this great experience, but to be recognized when you come home and that you're recognized by the Patriots, this huge team, is really nice," she said.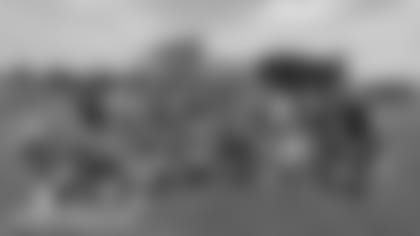 While their achievements on the field are extraordinary, Head of the Team Massachusetts Delegation Jennifer Walsh said being able to compete means so much more off the field.
"It chokes you up because there they are achieving their goals, thing they may have thought they would never get the opportunity to do," Jennifer said. "It's much more than just sports. Their self-confidence, their self-esteem, the socialization with everybody. All the opportunities they have, it's just amazing."
This is an idea that David echoed. Sometimes sports are more than just a game.
"I think there's something special about sports. It makes them feel confident. They get to go out there and have fun and forget about whatever it is," David said. "It's always great to have people out here supporting us and getting to go over and meet them."