In an interview with The MMQBlast week, Stephen said filming the CBS drama was a fun and cool experience, shooting for about 12 hours for his few lines. When the episode premiered, Stephen and his family weren't able to watch it live, but that didn't stop friends and teammates from making light hearted jabs.
"All of my friends watched it. I was getting a ton of texts from some teammates making fun of me, but that's par for the course anytime you are on TV," Stephen said.
The kicker also revealed what goes through his mind when he steps up for a big kick, talked about Jimmy Garoppolo's perpetual tan and more. Here are some of the highlights from Stephen's Q&A session.
On Jimmy Garoppolo
When it comes to the Patriots quarterback, fans want no stone left unturned, but when Kalyn Kahler asked what people don't know about Jimmy G, Stephen left more questions unanswered than answered -- like how is he always tan?  he
"It's not really a secret, but he is super tan all the time. I don't know if he goes to a tanning bed … I don't know. In all seriousness, Jimmy is a great dude. He is such a hard worker, funny dude. He seems like he has a great head on his shoulders and is very confident, which you like to see in your teammates."
The case for the kickoff
With lots of talk surrounding the future of the kickoff's place in the NFL, Stephen said he hopes it is still a part of football in 10 years.
"All I know is what people talk about, but it is a great play. If you look at the past four or five Super Bowls, there have been a couple returns for touchdowns. The big ones end up changing games, and there have been some great returns throughout the year. It's a fun battle for special teams, and it's a very exciting play where one guy can go 100 yards and score a touchdown in one play."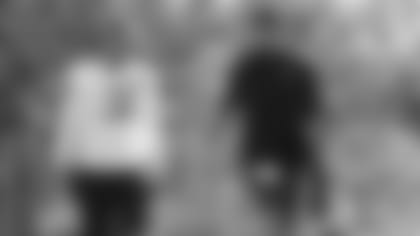 Kicking and pitching
Stephen was a starting pitcher for the University of Memphis, and while on the surface a pitcher and a kicker may not have much in common, Stephen said the feeling of stepping onto the mound and lining up for a kick are similar.
"You're out there by yourself, you either make the kick or you don't. You either are getting outs or you give up runs. When you are out there on the mound and/or on the field, the ball is in your hand. You control the outcome, and everyone is looking at you while the play is going on. If you are a reliever, you get one inning per game or if you are a starter you get one game per week. There is a lot of buildup for a little bit of work compared to the guys who play every down or play every day in baseball. As a mental thing, they are very similar. I felt the same way when I pitched and I had a bad game or a bad outing. It would wear on me for a while and I had to learn not to let that eat me up inside so I could go out there and do well the next time I played. It's the same way with kicking.
Pre-kick prep
Many players have specific ways they get ready for game action. Stephen is no different, but his preparation is a bit more musical than most.
"I just try and calm myself down and not think too much. I try to play stupid, I sing a song in my head when I go out there. I am basically just trying to be a robot. I don't let any situations or outside environment factor affect the way that I do things. I'll watch a highlight tape of my kicks and I'll play a song that I like the night before the game and then I'll sing that song in my head to visually get myself ready and have positive thoughts."
RELATED LINKS