Saint Paul, Minn. - The Patriots shocking loss to the Giants in Super Bowl XLII changed lives forever.
At Super Bowl LII Opening Night at the Xcel Energy Center, New England linebackers coach Brian Flores revealed that the painful loss in the Arizona desert a decade earlier, ending a bid for a 19-0 perfect season, was the impetus for the then-Patriots pro scout to undergo a career change.
"It hurt. It was a tough loss. It was tough for everyone," Flores said, less than a week before New England will go for its second-straight title and third in four years against the Eagles. "I don't want to live in the past but it was a point in my career, for me personally, I wanted to do more. I wanted to be more involved and have as much as I could do to help the team win or lose."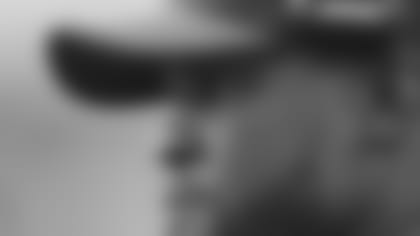 So it was then that the former Boston College linebacker – who had landed a role in the New England scouting department as the only of 32 NFL franchises to respond to letters he sent out after an injury derailed professional playing aspirations – discussed the idea with then-Patriots V.P. of Player Personnel Scott Pioli of moving over to the coaching ranks. Pioli, whom Flores considers both a mentor and a friend, was supportive, but both knew it would mean taking a step back in his career development after four seasons working up from scouting assistant.
"It turned into what it's turned into," Flores says, concluding his 10th season on Bill Belichick's coaching staff, his second as the linebackers coach. "You have to make sacrifices if you want to do what you want to do in this world. If you really want something you make the sacrifice. If you don't, you don't. It's the same thing on the field. If you really want to work, and I tell this to my guys because I've been through it, I lived it. If you want to make the sacrifice and get to where you want to get to, then you do it. If you don't, then you kind of stay in that comfort zone and maybe it works out or maybe it doesn't."
Flores' switch from scouting – in which he'd envisioned a career path that might lead to becoming an NFL general manager – to coaching, has certainly worked. Early last month Flores spent time during the playoff-opening bye week interviewing with the Arizona Cardinals for the team's open head coaching job.
Though the job eventually went to Panthers defensive coordinator Steve Wilks, New England's own up-and-coming defensive coach viewed the opportunity quite favorably. And getting the chance without ever having served as a coordinator shows that his stock is very much rising in league circles.
"It was a great experience," Flores said. "I had a great meeting with Mike Bidwell, the owner, and Steve Keim, the general manager. It was a great experience for me. Definitely a great learning experience. I learned a lot about the interview process. They are very gracious. We had a great talk, a great few hours together. I definitely learned a lot from it and hopefully it will make me a better candidate if that opportunity ever presents itself again."
There's little doubt Flores will have future career advancement opportunities. In fact, many presume that if Patriots defensive coordinator Matt Patricia leaves after the Super Bowl to take the head coaching job with the Lions, that Flores is next in line to run Belichick's defense.
"I'd say we have a lot of great coaches on our staff," Flores said Monday night, deflecting the possibility of the promotion and going on to list his fellow defensive assistants. "The first guy that comes to mind is Brendan Daly, Josh Boyer, Steve Belichick. DeMarcus Covington has come on this year. We have a lot of great coaches on the staff. All very well capable of taking that position if Matt chooses to leave. Obviously we love Matt. He's done a great job, He's done a tremendous job, I should say. But, again, right now my focus is on Philly. Whatever the future holds, I'll deal with it then."
For Flores, the future is clearly quite bright. It's one that has its roots in one of the darkest February nights in Patriots history, in the emotions of a Super Bowl loss that took away a history-altering perfect season.
For now though, Flores is focused on trying to get his linebackers ready for Nick Foles and the rest of an Eagles offense that's flying high into the Super Bowl after dominating the Vikings vaunted defense in the NFC title game. He's taking the same approach this week that he has for more than a decade in Foxborough and will continue to take moving forward, whatever role he's in.
"How I've always kind of approached everything is I take everything day to day," Flores said. "I don't think about the future very often. I'm really kind of locked in on right now. So this week obviously I'm locked in on Philadelphia. When that whole head coaching process was going on we were right in the middle of the playoffs but obviously I prepared a little bit for the Arizona gig, not a little bit a lot, obviously. There is no timeline. I come in, I work hard, I do everything I can to help the team win and wherever the chips fall they fall. We'll see how it unfolds."
A sentiment that's just as true about Sunday's Super Bowl as it is Flores' future.