There's nothing wrong with a little friendly competition. For the McCourty brothers, that contest isn't always on the football field. Every year during the offseason, the twins host a 5K run to help fundraise and bring attention to sickle cell disease, which affects millions of people across the world. This year's race takes place on Saturday June 18, in Jersey City, N.J. at Liberty State Park.
The brothers decided to use their platform as NFL standouts to spread awareness and help families affected by the disease because an aunt and uncle in their family suffer from it. Their father is also a carrier of the trait.
"My mom used to tell is if you are able to make it you should do something together," Devin told us in an interview Tuesday. "We enjoy getting and making difference."
Their idea to host a 5K started four years ago when the two spoke with a man in New Brunswick, the town where their alma mater Rutgers is located, and from watching their aunt battle the disease. Jason raised the stakes when he incorporated their competitive sides into the mix. The two decided that whoever raised the most money for the cause could decide the other's public display of defeat.
**Last year, Devin lost their bet** and he bought a video billboard that showed the both of them and their Tackle Sickle Cell campaign on it. When Jason lost their competition a few years ago, he headed to Foxborough dressed as Pat Patriot and signed some autographs.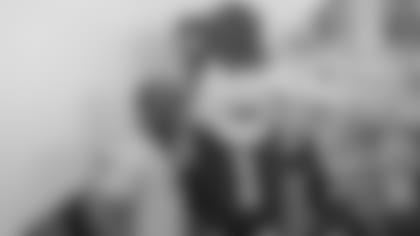 "It's a fun way to try and raise money for family with sickle cell," Devin told us. "It'll be great to get fans involved to dictate and choose what Jason will be wearing, I'm sure, because I'll be winning."
Their race to raise the most money will run until the morning of the race on Saturday with the winner picking out the other's Halloween costume. The group has already exceeded its $50,000 by hauling in just more than $65,000. Devin currently trails his brother by $25, but hopes that he can pull off a Hail Mary and beat him out at the last minute for some sweet redemption.
"He kind of cheated. Last year I was up," Devin said. "When we went to sleep, supposedly an anonymous donation came in around 2 a.m. to take the lead. It'll be interesting to see how it plays. I'm going to make sure I win this."
https://twitter.com/McCourtyTwins/status/742545272241324032
To help Devin take home the top prize this year, you can visit the Tackle Sickle Cell website and click on "**Join #TeamD-Mac.**"  We look forward to seeing what they come up with.