Since the day that the Patriots swung a trade with the Bears this spring to add former Pro Bowl talent Martellus Bennett to the New England tight end depth chart media, fans and opposing coaches alike have been pondering just how his teaming with Rob Gronkowski might play out on the field.
Gronkowski's hamstring injury to open the season and Tom Brady's four-game Deflategate suspension limited the Patriots offense to open the year.
But the projections of defensive misery were finally on full display Sunday afternoon in Cleveland. New England's tight end duo combined for 11 receptions for 176 yards and three touchdowns in the blowout of the Browns.
Bennett did the scoring damage with the first three-score game of his career – he's already notched a pair of 100-yard games this season working with Jimmy Garoppolo and Jacoby Brissett -- while Gronkowski had five catches for 109 yards in his breakout game of 2016, having caught just a single, 11-yard pass prior to Sunday.
The performance was a sample of what the pair can produce, and Brady's first taste of regular season action working with the newcomer Bennett.
"Marty played great," Brady said after the win. "He's played five great weeks of football for us. He's been so productive with everything we've asked him to do running, catching, scoring touchdowns. Him and Gronk at tight end has been a tough matchup for other teams. We just have to keep doing it, keep putting pressure on the defense. I think we did a good job with that today."
Bennett, who's played with the Cowboys, Giants and Bears prior to landing in New England, continues to enjoy life with the Patriots and working with the best tight end in the game today.
"I love playing with Gronk," Bennett said after Sunday's win. "I'm very excited for him. It's pretty dynamic with both of us out there today and he played very well. I expect him to continue to play like that. That's what Gronk is. That's what Gronk does. That's why he's the Gronkinator."
Gronkowski is also loving playing beside the best tight end sidekick he's had in his career.
"He's a great player, great dude and a great teammate to have out there," Gronkowski said of Bennett. "You learn a lot from a guy who has about nine years in the league. We've been waiting for this moment since we got together to both get out on the field both healthy. It's great working with each other, and we just have to keep improving every week and keep helping each other out."
While there were plenty of examples of the stress the duo puts on a defense at FirstEngergy Stadium, Bennett's 37-yard touchdown in the third quarter down the right sideline may have been the most interesting. He and Gronkowski lined up on right side of the line of scrimmage on the play, the latter on the line and Bennett just off his right hip. At the snap, Bennett released to the outside, while Gronkowski faked a block on Joe Schobert for a second before releasing to the inside of the linebacker.
Amazingly, both pass catchers found themselves wide open, Bennett down the sideline and Gronkowski on the numbers. Gronkowski almost seemed disappointed he didn't get the ball until he turned and realized his teammate was also in position for a big play and touchdown.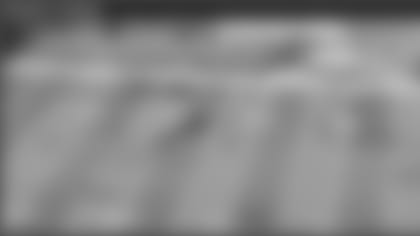 All we've heard all summer and early season was that with Bennett and Gronkowski on the field together it would be a matchup nightmare for defenses that would have to "pick their poison." On Sunday, the Browns didn't pick. They simply let both tight ends kill them, as hard as it is to explain or fathom.
Gronkowski put up the yards, including two caches for 54 yards to set up the opening score. Bennett put up the touchdowns.
And the Browns really never put up a fight in a quizzical performance that's worthy of a Take Two-sday second look that all Patriots fans should enjoy as sign of things to come.