!PHILADELPHIA – Because of all the turnover at the receiver position, New England's offense has gotten more than its share of attention so far in 2013, at the expense, perhaps, of the defense.
That side of the ball has undergone fewer cosmetic changes, which could mean it is primed to make a jump in productivity this season.
"We're getting our calls out a lot faster. [We're] bringing the same defense back, so, we're kind of on the same page… getting on the same page," observed cornerback Aqib Talib. "Still a lot of work to do, but I think it's definitely picking up.
"It helps [to have guys back] because we kind of get through the playbook a little bit faster. Now, we can work on our checks and getting lined up and knowing where your help is. You learn the extra stuff about the playbook."
"We expect more as a group," echoed incumbent co-captain Devin McCourty. "We know we have some type of foundation. We have to push ourselves. We can't allow ourselves to make simple mistakes out here. We're not a first-year unit. Even the older guys like Adrian [Wilson]. I think one of the greatest things is our rookies have come in and jumped right in with us. We expect a lot of our group, and that's how we've been practicing."
McCourty added that the Patriots defense is entering 2013 with a chip on its shoulder.
"As a defense, you have to. You have to try to come in and dominate. You can't turn it on when you want. You have to have that attitude each day at practice. We're trying to establish that now for the season."
Near the bottom in many league statistical categories the past few seasons, can the Patriots make the necessary jump into an average, or even above average, unit?
"It's tough to tell right now, admitted McCourty. "We just have to keep doing it, day in and day out, putting the hard work in and trying to dominate teams."
"All we can do is get better, man," Talib noted. "Take it day by day, get in good shape, pray we all stay healthy."
In the Ninko time
A trend in football these days is the read-option offense, popularized by San Francisco during their playoff run last season. The idea is for the QB to take the snap from a shotgun formation, then turns to hand off to a runner. But the QB must pause mid-handoff to assess (i.e., read) what how the defense is reacting and then decide whether or not to continue the handoff or keep the ball himself (the "option").
Philadelphia has been running several of these types of plays with Michael Vick during joint practices with the Patriots this week, with mixed results. New England defensive end Rob Ninkovich, however, offered a warning to any teams attempting to execute the read-option against him.
"I enjoy that, I really do. That read-option, for me, is a green light to hit the quarterback," said Ninkovich with a coy smile, "so, if you don't want to have your quarterback hit, don't run the read option.
"When you're running that play, you turn your quarterback into a running back, that's why teams are changing their quarterbacks to guys that are more runners, but you know, whenever you're getting hit, it's going to take a toll on you. So the more hits you get on a quarterback, it seems like the ball doesn't come out of their hand as well when they throw it."
Fun with Aqib
Aqib Talib seems to have found his comfort zone since joining the Patriots last November. Not only is he entrenched as the starting left cornerback, he's endeared himself to his teammates, as evidenced Wednesday by his enthusiastic support of the New England offense during 11-on-11 work against the Eagles.
Against the Eagles this week, Talib has routinely matched up against Philly's lead receiver, DeSean Jackson, and has won more of those individual battles than not.
"It's been good work. He's one of the most dynamic receivers in the league," said Talib. "You definitely have to be on your toes when you go on him. He'll run away from you."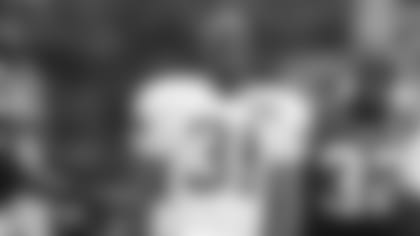 Talib has shadowed Jackson, often moving from the left to the right side of the defense when man-to-man coverage is called.
"I just do what Bill [Belichick] asks me to do. If he asks me to play one side, I'll relish that opportunity. Whatever opportunity I get to play in an NFL game, I'm going to relish it. I know how fast it can get taken away from you."
When not given his opportunities, Talib, helmet in hand, could be found Wednesday roaming the sideline and vociferously talking what appeared to be good-natured trash with Philly defenders and rooting on his teammates on offense. When one pass was ruled incomplete by the officiating crew, Talib ran a few steps onto the field to argue his team's case (to no avail). And when Tom Brady hit rookies Kenbrell Thompkins and Aaron Dobson with back-to-back deep touchdown tosses, Talib was enraptured, racing up and down the sideline and screaming with delight.
"It's fun. It's the NFL. You watch Tom Brady throw bombs, [and I think] 'He's on my team.' Hey man, that's fun!" an unbridled Talib confessed to reporters after practice.
"Yeah, the young wideouts making plays: A.D. and K.T. making plays on the ball, man, it's fun. When I'm on the sidelines, I'm watching Tom. I'm a fan just like everybody else."
"Aqib, he's always got a ton of energy," laughed Ninkovich when asked about Talib's histrionics.
McCourty was asked point-blank by a reporter if Talib is "nuts."
"Is he nuts?" McCourty replied grinning. "He's passionate. Very passionate, and I love that about him. We have different characters all throughout the secondary. I feel we're complete when we have everyone in there."
While Talib was being interviewed by the media post-practice, running back LeGarrette Blount approached the gathering and borrowed one media member's voice recorder to ask his own question.
"What do you think about LeGarrette Blount," asked Blount, with whom Talib played previously in Tampa Bay.
"That's my dog," Talib joked as reporters broke into laughter. "I was so glad when Bill brought him out here. He came to live with me. I put him in my guest room. He keeps me entertained all day."
Stock Watch
Buy: Cory Grissom – After missing several practices to start camp, the rookie defensive tackle has been a regular participant lately and even saw reps with the first defense next to Vince Wilfork.
Sell: Alfonzo Dennard – The second-year corner struggled for the second straight day trying to cover Eagles receiver Riley Cooper 1-on-1. Then on Wednesday, Dennard appeared to injure himself in 1-on-1s, forcing him to be a spectator for the rest of the practice.
Play of the Day: Two for the price of one. After starting off sloppily, the New England offense suddenly found its magic on back-to-back plays during 11-on-11 work late in the session. First, QB Tom Brady executed a perfect play-action fake, which allowed rookie receiver Kenbrell Thompkins to get behind the Philly secondary. Brady floated a pass that hit Thompkins in stride and he took it the remaining 30 yards or so for the score. On the very next play, from about midfield, Brady launched another arching pass to rookie Aaron Dobson, who was double-covered by an Eagles corner and safety. But at around the 1-yard line, Dobson leapt over both defenders, secured the ball, and fell into the end zone on his back for another touchdown.
Quote of the Day: "Girl, guy, same thing. They still get yelled at by the coaches, so, it doesn't matter. And I know Bill's not going to go easy on anybody that's out there." ~ Rob Ninkovich on the female member of the officiating crew working the Patriots-Eagles joint practice
Extra Points
...The two teams are scheduled to have one more joint practice on Thursday before facing off in the preseason opener Friday night at Lincoln Financial Field.