TITANS HEAD COACH MIKE VRABEL
Postgame Press Conference
Saturday, January 4, 2020
MV: I want to wish Derrick [Henry] a Happy Birthday and I want to wish Stretch a Happy Birthday. But those are two people that are instrumental to this organization. And to me. Excited for our players.
Q: Talk about the ability of Derrick Henry to run, especially in the first half, just kind of dictated the tempo of the whole game.
MV: It certainly did and that has to be the formula. You know, when we look at things and we study it, taking care of the football. We have to do a better job of that. But to be able to run the football and stop the run was huge and we are appreciative of everything he does. And the offensive line, and the tight ends and the fullbacks. You know, it takes all 11 to run the football, but certainly Derrick is a huge part of that.
Q: How secure does that make you feel to know that he's going to carry the load like that?
MV: There's a lot of confidence in his ability. His toughness, his durability, and he cares a lot about this football team. You know, I'm lucky to be able to coach him and these players.
Q: You got a goal line stand with Rashaan Evans and Jeffrey Simmons pushing, how big was that?
MV: Huge. I mean, they were gaining some yards, hitting some screens. But as long as we have an opportunity to play defense, that's our job, to go play defense. I thought our guys responded, and they attacked the line of scrimmage, they tackled. To be able to come back and turn that into points and score, was huge. And to shut them out in the second half, really proud of our guys and thankful that I get to coach them.
Q: I'm sure there is always a share of each, but much did things kind of go according to plan and how much did you have to adapt?
MV: I mean, that's kind of how it goes. And they came out in the second half with a little different front, defensively. Something that we saw last year against us and other teams. But you know, when you can run it, when the other team knows you are going to run it, that says a lot about your running game.
Q: The Special Teams contribution, Brett Kerns' punt down there at the one, can you talk about how huge that was…
MV: Well, just the entire game. Just being able to operate and function. You know I thought we punted the ball, I thought we protected. You know, this is a team that had blocked four punts. And we are very conscious of that and that was a huge key for us. And to be able to execute there at the end of the game, you know, goes a long way. And we are going to continue to need that.
Q: You called this place the Viper's Den after last week's win. What is it that allowed you guys to be so dialed in? Because it seemed like you were that way…
MV: I think our players were just, they were ready to go. Our coaching staff did a great job, to have them prepared. You know, I told them, "To win the game, you're going to have to be mentally and physically exhausted," to win this football game. Anytime you're in man coverage, they are going to try to pick and rub you. There's going to be gadgets, or throwbacks, or whatever there may be. Defensively, they are going to do things that force you to think, Ben [Jones] and Ryan [Tannehill], and make calls. We didn't hand them anything. And that's the one thing, they feast on bad football and we didn't hand them anything. And I don't think our guys spent too much time staring up at those banners.
Q: What does it mean for you personally?
MV: I mean, I'm honored to coach these guys. And there is no other team that I would rather have come in here with, than the one that was out there on the field. I'm thankful that I get to coach them another week.
Q: How good was it for Logan Ryan, after dropping one early, to get a chance down at the end to help clinch it…
MV: You know, we just got to continue to take advantage of opportunities. You know, we had one early in DaQuan [Jones] and Logan [Ryan], but we go on to the next play. That's what you do, so it was good to be able to execute there at the end against a team that's so good situationally.
Q: It's been a while since you had to kind of rely on the defense. You guys have been scoring so many points. How impressive that they were able to shut down…
MV: Shut them out in the second half, shut them out in the second half, and it's a testament to our players. They really responded. You know, played well on third down in the second half. Our offense was 50 percent against the No. 1 third-down defense in the league. And it was tough sledding, throwing the football. But we kind of expected that. We will have to get some things fixed, and get moving here and get healthy in a hurry.
Q: Sixty-something yards passing. Ever think you would win a game like this, throwing that?
MV: We talked about running the football, stopping the run. You know, there's a lot of different ways to win the games in this league. Play great defense.
Q: What's the celebration like after this one, how quickly do you have to put it behind you?
MV: It was a quick speech and we're all excited, we'll enjoy it. But we've got to get back to work quickly and we've got to get as healthy as we possibly can. And get ready to go on the road again.
Q: Mike, they're Champions. Duron Harmon made the interception. How did you brace against, did you expect them to make a real serious challenge to you?
MV: Yeah, I mean, there's a reason they're good, they're well coached. I was very comfortable coming into this game, the way our guys just prepared. The way we started the game, I thought Kenny [Vaccaro] and I know a lot of guys on tape, but when you feel those hits on the sideline where I'm standing. And you see the line of scrimmage on offense go the other way, I felt pretty comfortable. And I knew there were going to be some ups and downs in the game, but early on I thought our guys were ready to play. And again, I am thankful that I get to coach them.
Q: This team has had some ferocious rivalry games with Baltimore, your early thoughts on matching up with them?
MV: Just a huge challenge, with what they have been able to do. In all three phases. We'll have to try to find a way to slow them down. But for the next 30 minutes or 40 minutes, I'm going to be appreciative of our football team and our players. For playing as well as they did tonight, as hard as they did. And believing in each other, the effort to finish, the foundation of our program in Tennessee.
Q: How big was the goal-line stop?
MV: Those rarely happen, I mean, you find a way to punch it in. And our guys dug in there and got some great calls, great execution, Rashaan [Evans] and [Jeffery] Simmons pushing the line of scrimmage back.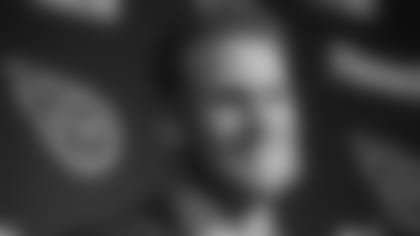 QUARTERBACK RYAN TANNEHILL
Postgame Press Conference
Saturday, January 4, 2020
Q: What's it like to walk out of here with a win?
RT: It's awesome. It's unbelievable just the way that our guys fought. I'm so proud of this team. It was ugly at times offensively but we kept fighting and found a way to make a couple plays there at the end and come out with the 'W'.
Q: How huge is it to have a guy like Derrick Henry and be able to use him the way you did today?
RT: It's huge. He's been big for us all year and he was big for us tonight. He made a couple big runs but just the consistency that he has down-in, down-out, the physicality he brings. He's so hard to tackle – the offensive line did a good job of creating some creases for him. There at the end, they were loading up the box and he's still able to get positive yards.
Q: Is this the type of performance that would be a suitable birthday gift for Henry?
RT: Yeah, I think so. I mean, you'll have to ask him but a big game for his birthday, that's pretty cool.
Q: Did you know going into this game you were going to rely on him and your run game more than your pass game?
RT: Yeah, we knew coming in that we wanted to run the football. Obviously a really good defense, good in the secondary and they make it tough on you throwing the football. I don't know if we knew we were going to throw it that little but they definitely did a good job and the run game was working for us so we stuck with it.
Q: What was the feeling like playing in your first playoff game and any emotions for you before this one?
RT: Not a whole lot. Honestly, it felt like a football game. Once it was going, it felt like a football game. I think it was louder, this place was louder than any other time I've been up here. But other than that, it felt like a football game and guys are competing and playing hard.
Q: What was the call and look on that third-down pass to Anthony Firkser?
RT: It was a great call by Art [offensive coordinator Arthur Smith]. I brought Firk across, had man coverage on him and he was able to get leverage on his guy and break out there and I was able to hit him. It was a big play for us and Firk came up big a couple times for us – first time down in the red zone with the touchdown and then that huge play there on third down.
Q: You guys don't seem surprised about this result. What does it say about this team with the belief that you could come in here and win?
RT: This team believes in each other. We've believed in each other all year and it's come through trial. We've been in situations like this, tough games, tight games, and found a way to make a play and win. It's happened over and over again throughout the year so there's a lot of belief. The game may be ugly, may be in a tight spot but we're just going to keep playing, keep plugging away and somebody will make a play, and we were able to do that tonight.
Q: What do you think about Baltimore?
RT: Yeah I know they're good. That's all I know. I know they won a lot of games – good on defense, good on offense but past that, I don't know. We'll have to get on looking at tape and find out.
Q: Did Stephon Gilmore do a good job on A.J. Brown tonight? He was mostly matched up with him there.
RT: Yeah, he did. You know, on some of the looks we're not going away from Gilmore, just kind of the way it turned out and we didn't get a whole lot of opportunities to push the ball down the field. They did a good job in their secondary but I still have a lot of confidence, no matter who's on A.J., that he can get open.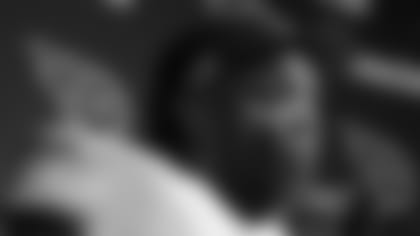 RUNNING BACK DERRICK HENRY
Postgame Press Conference
Saturday, January 4, 2020
Q: Is this just how you pictured it?
DH: We knew it was going to be a tough game, we knew it was going to be muddy. We just had the mindset to never give up, keep playing in all three phases.
Q: Why is it when games get muddy like this one that it favors you guys?
DH: That's the way we like it. We don't want anything easy. We want it gritty, we want it dirty. That's the mentality we've got to have. My main focus is finishing each and every drive in all three phases. Don't give up on each other, believe, communicate when we're out there, what we're seeing so we make adjustments as a team. Just keep thriving, keep striving and finish the game.
Q: A lot of people might be surprised at this result. What was the team's mindset coming in and what does it feel like to leave here with a win?
DH: I mean, it's us just playing Titan football. Being great in all three phases, I think that was our main focus. We knew what type of game this was going to be, we knew we were coming into a hostile environment. We knew that with this team, they're a different team in the playoffs. But we just had to play our game and not worry about the outside noises, just focus on what we need to do.
Q: Could you feel the momentum and your confidence growing as you kept running it down their throat on that first touchdown drive?
DH: I think we just want to put efficient drives together and everybody just do their job. Beat the man in front of you, be physical. And I think that's what we try to do as we're moving the ball down the field.
Q: What role did Mike Vrabel play in this game in terms of knowing the Patriots organization so well and how did that affect the team's mindset coming in here?
DH: I think his main message was that we all know the obvious. We know what type of organization this is, but focus on what we need to do, focus on how we need to play and then everything else will take care of itself.
Q: Did you take the challenge personally going against their defense?
DH: My approach is always the same against any defense. They've been doing a great job all year so I knew that I just had to go out there and do my job at the best of my abilities and be efficient. But it's going to take all 11 of us.
Q: Did it mean a lot to you to thank your fans after the game?
DH: I love seeing the fans, man. They're always passionate. For them to travel and have that much passion and be screaming – it's always a great connection with the fans to come out and support us. So we definitely appreciate it.
Q: How's this as a birthday present?
DH: It's great. I don't really want to focus on my birthday but it's a great win as a team. Happy to advance.
Q: Before the season, you said to the team, 'Why not us'. Where did that come from?
DH: I just said that at the end of camp, just saying, "Why not us". I don't think anybody expected anything from us. Keep that underdog mentality and just stay hungry. Just keep believing in each other because all of us in that building, all of us together, we're the ones that have to make it happen. No matter what anybody writes or anybody says, we're the ones that have to go out there and do it, each and every day. Each practice, each play and just keep believing in each other. Like I told them, "Why not us, why can't we do it?" That's why we're going to keep that same mentality, keep working.
Q: I would say that this has been your biggest accomplishment as a pro. If you had the opportunity to say something to your grandmother, what would you say to her after this game?
DH: I would say thank you and I love her, I want to hug her. I appreciate you with that story you put out. It's indescribable man. If I could see her right now, there's no telling what I would do.
Q: What were you thinking when you saw Logan Ryan return that interception for a touchdown and finish it?
DH: I was happy as hell, man. He could have had one earlier in the game and then he got that one. I was happy for him to be able to get one to end the game off the way he did.
Q: How tough of a challenge do you face now in Baltimore?
DH: We're going to enjoy this one. Obviously we know who Baltimore is and what type of team they are. Get ready for them tomorrow. We know exactly what we're facing, we know what type of team they are – they're the number one team in the division so it's self-explanatory.
PLAYERS IN THE LOCKER ROOM
(On not being overwhelmed against the Patriots mystique)
"It was definitely a tough game against a really good opponent. They controlled the game, but we controlled it as much as we could. We found a way. That is what it is going to come down to in this league, especially in the playoffs."
(On if he thought the Patriots were determined to limit his production tonight)
"Most definitely, you know. It is a sign of respect. Whatever we have to do to get the win, if it's carry the ball a thousand times, I am going to block the safety, that's fine. I definitely got doubled a lot of times especially on third downs, but it's cool, we got that dub."
(On being passed over by the Patriots in the draft and if it motivated him)
"Most definitely. I couldn't come in and show what I wanted to today but we got the win and that is the only thing that matters."
"It's a big 'W'. It's the first playoff win, in the first round, and we are still dancing. We understand that next week we have a real tough opponent and that is what we have to focus on right now. We are going to enjoy this win but we are going to put this behind us tomorrow."
"Just being more physical out there and running the ball. That's what we did. We ran all over those guys. They are a great team but we came out here and we knew what we had to do and we did it."
"He's a great running back. He did great today. I'm real proud of him. He is real tough [to stop], no doubt."
"That was huge, to shut out an offense like that out [in the second half]."
(On how confident the team was in being able to beat the Patriots)
"We just felt like we had to play our best game of the season. I feel like we can just build off of this game and continue to gain confidence and chemistry. The sky is the limit for us."
(On how they were able to keep the Patriots out of the end zone in the second half)
"We just had to settle down and see what they wanted to do with us. We came in really confident and we wanted to make a statement that we were better than some of the numbers we were showing during the season. We just have to keep doing what we are doing."
(On how much last year's win against the Patriots played into today's game)
"It played a lot into it. Just having that momentum and knowing what a win feels like. We know what it feels like to lose so it's another thing that is driving us to play our best game."
(On his first-down reception at the end of the game)
"Yeah, it was third - and 8 and they put in the call and I knew if I got the right matchup and leverage, it might be coming to me. Ryan [Tannehill] put a great ball out there and all I had to do was make the catch. The line held up their blocks perfectly."
(On what it means to come up to Foxborough and win)
"We knew it was going to be a hostile environment and they're a tough team that has a lot of wins in the playoffs. It's good that we were able to step up and looking forward to next weekend."
(On the play of Derrick Henry)
"He's unbelievable. Just watching him run and carry guys in and control the ball for our offense. We rely on him a lot and he steps up every week."
(On the running game tonight)
"We did that tonight and that's the winning formula for the playoffs you have to be able to run the ball. We were able to pound it and stay in rhythm. We knew what we had to do get here and we knew what it would take to win here. We came in here and ran the ball and took care of it and did whatever it took to win."
"He's the man, he runs the ball hard every play and he's special. We're happy to block for that guy any day of the week."
(On moving on to the next round)
"Every week we know it's a bigger challenge. We have to go to another great team next week and take care of business on the road again. They [Baltimore Ravens] have a great team. They have done it week-in and week-out, but we have to go up there and take care of business next week."
"It's awesome. We won, but it's not over. This is amazing. The last two decades they have been the greatest team in football. They played an amazing game, luckily we played good football. We took care of the ball, and our defense stepped up when they needed to. Our offense stepped up and now we go play the Ravens."
"He's unbelievable. The guy's a wolf. They wanted hyenas with him they got hyenas with him. We got his back we're going to keep riding him. We're going to keep riding [Ryan] Tannehill, and protecting him. We're not just satisfied with a win against the Patriots. We have to get ready for next week."
"I think Ryan does a good job of getting us all locked in before each drive. Let's go sustain the drive, keep your pad level low, let's run the ball. He doesn't care what the stats line says as long as you win. He's an amazing leader, and we're very happy to have him."
"It was a great win, a great team win. We did everything that our coach told us we would need to do to win. We executed. We made a couple more plays than they did. That is a great team over there. They are used to this environment but we came in and played great football. We ran the ball pretty well and Derrick [Henry] had a great game. We knew coming in that we would have to run the ball to win and that is what we did."
(Asked if it was special beating his former team)
"No, we just want to take it one week at a time and get to our ultimate goal. We will enjoy this win tonight and get ready for Baltimore next week."
"I was just trying to run my route. I just broke to the left trying to extend the play and make a play for my guys. I think Jamie [Collins] had me, he started to grab me and I think he might have slipped, I was able to break free and [Ryan] Tannehill found me. I made the catch and took a hit after that."
"It feels great, man. We put a lot of work in. We had a lot of belief. It was a different feeling than coming up here two years ago. Two years ago, I think we were happy to be here, happy to be in the game. This time we believed we could win and I think that showed. We challenged them, we didn't back down. Hats off to Bill [Belichick], Tom [Brady], Julian [Edelman] those guys. It's hard to do here, I know I've been on that side, so I know how hard it is to do. I don't know if it's hit us yet, it's hard to do here. We believed we could."
"Everyone knows I should have had the one before half time. I was looking at the run before I even secured the catch. I never do that. I always pride myself on having great hands and I dropped the easiest pick of my career. But I had faith, I said the ball's going to come back to me. I think everyone on my teammates knew that was a fluke. They said that the ball was going to come back to me again and I believed it. What do you know it came back to me again? So I appreciate TB12 for that one. That one is going on my mantle."
(On Derrick Henry's success in the run game)
"It was big and helped us build our confidence. We knew we were in a hostile environment but this is a great game environment for us. When it came right down to it, we were like, 'OK, let's push people off the ball, get him to his fourth and fifth step and let him make things happen'. Even though we were able get good, efficient runs, he was able to break tackles to make really good runs."
(On facing the Ravens and Lamar Jackson next week)
"You know, you gotta love that. You want to play against the best, and if you want to be the best you have to beat the best. Right now those guys are the best. AFC, NFC, it doesn't matter. This is a great challenge for us and that is a great team."
(On the defensive game plan tonight)
"We just needed one opportunity and that is what it was. Control the line of scrimmage, stop the run, run the football and don't give them the game. That is what we did today. We came in here, we locked the gates and we kicked them out of their own house."
(On the team and what they are capable of)
"I think we have something special in this locker room. We all have been saying this from day one and we all have to go out there and prove it every week. I think through the course of the year, we learned a lot of tough, valuable lessons that allowed us to get into the postseason and be effective. We are a second-round playoff team and the sky is the limit for us. We just have to take advantage of every opportunity we get."
(On the lack of celebration in the Titans locker room)
"This is not our Super Bowl. You know, we beat the New England Patriots, the defending Super Bowl champions, but this is not our Super Bowl and not where we are going to be stopping at. We have to continue to keep going."
(On knocking the Patriots out of the playoffs with a rare home playoff loss)
"I have never won a postseason game in this stadium until today. You know, they win here for a reason. They do the right things. They control the clock when they get here, they just do everything a winning football team should do. Today, we were able to do those things that propelled us to get a victory. Logan was able to make a play at the end to seal the deal. Our offense said, 'Get us the ball, we are going to control the clock,' and that's what they did."