FOXBOROUGH, Mass. (February 27, 2010) - The Hall at Patriot Place presented by Raytheon today unveiled "Pro Football and the American Spirit," a new travelling exhibit from the Pro Football Hall of Fame.
The special exhibit, which has previously only been seen at the Pro Football Hall of Fame in Canton, Ohio, tells the story of professional football players and personnel who served our nation in the military from WWII to Desert Storm and the conflict in Afghanistan.
"We are proud to be able to honor the NFL's connection to our armed forces and, by doing so, honor all of the men and women who have served our country," said Robert Kraft, Chairman and CEO of the New England Patriots. "This is an important and unique exhibit. We know that both football fans and military personnel throughout New England will enjoy it. It is also an appropriate exhibit in light of our partnership with Raytheon, which is dedicated to supporting our troops and keeping them safe."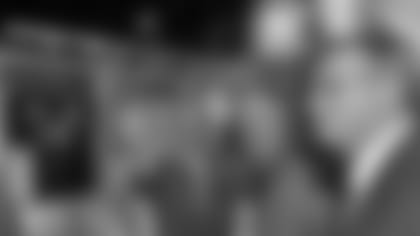 ]()With over 2,000 square feet of exhibit space, large graphics, NFL Films video, three flat-screen displays and more than 40 artifacts, "Pro Football and the American Spirit" provides a unique look at the deep historical connection between the National Football League and our armed forces. The exhibit describes how the NFL generated millions of dollars in War Bond sales during World War II, was the first sports organization to send groups of players to Vietnam as part of the NFL/USO "goodwill tours," and how it has used its game and resources to raise America's collective level of patriotism during and after such national crises as the Iranian hostage situation, the Gulf War and the September 11 terrorist attacks in New York City, Washington, DC, and Pennsylvania.
"We are very proud of this exhibit and what it represents, which is the great historical connection between the NFL and our armed forces," said Stephen Perry, President/Executive Director of the Pro Football Hall of Fame. "There couldn't be a better place for the exhibit's second home than The Hall at Patriot Place presented by Raytheon, where football fans and servicemen and women from throughout New England can see the exhibit when they visit this wonderful facility the Kraft family has built in Foxborough."
]()Joining Kraft and Perry at the event were Hall at Patriot Place Executive Director Bryan Morry and Raytheon Director of Program Management Bob Filosa. Also on hand were Patriots alumni who served in the military, including Gino Cappelletti, and representatives from all four branches of the military, with groups from 2-310 Regiment 174th Infantry Brigade, 1st Battalion 25th Marines, the USS Constitution, 104th Fighter Wing, Massachusetts Air National Guard and veterans from The Wounded Warrior Project. Each group presented Kraft and Morry with an item to be included in the exhibit.
The exhibit will be on display from February 27 to May 30, 2010.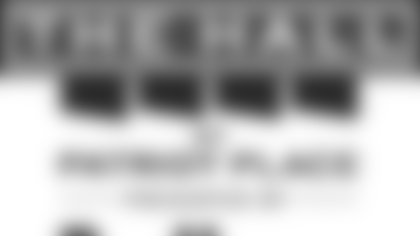 ABOUT THE HALL AT PATRIOT PLACE PRESENTED BY RAYTHEON**
The Hall at Patriot Place presented by Raytheon is the crown jewel of Patriot Place and the only sports and education experience of its kind. Through a dazzling array of interactive multimedia exhibits and artifacts never before viewable by the public, The Hall showcases the tradition of the New England Patriots, explores the history of football in New England, and promotes math and science education for thousands of schoolchildren each year. In 2009, The Hall received a Gold MUSE Award from the American Association of Museums and The Hall's signature film, "Patriots Way," won a CINE Golden Eagle Award. The Hall was named to Boston Globe Magazine's Best of the New, and was a Yankee magazine Editor's Choice recommendation.
Tickets to The Hall are $10 for adults, $7 for seniors and military and $5 for children 5-12. Children 4 and under are admitted for free. The winter hours of operation are 10 a.m. to 5 p.m. from Monday to Friday, 10 a.m. to 9 p.m. on Saturday and 10 a.m. to 7 p.m. on Sunday. For more information or to purchase tickets, please visit www.thehallatpatriotplace.com.