INDIANAPOLIS – The Patriots may have the best tight end in football in Rob Gronkowski, but that may not stop Bill Belichick from exploring the position in the draft. After all, he almost always does.
During his previous 15 drafts in New England, Belichick has selected 12 tight ends, and he hasn't chosen one since 2011 when he tookLee Smith in the fifth round, so one might say he's due.
In all seriousness, Belichick's affinity for the positon aside, the Patriots could very well use a quality backup for Gronkowski in 2015.
From 2000-06 Belichick took nine tight ends, doubling up in 2001 (Jabari Holloway, Arther Love) and 2006 (David Thomas, Garrett Mills). With Gronkowski having completed his first healthy season since his rookie year of 2010, the urgency to grab one early doesn't exist. But having a capable backup, especially with Michael Hoomanawanui owed $400,000 in roster bonuses, $300,000 of which is due on March 14. Clearly the possibility exists that the team would like a cheaper alternative than Hooman's $1.4 million cap hit.
Unfortunately this is not considered to be a deep class of tight ends. Twenty players were invited to the Combine and 19 of them received potential draft grades from NFLDraftScout.com and just 11 with projections of the fifth round or higher. The consensus top tight end is Minnesota's Maxx Williams (6-4, 250) and even he isn't considered a first-round lock. 
Williams, whose father Brian spent 11 years with the Giants, left Minnesota after his red-shirt sophomore season. Despite having two years of eligibility remaining, he felt the time was right to make the jump.
"I wanted to show the scouts, the general managers and the coaches what I can do," Williams began. "I wanted to show them I can be an inline blocker and do the things you need to do. I left school early because I wanted to be the best I can be, and to do that you have to play against the best."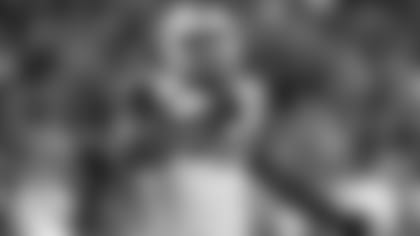 Just below Williams on most boards is Miami's Clive Walford (6-4, 254), who despite a second-round grade from NFLDraftScout believes he's the option.
"I am the best tight end in this draft," he began before offering some reasons. "Because I can block, I can catch, I can run after the catch. I can do everything a tight end is expected to do."
When asked later what a team would be getting they drafted him, Walford replied: "A dominant player" before elaborating. "A dual-threat tight end. A competitor. A will to win. I play with my heart, so they're going to get somebody who will lay it on the line every down."
Given his apparent confidence it should come as no surprise that Walford says he emulates none other than Gronkowski.
"Him running with the ball after the catch, making crucial blocks, pass protecting. Pretty much everything. He's an all-around tight end," he said.
While Williams and Walford may be the top prospects at tight end, they're not likely to garner much interest from the Patriots. But there are some intriguing prospects with the size to serve as blockers and the athleticism to contribute in the passing game as well.
Penn State'sJesse James (6-7, 262) is one such player. James also left school early and has some interesting traits to consider. Obviously at 6-7 he's a rangy red-zone target but he also has the bulk to serve as a blocker in an inline role. The well-rounded James also played for former Patriots offensive coordinator and current Houston Texans head coach Bill O'Brien for two years in Happy Valley, an experience he says was invaluable.
"He brought an NFL mentality to the team every week," James said. "He's a real technical guy. Awesome guy to work with. It was great for me as a player. Having an experience with him was awesome for me as a player. It definitely put me in a position where I could make the decision to come out early.
"At that time, I was learning O'Brien's offense, and just seeing the way he ran things really helped give me another perspective on how things were run in the offense. He had me watching a lot of Gronkowski on tape and I feel that helped me a lot as well."
James is listed as a possible third-round pick, which might be in the area when New England could be in the tight end market. His ability to block and play all three downs separates him from many others at his position, and his introduction to the Patriots offense under O'Brien could also work in his favor.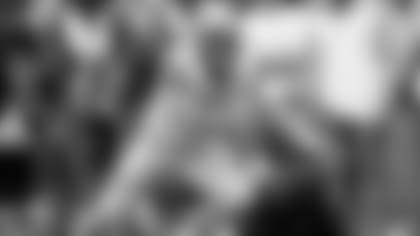 Florida State'sNick O'Leary (6-3, 252), Notre Dame's Ben Koyack (6-4, 249), Rutgers'Tyler Kroft (6-5, 240) and Ohio State's Jeff Heuerman (6-5, 255) all are slated to go in the middle rounds. Each has characteristics that could draw some Patriots interest.
O'Leary is the most accomplished pass catcher of the group and the reigning Mackey Award winner as the nation's best tight end. O'Leary is the grandson of legendary golferJack Nicklaus (he says he's capable of shooting in the 70s when he's playing consistently), and the former Seminole has spoken with the Patriots this week.
"I think I run better routes than a lot of them, and I think I've got better hands," O'Leary said when asked what made him stand out from the group. "All these guys are good down here. They wouldn't be here if they're not good.
"I feel like I can do it all."
Being a Rutgers product automatically makes Kroft a possibility, and the same could be said of Heuerman given his ties to Urban Meyer and the Buckeyes. Heuerman would seem like the perfect fit given his size and athleticism. He can get down the seam with agility and shows the ability to high-point the ball effectively in traffic. 
As a blocker he performs well inline and uses his long arms well in pass protection. NFLDraftScout describes him as a "physical and diverse blocker, whether down on the edge or as a lead blocker on inside run plays," although he was limited last season due to a stress reaction to his foot, which he underwent surgery on last March. 
Koyack is the type of well-rounded person and player the Patriots seem to gravitate toward. He explained how playing the position at Notre Dame requires a great deal of versatility, which sounds very Patriot-like.
"You're expected to be able to do everything at Notre Dame," Koyack explained. "That goes back to the mental state. The coaches want us to be able do it all. They like to use us in different ways whether it be as an inline blocker, pass protector, a receiver … whatever. You have to be ready to do everything."
Like many of this year's tight end class, Koyack cited Gronkowski as a player he admires.
"He's obviously such an extremely talented player," he began. "But he's smart too. He knows exactly where he needs to be at all times."
Oklahoma's Blake Bell (6-6, 252) and UMass'Jean Sifrin (6-6, 250) are a pair of interesting late-round projects. Bell spent most of his time with the Sooners as a Wildcat quarterback, enough so that he racked up 24 rushing touchdowns from 2011-12. After starting 11 games at quarterback as a junior in 2013, he made the switch to tight end last fall and finished with 16 catches for 214 yards and four touchdowns.
"I felt like I was getting better every game," Bell said of the switch. "The techniques, watching film, working on hand placement … everything. Anytime you can block people in the running game and split out wide that's dangerous."
Bell's father, Mark, played six seasons as a defensive end for the Seahawks and his uncle, Mike Bell, spent 12 years as a defensive end with the Chiefs.
"The switch was 100 percent on me. I weighed my options and I wanted to stay at OU," Bell said. "My family helps me a lot and has given me great advice."
Sifrin is 27 years old and therefore may be a longshot to carve out of a career. He took several years off from school whilke providing for his family before enrolling at ASA College in Brooklyn and eventually to EL Camino Junior College in California. 
Minutemen coachMark Whipple took him in and Sifrin turned in a first team All-Mid-American Conference season with 42 catches for 642 yards and six touchdowns. His advanced age caused him to skip his senior season despite some obvious roughness around the edges of his game, but a team that can develop him will get a terrific athlete with tremendous hands.