The reigning Super Bowl MVP, an all-pro cornerback and future Hall of Fame tight end wind up for a pitch at Fenway Park. The ALCS MVP, American League MVP and World Series MVP lineup in the backstop, ready for to make their respective catches.
No, this isn't the setup to some joke. It's just another day in Boston.
The modern era of Boston sports is defined by excellence, and some of that excellence was on full display Tuesday afternoon, as Julian Edelman, Stephon Gilmore and Rob Gronkowski tossed out the ceremonial first pitch at the Red Sox home opener to Jackie Bradely Jr., Mookie Betts and Steve Pearce.
The Fenway Park crowd on hand Tuesday afternoon was in for a parade of Boston sports glory. Not only did the Red Sox first home game of the 2019 season begin with their 2018 World Series ring ceremony, the hometown team welcomed back their legends, like David Ortiz, Pedro Martinez, Manny Ramirez and Mike Lowell.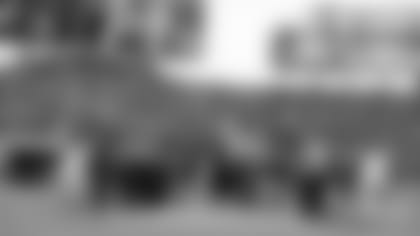 That alone is enough to thrill a Boston sports fan, but the show wasn't over. After the ring ceremony and national anthem, more than 20 Patriots emerged from behind the flag hung from the Green Monster to celebrate their Super Bowl victory.
Gronk, Julian and Stephon were joined by Jason McCourty, Duron Harmon, Matthew Slater, Patrick Chung, Deatrich Wise, Derek Rivers, Brian Hoyer and more.
Though Duron has been on three Super Bowl winning teams, which means there have been three trips to Fenway Park, this was the first time he could make the trip.
"When you sit back and reminisce about what we do and being a part of this type of sports history, it's just a moment that we will never forget and a moment that we need to appreciate because I don't think there's ever going to be a time like this again," he said.
And that moment was reflected on the field for the pregame ceremony. The Patriots and their Lombardi trophies posed for photos with the four most recent Red Sox World Series MVPs (Steve Pearce, David Ortiz, Mike Lowell and Manny Ramirez) and their trophies. The snap shot captured what it has meant to be a Patriots and Red Sox fan in the modern era.
For Jason McCourty, it was a cool thing to be a part of.
"Everyone here is so spoiled! I spent 10 years of my career doing a ton of losing, and I come here and everybody in the area wins," he said with a laugh. "It's special for them just to allow us to share in that moment. They're just handed their rings and just to have two teams right here bring home two championships and for everybody to have basically a year-long celebration from one championship to the next, duck boats and everything that goes along with it. It's just very special, and there's a reason they call this Title Town."
You can check out more photos from the Patriots day at the ballpark in the gallery below.
The Super Bowl Champion New England Patriots were honored by the Boston Red Sox prior to the team's home opener against Toronto on Tuesday, April 9, 2019. Stephon Gilmore, Rob Gronkowski and Super Bowl MVP Julian Edelman threw out the ceremonial first pitch, while several other Patriots attended the event.