Tom Brady had a busy Tuesday. After spending the morning making wishes come true, he hit the practice field for a throwing clinic with Best Buddies, an organization dedicated to creating opportunities for friendship, employment and leadership training for people with intellectual and developmental disabilities
The throwing clinic was an auction item at the New England Patriots Charitable Foundation's Annual Premiere gala earlier this year. The item was purchased by Alex and Ani, who donated it to local Best Buddies chapters. Tom is no stranger to the Best Buddies program. He hosts an annual football challenge to support the program and to get out on the field with buddies, teammates and celebrities. 
Seven Buddy pairs from Massachusetts, Rhode Island and New Hampshire hit the practice field with the Patriots QB to learn throwing and catching basics. The high school students were paired together through their local chapters and build strong friendships through events and outings. 
The event on Tuesday serves as another memory that these friends will share, according to Best Buddies Senior Director of State Operations Katie Franco.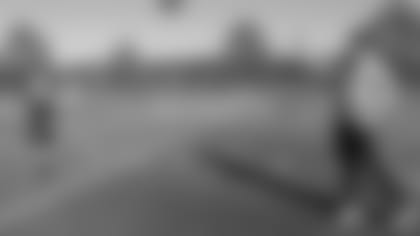 "It's just a dream come true for so many of our folks," she said. "Not only are they all huge Patriots fans and huge Tom Brady fans, but it's also a chance to really celebrate people who have put a lot of time and energy into this amazing organization and their friendships. For them to be out here with their buddies doing something so special, it's so unique."
A pair from Wakefield, Mass., Lizzy Mathis and Lizzie Finn (also known as "Lizzy Squared") were matched together two years ago and are both huge Patriots fans, so to experience the day together was especially exciting. 
"It was really fun," Lizzy Mathis said with a smile. "Tom threw me the ball, and I gave him a Gronk spike."
And when Lizzy goes back to work, she'll have a little something to take back with her. 
"I always get to watch the Patriots at work, so now I'll be able to tell them that I met Tom Brady," Lizzy Mathis said.
"And you got to catch passes from Tom Brady," Lizzie Finn added with a smile. 
Now that's something worth bragging about.
For more pictures from Tom's throwing clinic, check out the photo gallery below.
fULL GALLERY
Through a donation from Alex and Ani at the Patriots Premiere Charitable Foundation gala, 14 kids in the Best Buddies program got the opportunity to visit Gillette Stadium and experience a passing clinic led by Patriots quarterback Tom Brady on Tuesday, Nov. 1, 2016.