Q: ** First, can you just talk about going into this week, a short week, and being injury-depleted with possibly not having Danny Amendola and Shane Vereen out there and a lot of different guys?
TB: Yeah, I mean we'll see how that all sorts itself out. It's always a great game plan, the Jets. It's been a great rivalry since I've been here and I'm sure it will be another great game. They're a tough, physical, hard-nosed team, very well coached. We play them on a short week, there's a lot to prepare for. I think they present a lot of challenges, defensively especially; alot of alignments, looks, coverages. Very smart team, very disciplined, they don't make a lot of mental mistakes, so we're going to need to be on our game. We're going to need to be better than we were last week. There's a lot to prepare for in a very short amount of time, so we're trying to get everyone to understand that. Part of the veteran responsibility [is] that we have to kind of convey that message to everybody. So we're cramming a lot in, but that's what we have to [do], I mean that's what they're doing too.
Q: You guys did the walkthrough today. How does that affect not practicing at all this week or having a real practice out there? Does that affect you guys at all?
TB: I think we're just kind of doing what we're told. We don't make up the schedule so much. I think part of it is just trying to be physically and mentally prepared, so there's ways that you try to do things a little bit differently. Tomorrow's the day before a game, so just coming off one a couple days ago, it seems pretty quick, but that's just the way the schedule is and we're prepared to deal with it.
Q: Is it good to just get these games out of the way? It seems like every team is sprinkled into these Thursday night mixes. Is it good to just get it out of the way so you can get back to that normal Sunday-Monday schedule?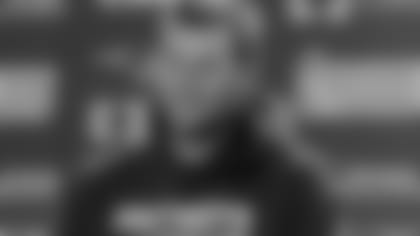 TB: ** I think it's a big advantage if you win. If you win the game on Thursday night, you've got quite a bit of time to cover some things that maybe you couldn't have covered in previous weeks. Ours happens to be pretty early in the season, so I think hopefully we can go out and win. That's really when it becomes a big advantage. After that, this is our last one of the year, so hopefully we can take advantage of it.
Q: It's not that usual for your depth to be tested this early in the season. How comfortable were you in the preseason that, even if bodies start going down, you have bodies to go to to get the job done?
TB: Yeah. We've got a lot of good players in the locker room. When people are injured, that's why you have a deep roster. Guys that you have confidence in, that you've gained trust in, and I certainly have that at the skill position. We have a lot of good running backs, we have a lot of good receivers, we're trying to do the best we can this week to go out and win a very challenging game against a very good team.
Q: Despite your dominance over the Jets recently, is it something special to play the Jets?
TB: Yeah it is, and it's awesome. I mean, it's Boston-New York. It's been that way for a long time, long before me, and any time you see them on the schedule you just think of all the great games that you've had against them and you think of how challenging the game will be. We know a lot of the faces, we know the scheme. There are some new faces that are part of the rivalry, so it's going to be an exciting game on Thursday night here. I know the stadium, it's our first home opener, which is always fun for us players, so hopefully we can go out and play really well.
Q: When you see Stevan Ridley going through what he went through on Sunday, do you have any sort of interaction with him? Do you need to go to him and say, 'Look, we have confidence in you, you're our guy,' or is that the kind of thing that since he's been here for a couple years now you just kind of leave him alone?
TB: We're all pretty positive with one another. I mean, we never like to see each other make mistakes, but they happen. We fumbled the snap on the goal line, I threw an interception. You've got to be able to bounce back from those things. Football's not necessarily a game of perfect, it's just you try to limit what your bad plays are so they're just not really bad plays or really critical plays in the game. I think the mental toughness from all of us to try to bounce back, I know Stevan is a very mentally tough kid, and I love having him back there. I love giving the ball to him, watching him run. He's done a great job with that since he's got here.
Q: Are you positive during the game or is that after the game that you kind of talk to one another? Because it seems like you just have to kind of move on because the game is going on.
TB: Yeah, both. I think both. Hopefully you're always pretty positive, I mean I think the mental mistakes are things that you always get frustrated with because those are really things that are totally in your control. The physical mistakes are football. Yeah, you don't want them to happen, but they're going to happen. You're not going to make every jump shot, you know? It's just the way it is. You've got to be in the right spot, you've got to be doing the right thing, you've got to be doing it with the right amount of effort. You've got to be playing smart, you've got to be playing disciplined, and then try to limit your physical mistakes. That's really what it comes down to. It's no use just screaming at someone and saying, 'Well, you have to, you know…' They know, we know what we have to do. It's just, we have to do a better job of it.
Q: How many changes have there been since Mike Pettine has gone to Buffalo and the Jets have a new defensive coordinator?
TB: There are quite a few changes. There are two new safeties, a new corner. Linebackers are relatively the same. The defensive front's changed a little bit. There's some new guys, so they've [been] doing a few things playing to the strength of their team, and they're big and physical, strong guys that do a really good job of playing tough. Rex [Ryan] obviously likes what he sees out of that front seven, I mean he likes everything they're doing. They're a good group, and they're very athletic, knock balls down at the line of scrimmage, so we have to understand how important it is for us to play physical too.
Q: It's been a little while since people have forecasted doom for your team and said 'This is going to be a really rough year for the Patriots, they've lost all these players, they have so many question marks.' Do the outside perceptions allow themselves to penetrate and be used as fuel? How do you operate like that?
TB: I think the guys that can control what we think in the locker room are the guys that we have. Coach talks about ignoring the noise, and I'm not really sure what's out there. I mean, we're 1-0. There are 16 teams that are 0-1. We're in as good a position as any other team, so. We have a lot of football left. There is a lot of football between now and the end of the year, so we'll see how it all plays itself out.
Q: You've got to relish that opportunity though. To be able to say at the end, whether you were picked 199th or heard people's perceptions about you you don't mind being able to do that.
TB: Well, I think the great part is we have a chance to do something about it. So regardless of what anyone may say to us, or think, we have a chance to prove everybody wrong or right. That's the great part about playing professional football, is you have the chance every week to back up what you think. And one week never leads to another week. Just because you won last week doesn't mean you're going to win next week. Just because you played well one week doesn't mean you're not going to play well the next week. I've been part of teams where we're [12-1] and Miami was the opposite, 2-11, and we went down to Miami and got our butts kicked and won the Super Bowl that year. Anything happens on any week, and hopefully our preparation is good and strong this week, and hopefully we're prepared to go out there and face a very good team on a short week, and I'm excited for the opportunity.
Q: What's the player consensus on Thursday night games? Do you guys love it or hate it, or indifferent?
TB: I love playing football, so I think whenever we can play it's one of 16 and it's, they all count the same. And it's really, you know it's a nationally-televised game. In a way, it's becoming like Monday Night Football. It's just a short week, that's the biggest difference, is the turnaround and the physical preparation and mental preparation. I mean, we crammed three days' worth of practice into one walkthrough. That's just the way it is. Hopefully what we've done over the course of the offseason and the preseason can help us with this week, and that's why you have to really work hard those weeks because, look, this part of the schedule, we knew it was like this, so hopefully we can go out there and play well.
Q: What was your impression of Leon Washington in camp and how well he can fit in if asked this week?
TB: I really have always enjoyed being around Leon since I met him in the spring here. He's provided great leadership, one of the best kick returners in the league, [I] have a lot of confidence in him at the running back position, and doing a lot of things that we asked Shane [Vereen] to do when Shane was in there, so whatever role he fits, I'm confident in him. [I'm] confident in Stevan [Ridley], I'm confident in LeGarrette [Blount], Brandon Bolden – I mean, we've got a good group.