Ask most football coaches and they'll tell you they love almost every aspect of their job, even the impossibly long hours.
Joe Judge is doubly rewarded as New England's special teams coordinator, who this year took on the additional role of wide receivers coach.
"It's been a lot of fun," he grinned when discussing his increased workload and the balance he's had to strike between the two functions.
"There's definitely a rhythm you have to find, which has kind of developed over training camp, and that's been positive. Until you get into it, you don't really know what's coming your way, and it's been positive so far. Every day's been a great experience.
"You show up every day and try to hit every task that you have. [Assistant coach] Cam Achord's been tremendous on special teams helping, Troy Brown's been tremendous with the wide receivers. Everybody's been all-in for whatever we need as a team, and that's all coaches at all positions. We do anything we can."
In the NFL, coaches like Judge are also all in agreement that what they like least is what they're required to do this week.
By 4 p.m. Eastern this Saturday, clubs must trim their 90-man rosters down to the regular season length of 53 players, plus 10 others who can be on the practice squad.
"This is the one part of the job that really stinks," Judge admitted. "You've got 90 guys on the team, they've played hard for you, done everything you've asked, you've worked with them for a period of time now, and you want to keep as many of the guys as you can… you don't want to see anybody go. You really don't. This isn't an easy time for players or coaches. There's some stress that's involved with it. Maybe on the outside sometimes it seems like fantasy football, just guys coming and going, but this is a team, and to make the cuts to go down [to 53] is a necessary evil."
On special teams, one of those decisions was made for Judge last week when stalwart special teams veteran Brandon King went down against Carolina with what has been reported as a quadriceps injury. The Patriots placed King on injured reserve this past Sunday.
King will be missed, according to Judge, not only for his versatility and reliability on the field, but also his ebullient personality off it.
"He's very popular, very respected in the locker room," Judge added. "We love him. Right now, his priority is to do everything he can to get better. We're going to miss him every day.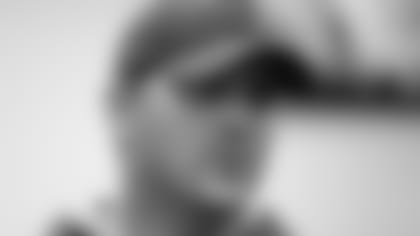 "He brings so much off the field, as well as on the field. It's going to be tough. There's not going to be any one person who's going to replace Brandon King. We're going to have multiple guys step up into those roles. The level he was able to perform at for us for years in multiple roles is very tough to replace. We're looking right now for guys who can step up."
Aside from finding a replacement or replacements for King, Judge and tight ends coach Nick Caley have perhaps been tasked with overseeing two of the most unstable positions on the Patriots roster this summer: wide receiver and tight end. Attrition and turnover have raised several question marks about who will stick with the club come this weekend. Already, New England let go of veteran receivers Dontrelle Inman and Maurice Harris, while recently welcoming back Josh Gordon from an NFL suspension and Julian Edelman (left thumb) and newcomer Demaryius Thomas (Achilles) from injured lists.
Complicating matters, top 2019 draft pick N'Keal Harry has been limited with an injury the past couple of weeks.
"He's worked hard with the trainers doing everything they asked him to do," Judge commented about Harry. "He's coming to work every day with a clear head, he's very motivated, and he's staying very engaged mentally."
Meanwhile, undrafted receiver Jakobi Meyers has opened some eyes with his consistency and playmaking ability.
"Jakobi's a young guy who's demonstrated the ability to do some things and get open and catch the ball," offensive coordinator Josh McDaniels remarked Monday. "At the same time, there's plenty of room for improvement. He works hard, has a good attitude, has some quickness, and he's made some tough catches. But he's a rookie. There's a lot to go through."
At the tight end position, Caley has had to juggle just as many players as Judge, following the offseason retirement of Rob Gronkowski. The difficulty in evaluating the many newcomers and inexperienced returning tight ends has been exacerbated by a growing number of injuries at the position. Yet, Caley sounded optimistic about what his troops have shown him since practices began in mid-May.
"I've been pleased with everybody that we have here," he maintained. "They bring a great attitude every day, they work hard. We've got plenty of stuff we can continue to build on. So, I've been pleased with the attitude, the effort, the focus… the competitive nature of the entire group in general."
Because New England utilizes its tight ends as pass catchers, pass protection blockers, and run blockers so frequently, Caley and the coaching staff are looking for versatile players who's presence on the field won't make the Patriots' offense predictable or one-dimensional.
Easier said than done, perhaps, and Caley believes the competition could still be decided over the next few days of work, including Thursday night's preseason finale versus the New York Giants.
"Competition's great for everybody. We still have days here moving forward, getting all the juice out of the squeeze that we can get. I think there are a lot of good football players in general. You only can keep so many of them, obviously."