According to a report from NFL Network's Tom Pelissero, the Patriots have placed center James Ferentz on the Covid-19/Reserve list. The Patriots cancelled their scheduled Friday practice earlier in the day, as the team and league await further results that could put Sunday's twice-rescheduled game again in question.
As of Friday afternoon, things were still on track for 1pm on Sunday.
Ferentz started against the Chiefs at center after watching Joe Thuney get the nod against the Raiders. With David Andrews still on Injured Reserve, Thuney could be thrust back into emergency service again. The silver lining would be getting to see rookie Michael Onwenu start again.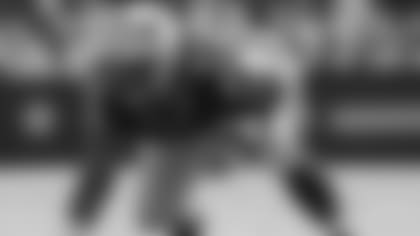 Lawrence Guy draws coaches praise
Lawrence Guy has been a stalwart along the defensive interior this season and could be even more vital with injury concerns in the position group. The veteran will play a key role as usual against the Broncos.
"His football intelligence is second to none, he understands everything as far as space is concerned up front," said inside linebackers coach Jerod Mayo. "That's definitely valuable for the second-level defenders and valuable for our defense. His intelligence helps us more than anything. You don't have to tell him what to do, he knows exactly what everyone is supposed to do and that's helpful anytime you have a young group."
Knowing what everyone is supposed to do is a consistent trait of the Patriots defense. This season new members of the team commented how impressed they were that players like Guy knew what other position groups were doing.
"We always stress you can play a lot faster if you know what the other 10 guys around you are doing," said outside linebackers coach Steve Belichick. "So the more that those guys can understand scheme, understand what people around them are doing, there's a lot of communication out there on the field.
"It really helps when everybody's on the same page."
For defensive linemen like Guy there isn't a lot of glory in statistics even if he's playing a vital role. They take pride in doing the dirty work that allows other players to make the plays.
"You have to know from day one that this is a selfless defensive line unit," said defensive line coach Demarcus Covington. "You're going to take on the dirty work, put your hand in the ground every play, being able to take on double teams, defeat blockers, play with your hands, play at the line of scrimmage and you might not make the tackle but you're gonna be able to take on two for someone else to make the tackle and that's unselfish."
And for that kind of play, Guy sets the example.
"He does a good job playing the double teams and playing different combination blocks," said Covington. "That's not gonna be on ESPN but guess what? In our defensive line room that is going to be on there."
Webex Quotes of Note
Jerod Mayo on how they find player's versatility:
"Everything here is evaluated. Whether it's on defense or on the show teams giving looks to the offense of team, everything is evaluated and sometimes guys stick out in certain roles and we'll take that role and try to fit it into our scheme. Guys are always evaluated. Us as coaches, if we see something that could be valuable to our defense we try to plug it in and see how it looks."
Mike Pellegrino on Jonathan Jones:
"John Jones is a true Patriot. He's smart, tough and dependable. You can really count on the guy in really any situation on the field. Really trust the guy and proud of him. I think he goes out here and really empties the tank each week and refills it right back up. Does a lot of things well. Really happy to work with him."
Jedd Fisch on Cam Newton's preparation for the Broncos:
"He's done a great job of preparing. He's done a great job of trying to understand everything Denver brings, which is going to be a big challenge."