One of the constants for the Patriots offense this year as been receiver Damiere Byrd, who is coming off a career-best game against the Texans with six catches for 132 yards and a touchdown. Byrd has played 92 percent of the snaps this season, the most of any non-offensive lineman and the experience is starting to pay dividends.
"The way [Damiere] prepares, knowing he goes about his daily grind, understanding what he needs to do to produce and this is from the first day I had him in the spring virtually to now," said receivers coach Mick Lombardi on Friday. "He's the same guy every single day, his consistency and mental toughness are an all-time high and I think he tries to prove that every day."
After signing during a challenging offseason, Byrd found some of the extra time valuable in helping him tackle the Patriots complicated playbook.
"I found any type of trick of the trade to try to learn it," said Byrd. "Really studied as much as I could. Being able to be virtual kind of gave me a lot of time to be able to dive into it."
Byrd was an unheralded addition after spending his first four seasons splitting time in Carolina and Arizona as a role player, but he took advantage of that time, learning under one of the greatest receivers of all time.
"He didn't really produce the first couple years in the league but he had the ability to watch guys in Carolina, a guy like Larry Fitzgerald who he played with in Arizona, how to really prepare and work hard and now he's finally getting a chance to play because of the time he put in the offseason and that's really helped him," said Lombardi.
"It was great, I learned a lot from Larry," said Byrd. "How to be a professional and just how to be consistent as a receiver, day in and day out. I really cherish my time being able to learn from him and go under his wing."
Now, with budding experience and game contributions, Byrd is becoming a key piece for a Patriots offense that welcomes his increased production.
"Definitely starting to get comfortable," said Byrd. "Definitely feeling more comfortable week in and week out with the game plan and what we're trying to do and what we're trying to accomplish as an offense. Definitely settling in and just trying to continue to be consistent and continue to improve."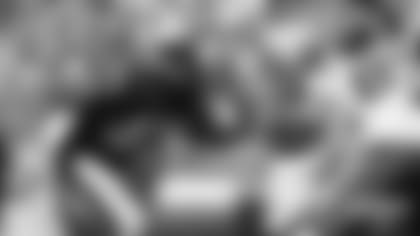 Johnson steadily developing at fullback
The Patriots injury issues at the fullback position in 2019 were daunting. First, James Develin was lost in Week 2, forcing the team to call up Jakob Johnson from the practice squad after a meteoric rise from being the 91st player on the training camp roster.
Johnson was hurt as well after just four games, but in 2020 he's returned and held down the important role in the Patriots offense for the entire season, logging 34 percent of the offensive snaps and 40 percent of the special teams snaps.
"Jak's played hard, he always does," said position coach Nick Caley. "He loves football, he cares, he's into it, he studies. The guy has an incredible work ethic. He's learning every week."
Caley wasn't the only one to take notice of Johnson's impressive drive.
"He came a long way last year, probably amongst the furthest that I've ever coached – probably in the top five anyway," said head coach Bill Belichick earlier this season. "This year, he was light years ahead of where he was last year in the spring, and that gave him a lot of confidence and gave us a lot of confidence in terms of what he could do, what his skills were and the adjustments he was able to make and so forth."
Johnson continues to find ways to contribute, whether it's on special teams, as a blocker or pass catcher. Whatever needs to be done, the second-year pro is ready to tackle it.
"I'm just trying to get better as a player and fill out my role, do what the coaches ask me to do," said Johnson on Friday. "It's been improving, I still have a long way to go. I'm gonna try to keep my head down and just keep chugging away at it every week and try to find ways to improve what I'm doing."
As for the touchdown he caught in Week 2 in Seattle, it could be a sign of things to come and remains the most notable highlight in his young career.
"That was of course awesome," said Johnson. "I wish we could've won that game. Of course, I kept a game ball and I'll put that up somewhere in the house."
Webex Quotes of Note
Steve Belichick on Josh Uche's development:
"[Josh] prepares hard, he works hard but there's just some stuff you gotta learn in the fire which is what he's going through now. He's a young player and he's going great job and he's working hard. This is his first year in the defense, there's a lot of stuff going on... the games faster than it was in college, being able to read that stuff and do your job is harder than what it was. But he's very athletic and a very hard-working kid. Been happy with what we've gotten from Josh."
Jerod Mayo on defending Kyler Murray:
"He's definitely unique. This guy is like a punt returner with a good arm. You talk about someone with great quickness. I played against quarterbacks who were fast but this guy's both quick and fast, which definitely has a difference there. He can make all the throws. He's shorter and I know a lot of people knock the fact that these quarterbacks are shorter but honestly, it's hard to really find these guys, especially if they're mobile. This guy's mobile, hard to find them behind the offensive line and then when you finally do see him, he's so quick he's hard to get on the ground."
Chase Winovich on Rex Burkhead:
"Rex is an awesome teammate. Every person that I've ever met that has met Rex, he's just an outstanding dude, high character, super reliable. He's there on a block or a double team or whatever you got, somebody you can count on. When a guy like that goes down it drives a stake in you I'd say. My prayers and my thoughts are with Rex and his family. I have no doubt that this will not only be a learning lesson for him to come back and be stronger than ever, like a slingshot, just gonna pull him back and launch him forward to bigger and better things."