"I looked at everything this past off-season and tried to make sweeping changes from anything I felt like could help me as an athlete and perform better," said Winovich, who included hiring a chef to working on his flexibility as things he added to his regime.
After maxing out with 57 percent of the defensive snaps in his first game as a rookie, Winovich primarily played in a sub pass rusher and special teams role in 2019. But this season he played 68 percent of the snaps against Miami and 75 percent against the Seahawks.
Winovich is emerging as a potential every-down player on defense.
"Chase has done a good job for us on all downs," said Bill Belichick last week. "[He] has got good energy, he's in good condition, he's got good stamina, he's got speed, he's got power and he's a very instinctive player."
The Michigan product also picked up his first half sack of the season against the Seahawks, part of a powerful rush as Winovich tossed blocker Carlos Hyde aside and finished off Russell Wilson with Kyle Dugger. His ability to get after the quarterback has always been a strength and now he's putting it together on the NFL level.
Despite his strong game, it didn't make the long flight back from Seattle any easier after the loss.
"It's funny how all your injuries and pain feel a little bit in vain," said Winovich about how he feels after losing. "It's like you're really sore and banged up but when you win, it's like 'I used my body as an expense but we got the dub.' But when you lose you don't get the same satisfaction."
For now, Winovich is putting the Seattle game behind him and moving on to a challenging Raiders team this weekend.
"We're focusing on the details, trying to improve from Seattle and learn from it," said Winovich. "Personally, I'm taking detailed notes on my performance and the little things I feel like I can build upon. Trying to make the next step, I think we're trying to do that as a unit and hopefully we get those results on Sunday."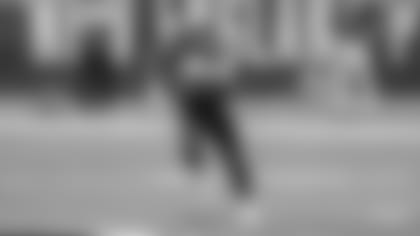 Izzo suddenly a veteran leader
On the offensive side of the ball, tight end Ryan Izzo has been made significant strides himself. Now in his third season out of Texas, Izzo has stayed healthy and played almost 98 percent of the offensive snaps through two games.
After missing his rookie year due to injury and being held to only six games in his sophomore campaign, Izzo now is a key contributor on offense.
"I think overall, physically, I made some leaps this past off-season," said Izzo on Wednesday. "I really worked hard in the weight room and on the field. And then playbook-wise I definitely feel more comfortable. I think once you start getting those years under your belt and you get comfortable with the details and just how coaches want things done it just helps."
"Ryan's gotten a lot of snaps," said head coach Bill Belichick last week. "He's gotten more of an opportunity to work on his craft and improve. He's been able to stay out there and get better in practice, and then that's showed up in the game – and the opportunity to work with Cam [Newton] in the passing game and make some route adjustments or make some good decisions to help the rest of the route based on knowing more of what to do and having more experience doing it has led to a higher, more consistent level of performance on his end."
Though only in his third year, Izzo is already the eldest member of the tight end group, which also features rookies Devin Asiasi and Dalton Keene.
"Yeah I think it happened quick for me," said Izzo. "First coming in with Gronk and having Dwayne Allen. Those are really good veterans to be under and now that they're out and I'm the oldest guy in the room, I'm trying to set the example like they did for me."
"Ryan's always worked hard," said Belichick. "I mean, he doesn't say much, he's a quiet kid, but he always comes to work ready to work with a good attitude and good level of toughness and competitiveness. Fortunately, he's been able to stay healthy this year and by being on the field, he's gotten better."
Through two games, Izzo's ability to contribute to the team in a significant role has been rewarding.
"It's been awesome," said Izzo of his expanded 2020 role. "I'm really happy about it. I think it's a tribute to all the hard work that I put in. Just moving forward, I'm just trying to keep being somebody the team can count on, keeping consistent and doing what I ever I can to help."
Practice & Injury Report
The Patriots began on-field preparations for the Raiders on Wednesday in full pads. Not spotted were James White and David Andrews, as well as two practice squad players -- tight end Jake Burt and offensive lineman Caleb Benenoch.
The full injury report listed Andrews with a hand injury, while Dalton Keene and Josh Uche were removed from the report.
RB James White (not injury related)
DL Adam Butler (shoulder)
LB Brandon Copeland (knee)
WebEx Quotes of Note
Matthew Slater on feeling good about the Seahawks loss:
"We don't put a lot of stock in moral victories or competitive losses, if you will. I think for us there's one stat that matters at the end of the day and that's whether or not you had more points than the other team. And I think now it's about us going back to the practice field, in the meeting room and trying to do things just a little bit better. Coach talked about if we had all done our job just a little bit better, maybe one play or maybe one situation, and the outcome would've been different. I think our focus needs to be on improving this week and hopefully getting the desired outcome."
Jonathan Jones on improving in September:
"There's been some years we had a bad September and won the Super Bowl. There's been years we've had great Septembers and lost in the playoffs. September's just about improvement, finding out how your team responds to it. Adversity, losing to a team and putting it behind you and moving on. It definitely starts with the veterans that's the program here. September is just about getting better."
Adrian Phillips on Raiders tight end Darren Waller:
"He's a great athlete. You watch them on film and honestly, I feel like the film doesn't give him justice as far as how fast he's moving. He's a converted tight end, so I think he started out as a receiver. The guy's running like 4.4, then they moved him to tight end so he's primarily matched up on safeties and sometimes linebackers. Sometimes those guys have no shot because he has everything in his bag like a wide receiver and he's able to still be physical at the top of the road and run away from you."