When wandering through the Patriots ProShop, fans have their share of choices in new team apparel. They can get jerseys, t-shirts, sweatshirts and everything in between.
Now, Patriots fans have a chance to get a combination of items in one piece, one that is unique, gives overstocked items a second life and is good for the environment.
There's a new upcycled line of clothing by Refried, a company based in New Bedford, at the Patriots ProShop. When the ProShop has overstocked items or if a Patriots player is traded, those extra pieces of clothing are typically discounted until they are sold or they are disposed of. Now, these pieces of dead stock are sent off to Refried and return as one-of-a-kind pieces of Patriots merchandise.
"When you look at this, as an upcycling company that sort of really drives the creativity," co-owner of Refried, Mark Litos said. "You get to use all these different materials and bring them together in creative ways and then that creativity really fuels the fashion."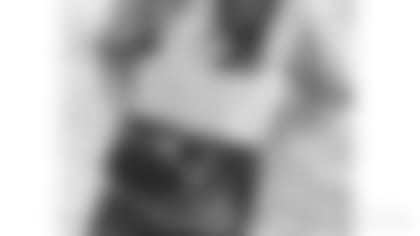 Not only does this line give Patriots fans a chance to shop for special pieces of merchandise, it also helps the environment. The fashion industry is one the major polluting industries in the world. From the amount of water it can take to create a cotton t-shirt and unethical labor practices to the incineration of overstocked items and unwanted clothes sitting in landfills, the fashion industry has a lot of work to do to create a greener practice.
But that work has only intensified because consumers are demanding it, Litos said.
"This is really interesting because what we're seeing, and we've been at this for a while now, but the consumer is genuinely interested in sustainable products," he said. "That's great. Years ago, people could probably care less, it's really a very relevant and growing trend, sustainability."
The new garments could be made up of old, overstocked AFC East Champions shirts and the jerseys of players who are no longer Patriots. They are all different, though made on the same model, but the differences are what make it fun. Though this may be new for consumers and Patriots fans, hunting down the perfect, unique piece is part of the fun.
"People absolutely love the one-of-a-kind. It wasn't easy for us to do it. Even when you look at product in the store. Consumers are so trained, they look at the facing garment on the wall and they just assume every garment is the same thing but a different size," Litos said. "That's something that is challenging for us as a brand that creates these one of a kind styles or one of a kind designs within any given style. It's awesome to watch people go through it and oh my god there's only one of these or this is the color that I like. I love this. It's just so cool."