The late David Bowie once put it pretty well - "Turn and face the strange, ch-ch-changes."
We're barely a week into being "On to 2016," and yet there is a sense of being caught in the middle of a transition.  It feels a little like being late to a party you were invited to, and when you finally get there - you're too late.
Only Super Bowl 50.  Media day, travel plans, trash talk, bragging, swagging and dragging your friends and fellow football fans through another round of "been there, done that" with the Patriots.
Remind your friends to thank you later for sparing them from your pre-game observations.
The fact of life is, the Patriots are, indeed, already moving on to next season.  It's the only way they can go, because it's the only thing they've ever done.  There has never been time to stop, recollect, reflect or remember anything that might have just happened.
The Patriot Way embodies several attributes, one of which has been a remarkable ability to constantly look forward.  Not backward.  Can't cry over what might have been.
Figuring out where to go from here is Priority One.
Scouting the new crop of rookies is well underway, finding potential fits through free agency will be a continual process, and determining who stays and who goes on the present roster is a constant.  There is a lot of work to be done, which includes turnover on the coaching staff as well.
Philosophical fits are important, especially if you've determined change is necessary.  That's not to say change is always needed…but when things don't turn out the way you hope, it's simple.  Stuff happens.
Recently released Dave DeGuglielmo and Harold Nash didn't take long to find new jobs, as their abilities are obviously respected.  But again, sometimes change is needed for a fresh perspective.  New ideas, different strategies, or an adjustment in innovation can be helpful in the growth process.
After all, if you're not growing, you're shrinking.  Or, stagnating.  Neither is an acceptable alternative when you don't reach a championship opportunity.
Transition.  Transformation.  Correction.  It's not rocket science, but it is plain to see.  Change is natural for the future, but the key is to create change without altering the original blueprint here - if you hope to continue the success of the past.  10 AFC title games in 15 years should indicate no need to go overboard.
Appreciate the path taken, and know where you want to go.  Control your environment as best you can.  The Patriots already have this part down pat, so to speak.  True change for the better requires structure, and knowledge of what works.
So change Is strange, yes.  But it's also necessary to get back to where you hope to go.
No matter who you're rooting for, it's almost a sure thing we'll witness something historical during SB 50.
Should Carolina come out on top, there is every chance for QB Cam Newton to play his way into the record books.  The likely NFL regular season MVP would be a strong candidate to double up as a Super Bowl MVP, thereby becoming just the 7th player in history to pull off that double-double.  
As for Peyton Manning, well, he has his chances, too.  Telling Bill Belichick this might be his "last rodeo," for all of his previous post-season shortcomings, he can finally equal his brother Eli as the 12th QB in history to win a pair of titles.  
And if the media decides this should be no love fest, there is the Al Jazeera story on the HGH shipments to his wife.  It will be most interesting to see where the microphones are pointed this week, and what questions get asked - based on the deflating events of a year ago.  
It will also be interesting to see what questions Commissioner Roger Goodell allows, and what he answers, during his "State of the NFL" address.  Getcha' popcorn ready.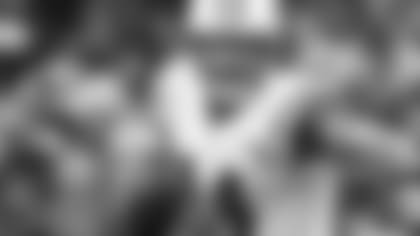 Taking stock of Gang Green
While the AFC East rival New York Jets definitely found improvement from 2014 in their 10-6 record this season, there is always a little something interesting taking flight. 
While the Jets are happy with the overall performance of Ryan Fitzpatrick at QB, what does this mean for one-time top dog Geno Smith, who was unceremoniously punched in the mouth by a teammate this year and had his jaw broken?  Does confidence remain high for his abilities to lead, and throw the ball?
Owner Woody Johnson said as much this past week, which most likely means the Jets won't yet give up on Smith and his big-play potential…with Brandon Marshall and Eric Decker also hanging around to throw to.
But if the Jets can't solve the "Rex" problem - losing twice to their former head coach now residing in Buffalo, it may not matter who plays QB in New York.  Beating the Bills, right now, appears to be an early concern.
And not their only concern, of course.