The waiting is the hardest part.  Tom Petty and the Heartbreakers sang about the subject once upon a time, but somehow, I'll wager they weren't referring to NFL free agency.
Like you, I'm anxious to see what the 2016 version of the New England Patriots roster might look like.  You can categorize it as a "WIP" (Work In Progress) for the foreseeable future, however, with visits from free agents, rookie scouting and draft preparations still to come in the days and weeks leading up to the first round of OTA's.
Part of the problem, most assuredly, is the flurry of activity in the opening 24 hours (give or take) of the free agent signing period.  Fans want to jump into the deep end of the pool right away, while the Patriots have generally held back on making decisions - like a swimmer who just finished a big lunch and has little desire to jump back into the water.
The waiting is the hardest part, every day you see one more card.
You take it on faith, you take it to the heart. The waiting is the hardest part.
Of the NFL's Top 20 (or so) available free agents, 17 were signed and delivered to new teams within 24 hours of the market opening.  That's an indication teams had their eyes set on certain individuals, and teams knew exactly what they were looking for - plus, they had the available cap space in order to pay them.  
The Patriots, as most of us know, prefer to do things differently.  After fielding several posts and tweets from dedicated fans wondering if there had been an information black-out in New England last week (one fan posted actually asking if the Patriots knew the Free Agency period had opened - sarcasm was not detected), New England has begun its slow, systematic search through the list of available players to see who might fit a particular need.
See, in New England, it's all about fit.  It always has been, and some of us forget that.  As Tom Petty once crooned, you take it on faith as a Patriots fan and you take it to the heart.  15 years of successes within this franchise should be a good indication the higher-ups know what they're doing.
Is every move the best move?  No.  I'll also wager the Patriots occasionally misinterpret interest from other teams where certain players are concerned, and misgauge talent levels or financial worth on others.  It's an inexact science, this job of evaluation.  It's a matter of educated opinion.  But one thing the Patriots never waver on - is their ability to stand fast to a principle, an internal opinion, or a rule of thumb.  
They don't make rash judgments.  They take their time.  They build from within.  They don't (usually) go for the superstars available.  They fit internal needs.  They look for motivated players.  They look for leaders.  They look for winners.  
Oh, don't let it kill you baby, don't let it get to you.  Don't let 'em kill you baby, don't let 'em get to you.
I'll be your breathin' heart, I'll be your cryin' fool.  Don't let this go too far, don't let it get to you.
Yes, the Patriots know the Free Agent period is open.  Like buying a new car, they're kicking the tires on the available models, they're doing their due diligence.  They have a long road to travel, a long year to traverse - and a roster to build, hopefully one with as much promise as we've seen each year over the past decade-and-a-half. 
It's just that the waiting is the hardest part, right?
Winners & Losers
From this point of view, the winners in NFL Free Agency are almost always the players.  They're the ones getting the big bucks, and the teams who sign them are on the hook for much of it - regardless of the upcoming level of performance.
Early Patriot wide receiver target Mohamed Sanu is not a 1000-yard receiver in the NFL, but got paid like one by his current and former team, the Cincinnati Bengals.  Adam "Pacman" Jones finds controversy under almost every rock he turns over, yet for a 32-year-old cornerback whose skills are arguably diminishing, he finagled his way into a new, $8 million deal by playing one team (Miami) off of another (Cincinnati).  The Bengals "won."
Again, it's really all a matter of opinion.  But there are several who cover the NFL feeling like the Oakland Raiders were also winners in the opening days of free agency, adding three solid starters in linebacker Bruce Irvin (formerly from Seattle), cornerback Sean Smith (from Kansas City) and guard Kelechi Osemele (from Baltimore).  
The Raiders, of course, need some help to get into the mix within the AFC West.  As for "losers," can you really put Denver in that category, based on their failure (or decision not) to retain Brock Osweiler as Peyton Manning's full-time heir apparent?  It probably depends on whether or not you believe Mark Sanchez to be an adequate replacement, or be an adequate butt (fumble) of off-season jokes.
Again, it's just a matter of opinion.  Real results won't be tangible until, say, October?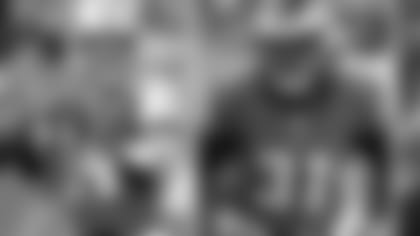 Gang Green, 'Fins & Bills buffaloed
They're each easy to target for a barb or two, but let's face it - sometimes it's just as much fun watching New England's three AFC East division rivals try to play "Keeping Up with The Patriots" as it is watching the Patriots beat them on the field in the regular season.
If the NFL Network were smart, they'd figure out a way to capture the off-season exploits in New York, Miami and Buffalo and turn those tales into a bigger-picture storyline.  After all, the AFC East has been the Patriots' personal playground with division titles in 12 of the past 13 seasons, including the last seven in a row.  
If you've ever wondered why the Patriots are sometimes reviled, look no further than the fans suffering from an annual beat-down at the hands of your New England heroes.  Their own teams have tried many different ways to keep up, only to ultimately fall short.  
In New York, the Jets won't meet QB Ryan Fitzpatrick's current asking price, so the two sides are locked in a staredown, waiting to see if the other side blinks.  In Miami, the Dolphins appear to be keeping their cards close to the vest (like the Patriots often do), but then again, the 'Fins did spend on free agent Mario Williams while letting younger players leave.  And they signed two veteran players (LB Kiko Alonso and CB Byron Maxwell from Philadelphia) who had short success with their former team.
Then, there are the Bills.  Rex Ryan's biggest addition (literally) to his off-season roster might be that of his brother Rob (a former Patriots' coach) as assistant head coach.  The brothers' Ryan just fired their defensive line coach, Karl Dunbar, who came from the Jets to the Bills with Rex a year ago.  They also lost wide receiver Chris Hogan to the Patriots, opting not to make a qualifying offer to a player who played in every game for them last season, catching 36 passes for 450 yards and two touchdowns.
Maybe they know what they're doing, maybe they don't.  But see, that's the point for the programming suggestion.  It's like watching an accident about to happen - you want to turn away, but you can't.  It's compelling. 
"Keeping Up with The Patriots."  It is must-see TV, isn't it?
*John Rooke is an author and award-winning broadcaster, and just completed his 23rd year as the Patriots' stadium voice.  Currently serving in several media capacities - which include hosting "Patriots Playbook" on Patriots.com Radio - Rooke has broadcast college football and basketball locally and nationally for 27 seasons and is a member of the Rhode Island Radio Hall of Fame. *