It's been more than six months since the Drive for 5 bus took off from Foxborough for an ultimate Patriots road trip to Houston, but last week, fans got to relive some of the glory on the latest episode of "Wahlburgers." 
With deliveries, visits and calls from Paul, Donnie and Mark throughout the journey to Houston, the Wahlberg family of course took the chance to support their favorite team on their own show, so the episode called, "Houston, We Have a Paul-Blem" premiered on Wednesday. 
The episode kicked off with Paul's visit to Gillette Stadium, where he made a special food delivery. Mark called up his brother and asked him to take care of someone very important in the Patriots organization. 
Paul was curious who would be receiving the crucial order from Wahlburgers and guessed it was either Julian Edelman or Rob Gronkowski. 
"Who is more important than both of them," Mark said. 
When Paul finally made it to the Drive for 5 bus, he was expecting Tom Brady to walk down the steps but instead found Jim Murray, Rob "Hardy" Poole and, the big man himself, Pat Patriot.
Paul left Foxborough, and Donnie met up with the crew at his home in New York, where he gave Pat his lucky red, white and blue beads and a dance lesson. 
Throughout the episode, the brothers joke that Paul is a jinx, so Donnie took it upon himself to fix the mojo on the bus after Paul paid it a visit.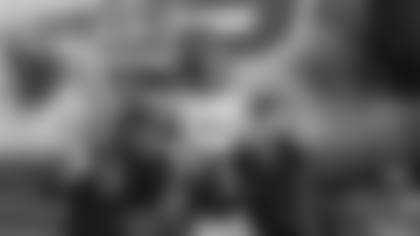 "Paul Wahlberg going on the Drive for 5 bus would turn it into the 'Four and No More' bus. I had to like holy water and cleanse the bus of the scourge of Paul's jinxy ways," Donnie said. 
When Mark, Donnie and Paul finally made it to Houston, they hit all of the Super Bowl staples. While Mark and his kids did their best at football skill stations, Donnie helped his wife Jenny McCarthy host her SiriusXM show on radio row. After a quick visit from Robert Kraft while they were on air, the couple brought Paul on the show, where he interviewed an idol of his from Patriots history -- Adam Vinatieri. 
The episode is a whole lot of Super Bowl LI fun. Patriots Nation won't want to miss it. You can watch the episode on aetv.com with a cable subscription log in and catch "Wahlburgers" every Wednesday at 9 p.m. on A&E.