When you're entering your 15th NFL season and you already own one Super Bowl ring, there's only one reason you trade in your uniform for that of your rival: to add to your jewelry collection.
"I just want to win, point blank," Reggie Wayne told reporters in his first interview as a Patriot.
The erstwhile Indianapolis Colt, who played there for 14 seasons and won one Super Bowl title, has been sitting at home in the Miami area all offseason and into the summer, waiting for the right NFL team to give him one more shot. That team turned out to be the defending Super Bowl champs in New England.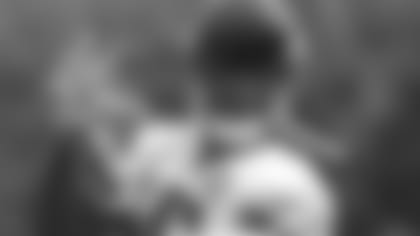 Wayne insisted that he never once thought about retiring. He received calls "sporadically" from other clubs, but it was the fit with New England that felt best. A driving force in his decision, Wayne revealed, was his mutual respect for Bill Belichick.
"Even though I was on the opposite side, you see that from afar, and that's what you want. You want to be part of that. You want to learn how to put that into your repertoire. The Pro Bowls, the games, the day after the games – he's one of the best at it."
Wayne was a shell of his former prolific self last season, his final campaign as a Colt, leaving many observers to speculate that Wayne might be finished in the NFL. Even though Indy allowed Wayne to walk away this offseason, he says he harbors no ill feelings toward his original team, whom he'll face in Week 6 if he makes the Patriots 53-man roster.
"I believe I left on good terms," Wayne asserted. "As far as week six, I don't even see that right now. Right now, I'm worrying about today, getting better, like I said, trying to figure out this playbook, trying to figure out my way around this maze [inside Gillette Stadium]. When that time comes, it comes.
"I'm excited about the transition. I've got so much work ahead of me. I'm sitting at my locker now cramming. It's been some years since I had to cram, so this is something new for me. I'm looking forward to the journey."
Wayne was reportedly given a one-year contract by New England, worth upwards of $3 million, according to an NFL Network report. His opportunity comes at a time when the Patriots' receiving corps desperately needs healthy bodies. Wayne is one of those now, but injuries are what he maintains were the cause of his subpar 2014 season.
The soon-to-be-37-year-old is the latest high-profile wideout to come to New England late in his career, although most of the others – e.g., Chad Ochocinco, Torry Holt, Joey Galloway – failed to stick for very long or be close to productive in this offense. Wayne sounded confident that he won't disappoint, even though he admitted that his new playbook is unlike anything he's ever seen.
"I just want to finish healthy, finish strong. Last year, the whole year I played injured from week one to the end," he explained. "I know what I can do, I know what I'm capable of, and I'm just grateful for this opportunity, that the New England Patriots organization has welcomed me in.
"If I didn't think I had anything left, I wouldn't be here. One thing I don't do is worry about what other people say. If I didn't play at all, if I decided to retire, they still would have something to say. I can't do anything about that. The only thing I can do is let my work speak for itself. I know what I can do. I know what I can bring to the table. I've just got to get caught up and get on the same page with everybody, and I'll be able to show what I can do. Whoever those naysayers are, just watch me work."
Wayne got to work with his new teammates on Tuesday when the team went out to practice. He said beforehand that he didn't yet know what jersey number he would be assigned. In Indy, he was 87, but that belongs to All Pro tight end Rob Gronkowski, and Wayne insisted that he no longer wanted those digits.
"No, he can have it. He can have it," Wayne smiled. "Eighty-seven is over with."
Perhaps… or perhaps not. Turns out, Wayne was given number 15, formerly worn by rookie receiver Zach D'Orazio (who's now 83). Wayne is entering his 15th NFL season, and it just happens to be the number you get by adding 8 and 7.
Edelman drops by
We haven't seen much of Julian Edelman this summer. The veteran wide receiver has spent most of training camp and the preseason rehabbing an unspecified injury.
Tuesday, however, he entertained questions from the media when he appeared at his locker before practice. Asked if he feels confident he'll be able to suit up again by Week 1, Edelman gave a predictable answer.
"Ask Bill. I'm just taking it day-by-day. Taking a lot of mental reps, doing everything I can to stay mentally into it."
He acknowledged that it's been frustrating to be sidelined for so long – a feeling he's experienced all too often in his previous seasons with the Patriots.
"Anytime you're not able to go out there and play, yeah, it's difficult, but it's part of the game. I'm just working hard, doing everything I can every day to improve myself.
"Put a lot of hard work in during the offseason, then something like this happens," added Edelman, "where I haven't been able to practice as much as I wanted to, but just have to learn from it and get better."
Edelman suited up for practice and actually took part in individual and position group drill at the start of practice before heading with a trainer down to the lower field and working on other rehab and condition exercises.
Practice Report
Edelman was one of eight Patriots returning to the practice field Tuesday. The other seven were fellow wideout Aaron Dobson, RB Travaris Cadet, OL Ryan Wendell, OL Caylin Hauptmann, LB Rufus Johnson, rookie DE Trey Flowers, and TE Scott Chandler.
With their appearances, Wendell is now off the PUP list, and Hauptmann comes off NFI.
Ten Patriots did not appear on the field Tuesday for injury reasons: WR Brandon LaFell, rookie CB Darryl Roberts (wrist), LB Dakoda Watson, LB Dane Fletcher, OL Marcus Cannon, OL Chris Barker, C Bryan Stork, DL Joe Vellano, TE Jake Bequette, and DL Chris Jones.
New England will be back on the practice field Wednesday. The team departs for Charlotte on Thursday to face the Carolina Panthers in preseason game number 3 on Friday night.
Backed into a corner
Safety/co-captain Devin McCourty was outspoken Saturday night after the Saints game about his being made to move back to cornerback, at least temporarily. He told reporters in the Superdome that he hoped the change wasn't permanent.
Tuesday, he seemed to backpedal a bit.
"I just gotta play. As a player, you just have to go play football," he maintained. "Obviously, a new week. Gotta get prepared and ready to go for new challenges this week. That's all I can do."
Will those challenges be tackled from the cornerback or safety position Friday night in Charlotte?
"We'll see," McCourty grinned. "We'll have to see."