One week in the books and we already have some major shakeups at the top. The Patriots posted a solid victory to start, but Tom Brady wasn't as fortunate in New Orleans. Here's a look at some developments as we now turn our attention to Week 2.
As if there were any lingering questions heading into the season, Josh McDaniels and Bill Belichick ended those by crafting a game plan that was almost entirely on the shoulders of Cam Newton. In his New England debut we saw read options, bootleg runs, quarterback draws and mostly play-action passing. He carried the ball 15 times, and while some of those options aren't necessarily dialed up for him to keep it, that's a pretty heavy workload for a guy who hasn't been able to play much football over the last two seasons for health reasons. Clearly it will be tough to sustain that kind of attack, but for Week 1 against an overmatched Miami front it worked to perfection. With Newton on a one-year deal and looking to re-establish himself among the quarterback elite, offering him more opportunities to carry the load might be mutually beneficial for all involved. Belichick likely knows now whether he feels Newton is a potential long-term answer or more likely a one-year stop gap. If it's the latter, having him carry the ball as often as he did against the Dolphins is understandable. At the same time, Newton gets the chance to show the rest of the league he's healthy and still capable of playing at a high level.
I promise not to spend the season constantly comparing the goings on in Foxborough and Tampa. Brady won six titles in New England and nothing that happens from this point on will change that. Unfortunately it doesn't appear that many feel the same way as it seemed there was more excitement over Brady's less-than-stellar Bucs debut than with the Patriots win. First, Brady was awful in New Orleans. Two picks, one returned for a touchdown, and other gaffes like an intentional grounding penalty made Brady look every bit his age. However, I'd expect the Bucs offense to be more cohesive in the coming weeks. Peyton Manning's first season in Denver saw the Broncos go 2-3 before ripping off 11 wins to finish the 2012 season. He, too, looked old and given his physical limitations coming off the multiple neck surgeries the questions were more glaring than they are now with Brady. A year later Manning set the single-season record for touchdown passes and went to the Super Bowl. Two years after that he won it – although he wasn't a big factor in Denver's title as the defense carried the team. Brady has time to get more comfortable with his surroundings and losing at New Orleans isn't exactly a death knell to any team's chances. There were warning signs to be certain – Rob Gronkowski looked like a guy who took a year off from football for one – but who's betting against Brady at this point?
Speaking of Brady and Newton, it was hard not to notice the contrast in postgame demeanor between the two. Newton was all smiles despite being asked to keep the ball on the ground and directed a rather limited passing attack. The win seemed to be his main focus, and even a postgame skirmish with members of the Dolphins couldn't distract him from what he felt was the purpose – getting the victory. Contrast that with some of Brady's media briefings following wins last year – most notably in Buffalo and Philadelphia. We spent some Mondays wondering why Brady seemed so upset after victories. Al Michaels called him the most miserable 8-0 quarterback in the league during the Patriots Week 9 game in Baltimore. Clearly Brady knew the offense he was leading wasn't good enough and winning on blocked punts and pick-sixes wasn't sustainable. Ultimately he proved correct as the team finished 4-5 over its last nine games including a wild card loss at home to Tennessee. But that doesn't mean his behavior was acceptable. A valid argument could be made that Newton directed a similarly unsustainable offense at Gillette Stadium on Sunday. He threw it just 19 times. You'd have to go back to Week 4 of 2004 to find the last time Brady threw less than 20 passes in a game in which he started and finished. Yet Newton was ecstatic on Sunday.
'Business side of the business'
Few Patriots have been more enjoyable to cover in recent seasons than Aqib Talib, and according to the corner we almost got a chance for a reunion. Talib told folks he fielded an invitation from Belichick to sign with the Patriots for $6 million with the purpose of covering tight ends. The Patriots will see plenty of talented ones this season, including Miami's Mike Gesicki on Sunday. Seattle's Greg Olsen is next. Travis Kelce, George Kittle and others are on the horizon. But ultimately Talib turned the offer down. That might turn out to be a pleasant development because it appears as if Belichick has turned to Joejuan Williams for that role. The second-year corner has the size to compete against tight ends and he turned in a solid performance against Gesicki in the opener. Perhaps a defined role for Williams will be a great way to get the youngster regularly involved in the defensive game plan despite working in an absolutely loaded position group at corner. It's just too bad we won't be graced with any more great Talib quotes like when he explained his free agent status as being "just the business side of the business."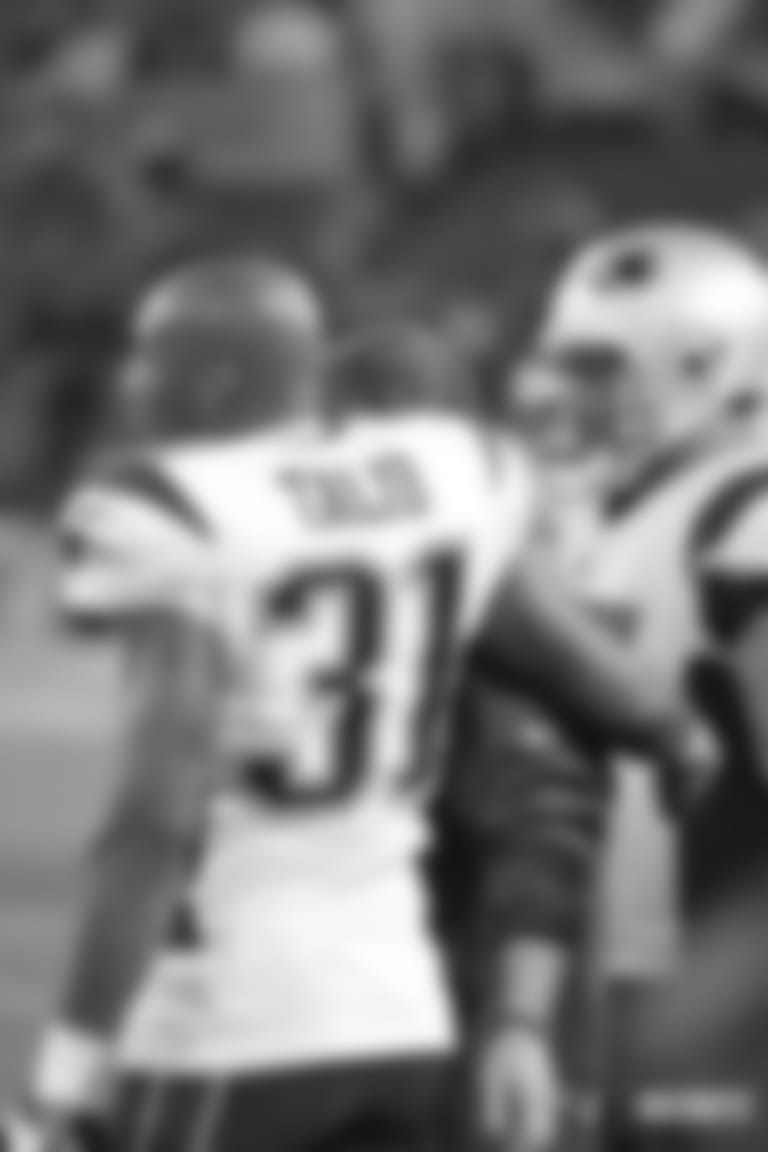 Lots of movement among the top 5 with both Tampa and San Francisco going down in Week 1. Here's a look at the current power rankings.
Baltimore – Nothing the Ravens did on Sunday made me rethink my position here.
Kansas City – Ditto only replace Sunday with Thursday.
New Orleans – After a sluggish start, the Saints defense carried them to an easy victory over the Bucs.
Green Bay – I know I called them overrated last week but perhaps I underestimated what a motivated Aaron Rodgers could do.
Seattle – Truth be told I feel the Seahawks are also overrated but not Russell Wilson. He alone gives Seattle hope.