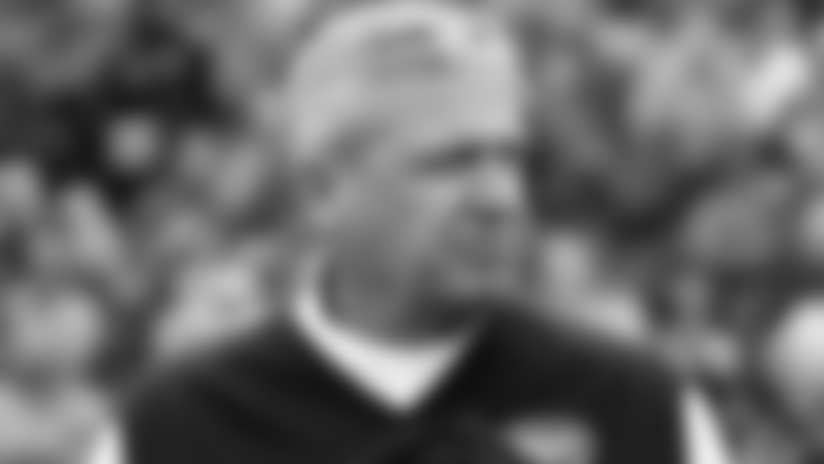 Opening Statement...
This was another game that I thought we had a heck of a chance to win against New England. That's been the story probably the last four out of five times we played them. To their credit, they find ways to win. They made big plays at the end of the game to win. That's why they're where they are right now and what separates them from a lot of teams. It's unfortunate. I really thought it was going to be our day. It never turned out that way.
On the defensive pressure the Jets were able to put on Patriots QB Tom Brady...**
I don't know if it's really possible to control Brady. If not, we're the team that always gives him the biggest challenge, whether he admits it or not.
On things he would do differently this season...
Everything. We haven't been good enough. I don't know what to tell you. I never thought we'd only have three wins, but that's where we're at.
On whether settling for field goals instead of touchdowns has come back to haunt the Jets this season...
It always comes back to haunt. Red zone was a critical factor in today's game. We were 0-for-3 and I believe they were 2-for-4, including that gift touchdown they got. There you have it.
On how critical the Patriots sack of Jets QB Geno Smith on third down in the fourth quarter which led to a missed FG...
Pretty darn critical. That's something you have to learn from. You can't take a sack there no matter who is in your face. Get rid of the football. You can't take sacks in those situations. Obviously, we botched the end of that as well.
On how frustrating this loss is considering how well the Jets played and how badly he wanted to win...
I want every one of them, but it's frustrating. I felt good going in. I thought we could match-up on the outside which really allows us to really play defense the way we want to. Unfortunately, we couldn't close the deal.
On if he tried new things to get to Brady or whether it was just execution...
You always do new things. You don't just give him the same picture down after down. That guy will kill you if you do. We were able to turn our pass rush loose a little more and I think that helped us. We thought our defensive line was a huge advantage for us going into the game.
On whether he wanted his defense to let the Patriots score a touchdown on the last catch...
No, not at that point. We wanted to set up a third down where we could stop them and get the ball back. We weren't going to concede it then. Obviously, if they were going to kneel down, we would have let them score, but they're too smart for that.
On the two reviewed plays which went against the Jets...
I felt good about them. I thought we were going to win the challenge because I thought the guy was short, but apparently, he wasn't. I don't challenge the touchdowns. Those are reviewed up top. I was really shocked by that one because his knee was clearly down. I guess they had a different camera angle or whatever. A shot off a wall must have showed he was in. To be honest with you, I never saw it.
On Smith's fourth-quarter interception...
He underthrew it. It was a poor throw. That was a big play on their part. The kid (Jamie Collins) made a great play. Just a tad underthrown, but it was a big play in the game.
On his comment about playing Brady harder than anyone...
I just think we play defense a lot different than most teams in this league. We don't just line up and play standard defense. I think that's what I'm talking about. Everybody plays hard and we're no exception. Through the years, that probably holds true.
On injury updates to Jets C Nick Mangold and WR Percy Harvin...
No. It killed us. The two guys who came in...
I was really proud of Dalton Freeman and the way he stepped in and replaced a Pro Bowl center like Nick Mangold. That's tough to do. That really hurt us. I think it's an ankle injury. I'm not sure of the status. He's on crutches now, but it doesn't appear to be broken, so that's a blessing. With Percy Harvin, it was his ribs. Dang. We thought we really had a mismatch in there with Percy, but he couldn't play in the second half. That really hurt.
On the difference between the Patriots winning these one touchdown games and not the Jets...
It starts with coaching. You look at them and that guy (Bill Belichick) does a heck of a job. There is no denying that. They make big plays at big times. They run the Boss play and we know it's coming and the guy still make the play. He gets a big run play on us. You pick your poison in that situation. He's either going to sneak the ball or they're going to run the Boss, and they did a good job executing.
On if it entered his mind that he might be coaching his last game at MetLife Stadium as Jets head coach...
Heck, I wasn't thinking about anything other than...I was just a little upset over this game.
On what Belichick said to him during the post-game handshake...
I don't know.
On whether this loss strings more than the others...
Every loss hurts. It does. This is a team that you think you have to beat going in. I didn't think we'd have to beat them to get our fourth win of the season, but that's where we're at.
On if he thinks about how things would have been different the last four years had the Jets beaten the Patriots more often...
No. They usually run away with our division. The one year we were both 9-2, we got smoked like sausage in that Monday night game. That was probably the year we could have won the division.
On whether he and Jets OC Marty Mornhinweg had a disagreement before a missed 52-yard attempt...
I'm sure we're at odds (joking). At least, that'll be the story. We had to burn a timeout. I really butchered that whole thing. That's on me.
On if he thinks about the games that might have been...
I don't look back.
On the sack preceding the missed field goal...**
The guys got on me fast. As soon as I got the snap, I felt immediate pressure. In those situations, we always talk about situational football, and in those situations, my job is to throw the ball away (and) prevent the sack. But I was bottled up in the pocket. I just tried to limit the loss (and) tried to not hurt us any more.
On his play overall...
Today I felt, first of all, the protection was great. The line did a phenomenal job keeping me upright, allowing me to go through my reads. My decision making, I think for the most part aside from a few plays here or there, I did a pretty good job at making good decisions. In close games, one or two bad decisions can be the difference and today, I think it hurt us.
On Coach Ryan's message at halftime...
We were up and I think we were playing good at that point. We talked about it before the game about coming out with intensity and coming out focused and ready and we did so. Going into the half, coming out of halftime, we felt like we had a good game plan. We made a few adjustments and overall we just needed to play a little bit better on all sides of the ball. Obviously, we didn't get the victory today, but I think we were doing our jobs. We were doing the right things.
On if it possibly being Coach Ryan's last home game makes the loss more disappointing...
There's always emotion in this game, always the ups and downs. I've gone through it. We've all gone through it. Today being our last home game for this season, obviously we wanted to leave our fans with a good taste in their mouths and go out on a good note. But we fell short today and I feel bad, I feel terrible. When you put your heart out there, when you play as hard as you can, you want to come away with a victory and be fulfilled. But hats off to the Patriots, they played a good game.
On the sack before the missed field goal...
The guys got on me real quick. I was bottled up in the pocket, didn't have a chance or an outlet to really throw it away to so I just tried to limit the loss and really just take the sack right there instead of running backwards and losing any more yards.
On if he knows to avoid a sack in that situation...
Yeah, I know and Marty (Mornhinweg) does a great job at reiterating the fact, "Hey, we're in field goal range, don't take a sack here." Unfortunately, it happened. It's not something that I would say is one person or anybody. It's all of us. It's a sack on all of us and in my position as a quarterback, obviously you want to throw it away (and) not take a sack at all. I didn't have an outlet (and) didn't feel like I could get it off so I just tried to take the sack and (minimize) the loss.
On playing well but making a few mistakes...
That's the difference in the game. That's the difference in this game, a close game. We always have close games and we always talk about making those clutch plays and making the play instead of being on the opposite end of it. I felt like my decision making was pretty good all day. When you have those situations where one or two plays can really turn the game for you or dictate the game, you really want to avoid it and I try my best to do so. I try my best, my hardest. But today we fell short. I feel terrible. I can't explain how hard it's been all season for us to fall short time and time again knowing how much time we put in and how much effort we spend. But I just feel sorry for the fans. I feel sorry for everybody in the locker room because we're better than this and I believe that.
On the importance of settling for field goals in the red zone...
Huge. And I think the biggest play to me was the play to Jeremy (Kerley) where I had a chance to throw a touchdown and missed it by a few inches. If we score that touchdown I think it's a different ball game. I think the scenario's different. But you can't have plays back. That's part of life. That's part of the game – you've got to be able to capitalize when you get the opportunity. In that situation, I wish I could get it back and I wish I could do something different, but I can't.
On his interception...
Yeah, I felt like I saw it, I definitely saw the guy underneath it and I wanted to put air on it and lead him out to the sideline. I took the hit, I couldn't see where the ball was going. I was just hoping it fell to the ground and 91 (Jamie Collins) made a good play.
Wide Receiver Eric Decker
On where the team came up short...**
In the red zone again, just had to kick field goals. Against a good team, you're not going to win if you're going to kick that many field goals.
On the team's issues in the red zone...
I don't know. I honestly don't know.
On what Rex Ryan told the team after the game...
We've got one more (game) left, and let's give all we got this week.
On whether it is a difficult pill to swallow to lose in what may be Ryan's last home game with the Jets...
Personally, I hadn't even thought about that. I don't think we've thought about that. The New England Patriots, a division rival, at home, we came up short. (It is) just disappointing.
On his approach to each kick...**
I just try to take every one as it comes. I try to keep them all the same. I've tried to do that my entire career, every kick is kind of the same kick. I feel like I was hitting the ball pretty well today. It's a bummer the last one, I didn't get a chance to see it go in.
On if a longer field goal attempt is more likely to be blocked...
I don't know if it's more likely or less likely, I don't know the statistics there. But they got it.
On his hip flexor...
It's doing fine. It's getting better every day, so I'm going to keep going and finish the season strong.
On getting pressure against Tom Brady...
The guys upfront did a good job of making him uncomfortable back there, putting pressure on him and trying to force the ball out of his hand quickly. At the end of the day, we didn't make enough plays.
On losing by one point...
In a game like this, you have to find a way to win. Hats off to New England, they made more plays than we did at the end of the day.
On reaching 1,000 tackles for his career...
I'll think about it after the season. I would've rather had a win.
On his injury...
(I underwent) X-rays. We'll do some more testing tomorrow.
On if his season is over now...
No. We have one more game. We're going to go out there and try to get that win. We'll find out (if I can play). I would only expect so.
On Vince Wilfork paying respect while he was injured...
Vince and I, we've been playing against each other (for a long time), it goes back to college when we played against each other. We've had some great battles. I have the utmost respect for that guy. He said the same thing as I was being carted off the field. As a player, I'm very appreciative when a guy that you've gone against 20-something times shows you that kind of respect.
On wearing an NYPD hat during the pregame...
Those two officers, it's a shame. That's tough. Those guys do a great job. I've been here nine years. Every one of those guys that's out there, they risk their lives every day. They go out there to keep the community safe, and for that to happen to those two guys, their families, that's a raw deal. If wearing that gives them a little bit of comfort or shows support for those folks, I'm happy to do it.
Defensive Tackle Sheldon Richardson
On how the Jets were able to keep Tom Brady from getting into a rhythm...
Executed our gameplan. Had a lot more four-man rush today. We got after it. Got him off his spot, got to him, hit home on a few blitzes. Just executed our gameplan.
On how much having Muhammad Wilkerson back in the lineup helped the defensive line...
That helped out a lot. It's Mo, man. He makes my job a whole lot easier, and pretty much anybody else on the defense, in the box.
On whether the Jets played well enough defensively to win the game...
Yeah, I think so. (We) left a few plays out there, a few miscommunications, guys not getting the calls. The fans were loud today. It happens.
On whether he thought the Jets had the game after Marcus Williams' interception...
Yeah, we did. I thought we had them, to put some points on the board and hold them off until the game was over, but it didn't work out that way.
Defensive Lineman Muhammad Wilkerson
On when the decision was made that he could play today...
This morning.
On how he felt throught the game...
I made it through the game. I mean, it is bothering me, but that's about it.
On how frustrating it was to lose a close game to them again...
I mean, it is tough. Of course we want to win the game. We just missed a few plays and they made more plays than us. They got the victory. We fought hard, but it is what it is.
On if they were trying to win this game for Rex Ryan...
It doesn't matter. Of course we're trying to win the game period. It is not about Rex. It is not about anybody. It is about the team. It is about the organization.