HOUSTON -- If you didn't already know that Atlanta finished the 2016 season with the NFL's 25th-ranked defense, you'd never guess so by hearing the young Falcons defenders talk about themselves.
"I saw myself come of age in that last [regular season] game against the Saints," rookie linebacker De'Vondre Campbell declared. "I felt really comfortable out there and that carried over into the playoffs."
"We're just focused on being the best Atlanta Falcons we can be," maintained second-year defensive tackle Grady Jarrett, "You want to play against the guys who are the best at what they do. We're getting ready to kick off Super Bowl LI. We're looking for a good, competitive game."
"We've come a long way," second-year corner Jalen Collins observed. "If you're out there loving what you're doing and competing for your brothers, your game can go to another level."
Head coach Dan Quinn and general manager Thomas Dimitroff – the erstwhile Patriots scouting executive – have assembled a defensive unit comprised of at least a half-dozen rookies and second-year players, like the aforementioned trio, who are starters or significant contributors.
"It's a testament to the work they put in, studying the film and putting in the time to try to find guys that will fit into their organization," Campbell continued. "You've got a bunch of guys [on this defense] who are kind of misfits, I would say, between me, Deion [Jones, a rookie linebacker], Brian [Poole, a rookie cornerback], and Keanu [Neal, a rookie safety] – you're dealing with a bunch of guys who weren't projected high [in the draft] coming out [of college].
"We didn't have a lot of accolades, so, for [the Falcons] to trust in us and put us in so early in the season and believe in us, it's unbelievable. You don't want to let them down.
There were some growing pains early in the season, rookie mistakes, but as the season went on, we've learned from our mistakes. This is the result of it."
"One of the things that I do see from our team now," Quinn told reporters Tuesday, "is young guys playing [with maturity] like older guys, and older guys playing [with enthusiasm] like younger guys. That's good to see with veterans like [defensive ends] Dwight Freeney and Tyson Jackson, and then to see our young guys come of age, so to speak, in the system, has been great for us."
Such is Atlanta's faith in one another and as individuals on defense that they now claim to be undaunted by the challenge facing them this Super Bowl Sunday.  
The Patriots will appear in their seventh Super Bowl of the Tom Brady/Bill Belichick era, having won four of the previous six, but to these comparatively inexperienced Falcons – Atlanta as an organization has been to just one other Super Bowl, back in 1998 – New England is just the latest opponent on the schedule.
"We're going to compete until the clock says 00:00," Collins continued. "We're not going to give them anything easy. If they get something, they're going to have to earn it. We're on the same stage together for a reason. We respect them and what they do, but we also know how hard we prepare and how hard we can play. They're going to have to beat us on the field."
From what wellspring does such belief originate? The answer most frequently distilled into one word since the Falcons alighted in Houston has been "process."
"We know our process," Jones responded. "We know what we have to do. We know what type of team we are, our style of play. We just have to stick to that."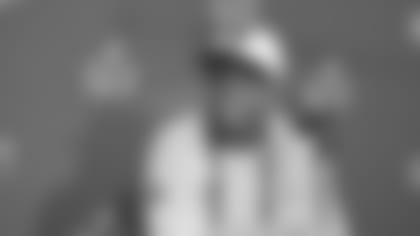 "Just embracing the process," echoed rookie safety Keanu Neal, "trusting what we do, continuing to grow. Those are the biggest [aspects]. And not looking too far into the future. You're going to have growing pains, especially as rookies. But we continue to learn from those."
"We believe in one another. We have faith in one another. That's part of our brotherhood," added Campbell. "We trust one another. We've been with each other putting countless hours on the practice field and meeting rooms to get where we are.
"We have a process we go through every week, and we trust in that process, because it's gotten us this far. So, we don't want to change it up or start getting out of character, because that's how bad things occur."
Recent history might also be a factor.
Atlanta dispatched the Green Bay Packers and their all-star QB Aaron Rodgers rather easily in the NFC Championship Game, after having only won by a point in come-from-behind fashion when the two teams squared off in late October.
"Going against a guy like Aaron Rodgers gives us a lot of confidence going forward," Jarrett asserted. "It just shows how much better we got over the season."
"Regarding the first game against Green Bay," Quinn remarked, "when you get in those moments one of the things we've challenged our team on is [to] finish. When you have those opportunities to go finish, which we did in that game – scoring [late], and then Aaron and Green Bay having a chance to come back out and put a drive together, we ended up stopping them on downs. It's those examples of 'finish' that give you confidence moving forward.
"I can think of no greater team that you better demonstrate 'finish' against than New England," added Quinn. "They've been outstanding at it."
Talking a good game doesn't always translate to playing one, however. So, how might these Falcons strategically or tactically go about defending the high-powered Patriots offense?
"I don't think we can focus on one guy. We have to play fast and fly around to the ball," Jones offered.
"They don't make a lot of mistakes," Campbell said of New England. "So, when you're going against a team like that, you have to be technique-sound. You can't afford to make mistakes because you're playing against a quarterback that'll carve you up if you do. You can't be out of position or he'll make you pay for it."
Of course, kickoff of Super Bowl LI is still several days out, but the Falcons defense appears ready to play right now.
"This is exciting. No nerves at all," Jones grinned. "I'm just ready to get to the game, fly around, and play ball."
"It's awesome. It's going to be a lot of fun. I'm really excited going against a guy like [Brady], a guy I grew up watching. We're preparing for a lot, but it comes down to what we do."  
"We're excited to be here. We having fun, but working yard," Jarrett emphasized. "We're just enjoying the moment. I feel that's where we get our confidence from, and knowing that we put the work in, that we're here for a reason. This doesn't just happen. We're looking forward to having a good Sunday."
Jarrett's confidence might not be so surprising when you consider that his father, Jesse Tuggle, is a Falcons legend at linebacker (five Pro Bowls in his 14-year career), and former Ravens linebacker Ray Lewis, as self-confident a player as has ever suited up in the NFL, is so close with Jarrett's family that Jarrett calls him "uncle."
If the young Falcons' bravado belies any underlying apprehension or self-doubt, though, only Jarrett came close to betraying himself.
"We'll see Sunday…" he hesitated. "Anyone who plays football will tell you they feel something before any game. If you don't feel anything, you probably don't care and aren't going to have a good day."
More than anything, that might be what Atlanta needs to guard against the most this Sunday.