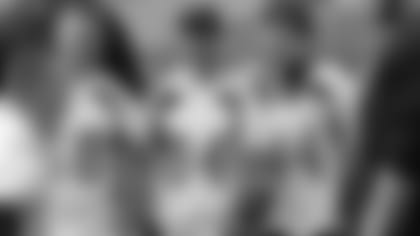 ]()Taunton, Mass. - On Sunday, November 1, Special Olympics Massachusetts (SOMA) descended in world-champion fashion upon Foxborough for the first annual SOMA Flag Football & Cheerleading State Games. The season-ending event, sponsored by the New England Patriots, the New England Patriots Charitable Foundation and the King Philip Youth Football League, was held at Gillette Stadium, the historic home of the three-time Super Bowl champion New England Patriots.
"We're happy to host this event and provide a unique opportunity for the athletes as a fitting season-ending celebration," said Andre Tippett, executive director of community affairs for the Patriots. "Gillette Stadium is recognized as the home of football throughout New England, and playing on the same field where the Patriots play is a thrilling experience."
More than 250 Special Olympics Athletes and Unified® Partners from across Massachusetts, Rhode Island Connecticut and New Hampshire participated in the event, which featured Unified 5x5 flag football games, football skills and cheerleading demonstrations. Unified® Sports combines individuals with and without intellectual disabilities on the same team playing as equal teammates against other Unified teams.
Tippett led a group of 10 current and former Patriots and NFL players and coaches - including current Patriots linemen Logan Mankins, Stephen Neal and Dan Koppen and defensive coordinator Dean Pees - who actively engaged Special Olympics athletes throughout the day. The event kicked off in thrilling fashion as all 20 teams in attendance ran through the giant inflatable Patriots helmet - led by team mascot Pat Patriot - to begin the festive Opening Ceremonies. After welcoming remarks highlighted by the lighting of the Special Olympics' "Flame of Hope," former Patriots safety Roland James officially declared the games open.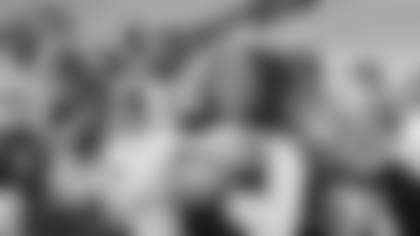 ]()The morning session was highlighted by football skills stations (punting, passing, placekicking and a fun running obstacle course) as well as a Unified cheerleading clinic led by King Philip Youth Football and New England Patriots cheerleaders. Unified cheerleading demonstrations were then presented at midfield in Gillette Stadium.
To make way for the afternoon's New England Revolution playoff soccer game, the Special Olympics teams then transitioned to the Dana Farber Field House for Unified 5-on-5 flag football games. Each team played two games apiece in the afternoon session, refereed by certified school and youth football league officials from across Massachusetts. After each team's games were completed, participants gathered for group awards presented by New England Patriots cheerleaders, Patriots and NFL alumni, and local law enforcement officials from the Foxboro and Attleboro police departments.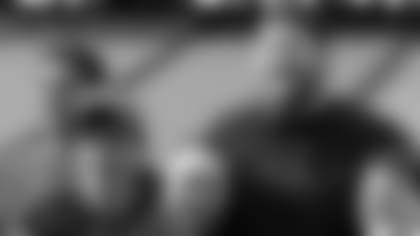 ]()In addition to financial contributions from the New England Patriots Charitable Foundation and the King Philip Youth Football League, the events costs were underwritten by significant donations from CVS Caremark and the North Attleboro Fire Department.
"We have been so excited to bring the benefits and joy of organized football and cheerleading to our Athletes for the very first time on a statewide basis," said Robert Johnson, president and CEO of Special Olympics Massachusetts. "It's the only major American sport our Athletes haven't had access to, until now. And what better way is there to spend a day than to compete with your friends in a sport that you love - all while becoming healthier in the process. It's a championship combination. Yet we couldn't do it without the support and encouragement of the New England Patriots and our local youth football organizations, and for that we are deeply grateful."
About Football and Special Olympics
This year, backed by the New England Patriots as well as a growing number of youth football leagues across the state, Special Olympics Massachusetts for the first time formally offered its athletes and coaches the opportunity to train and compete in flag football, football skills and cheerleading. In recognition of the initiative, the New England Patriots, ESPN and the NFL presented SOMA with the 2009 "Fans Helping Fans" Community Service Award and grant at the ESPN Monday Night Football Chalk Talk Luncheon on Monday, September 14. In addition, the New England Patriots Charitable Foundation donated 50 flag football kits as teams began practicing early this Fall.
Overall, the SOMA football initiative traces back to 2005, when King Philip Youth Football, in conjunction with the Wrentham Developmental Center, began helping SOMA plan and run prototype football/cheerleading events for local athletes.
About the New England Patriots Charitable FoundationThe New England Patriots Charitable Foundation is the non-profit organization established by the Kraft family in 1994 to support charitable and philanthropic agencies throughout New England. This support comes in the form of direct grants and the donation of signed memorabilia to charitable causes, and from Patriots players who offer their direct support by appearing at charity functions throughout the year. The Foundation's primary goal is to support programs that aid the youth and families of the New England region by assisting programs that foster cultural diversity, education, family and health. The Foundation has taken special interest in youth programs that encourage education, creativity and development of character.
About Special Olympics Massachusetts
Special Olympics Massachusetts promotes year-round sports training, athletic competition and other related programming for more than 13,000 athletes with intellectual disabilities. Through the power of sport, the movement improves the health, fitness and overall lives of people with intellectual disabilities. It also unites everyone by fostering a sense of community and building a civil society. More information is available at www.specialolympicsma.org or www.specialolympicsma.org/south.