The sixth-overall pick in the 2001 draft, Seymour immediately made his presence felt in his rookie season, helping lead the Patriots to their first Super Bowl title. He'd continue an upward trajectory becoming one of the most dominant defensive linemen in the league with a Hall of Fame-caliber career that saw him win three championships, seven Pro Bowls and three First-Team All-Pro selections.
Here are five of the best nuggets from the episode:
On the Patriots veterans that helped him make the transition to the NFL:
"I think I can look back and reflect now, because as a player you never look back, you never reflect, it's always the next year, never resting on your laurels. I think it started at the top with coach Belichick and Mr. Kraft. We had the right ingredients and we had the right players and you just name it. I was very very fortunate to be on a team with a lot of veterans that taught me what it meant to be a pro and showed me and they just lived it and walked it by example. I can just go on and on and just name them from Troy Brown to Willie McGinest and Anthony Pleasant. Willie and Anthony, there's two guys, how important they were to help this young little buck coming from the University of Georgia.
On long-time coach Romeo Crennel:
"I remember before one Super Bowl, I think we're getting ready to play the Panthers and it was pregame meal and he came in and said, "Hey Richard, if you see something today, you have the green light to take it," and I still remember that to this day, because it was like my third year. He was just a guy that meant so much to me and my career, just in terms of the wisdom, the discipline, the understanding of the game.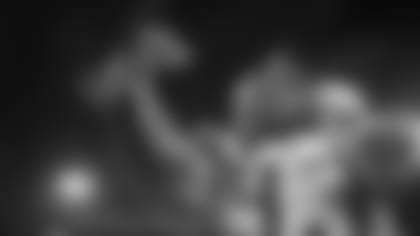 On his most memorable Super Bowl:
The most physical Super Bowl was definitely the Carolina Panthers. I tell everybody, that was the most physical game I played in my 12-year career. They played the game the right way. They were tough. For us to come out of there with the victory, our offensive and defensive line had our work cut out for us but we accepted the challenge."
Which team was better, 2004 or 2007?
"The team that won it. To this point, you give the Giants credit, they were amazing every ball that bounced went their way but they earned it. Their defensive line, they played the game the right way, give them credit."
Getting the Hall of Fame knock from teammate Ty Law:
"I was legitimately surprised when I saw him. I will say it made it extra special that Ty was the one to come and knock on the door. We had a journey together and you know, winning Super Bowls and practice, year in and year out, we have the same financial advisor. So it's just we're intertwined a certain way. My family, we went to see Ty's enshrinement and then for him to come in the gold jacket and be a presenter for me like that, it was really special."