An important meeting took place at the Waltham Boys and Girls Club last Thursday, a gathering that would help determine how to upgrade a facility that serves 1,200 youth members and approximately 200 children on a daily basis. Twenty or so youthful architects literally had the future in their hands in the form of crayons, markers and colored pencils while they sketched what they envisioned to be their dream playground.
"The kids are thrilled with the project," remarked Jenn Aldworth, Executive Director of the Waltham Boys and Girls Club. "It is very fulfilling for us to see their excitement on something tangible."
The New England Patriots Charitable Foundation has partnered with UnitedHealthcare and KaBOOM! to sponsor the transformation of a sandpit volleyball court at the Boys and Girls Club into a playground that was designed by members of the club when they put pen to paper last week. KaBOOM!, a national non-profit organization dedicated to saving play, travels to sites around the country to take design ideas from kids and uses them to create suitable play areas that youth in the area can enjoy.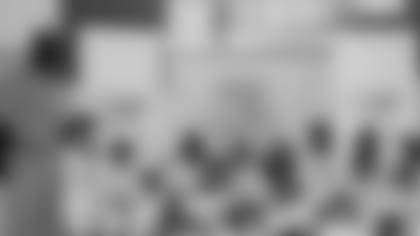 Andre Tippett, Hall of Fame Linebacker and Executive Director of Community Affairs for the New England Patriots Charitable Foundation, was on hand to speak about the importance of regular physical activity and share his excitement for the project.
Tippett talked about the satisfaction of giving back to an establishment that has provided him with so much. "The Boys and Girls Club gave me so many opportunities through the years and I am proud to still be involved with the organization today."
The fifth-degree black belt in karate has been patrolling the halls of Boys and Girls Clubs for 38 years. He is an avid supporter of physical education and goes to great lengths to educate today's youth about the importance of physical fitness. "It gives us great pleasure to be part of this program," remarked the Patriots all-time sack leader. "I am excited to see the finished product and get these kids outside so they can enjoy the playground."
The 20 or so junior architects did not lack creativity during the design portion of the program. They let their imaginations travel freely and it showed on paper. In addition to swings, slides and jungle gyms in her illustrated suggestion, six-year-old Emily Mele of Waltham wants to make sure the engineers have the capabilities to install a tickle machine. Sixteen-year-old Kyle Priest, also of Waltham, wants an outdoor pool to match the newly renovated indoor facility at the club. Although the resources and space may not be available for a swimming pool, the kids' passion for the project was clear. And although the tickle machine idea has yet to be invented, the design period was no laughing matter for one table of youngsters. The young club members passed on the opportunity to sketch their own dream scheme in favor of a collaborative effort. The group huddled together and exchanged ideas that led to a diagram of monkey bars, sprinklers, a jungle gym and a tire with a net to throw a football through.
Building day is scheduled for Tuesday, October 26 and will take about six hours with the help of volunteers from UnitedHealthcare and the Patriots. The boys and girls will see their ideas come to fruition and the neighborhood will have a safe play haven quite literally in their backyards. And for KaBOOM!'s Associate Director of Project Management, Melanie Barnes, that's kind of the idea. "Next month we will be one step closer to giving every child in America a great place to play within walking distance of their homes."