The Patriots defeated the Miami Dolphins for their first win of the season, a novel 21-11 win that featured more running than fans in New England are accustomed to. With Cam Newton under center, the Patriots got the Dolphins off balance with a well-planned attack and capitalized late to put the game away.
Miami put up a good fight near the end, requiring some key pressure plays from a number of improved Patriots who rose to the occasion. The defense, despite missing some significant faces from last season, was up to the challenge, doing something the 2019 Pats failed to do, close out the Dolphins at the end.
Here are five plays that defined New England's win and what those plays tell us about how the 2020 squad is coming together and what they'll need to do to build off the victory.
Cam Newton's first rushing touchdown
Situation: 2nd quarter, 0-0, 1st-and-4 at MIA 4
The Patriots wasted no time unveiling a remade ground game tailored to Cam Newton's skills. After Newton converted a 3rd-and-5 with a QB draw just three plays earlier and James White took them inside the Miami 5, New England was poised for their first score of the game.
James White motioned to the offensive left, with the high safety going with him this giving the Patriots a numbers advantage on the offensive right. The two key blocks came from Ryan Izzo, who sealed the edge, and right tackle Jermaine Eluemunor, who was able to pull around Izzo and deliver the key lead block that enabled Newton to take it into the end zone untouched.
This was a notable play not only because it featured a red-zone finish with a new kind of attack, but also because two role players from last season stepped up and made critical blocks. New England would finish three of four in the red zone after finishing last season ranked 24th in the league.
Adrian Phillips Interception
Situation: 2nd quarter, 7-3 NE, 1st-and-10 at NE 47
The Dolphins got the ball back at the two-minute warning and started to move the ball with success, stringing together eight plays, moving from deep in their own territory toward midfield and threatening to take the lead at the half.
The Patriots stacked the line of scrimmage with six players, showing man-to-man coverage with one safety deep. There were two keys to the play. First, Ja'whaun Bentley's pass rush which forced a quickened throw from Fitzpatrick. Second, was Adrian Phillips, who played a variety of roles in his Patriots debut, and dropped from a linebacker spot to the exact spot where Fitzpatrick ended up throwing the ball.
"The second one, definitely they did a good job on that one," said Fitzpatrick after the game. "I threw it right to their free player in the middle of the field."
The play snuffed out any attempt by Miami to score before the half and gave New England a boost, although they'd fail to produce any points off the turnover.
N'Keal Harry fumbles out of the end zone
Situation: Third quarter, 14-3 NE, 1st-and-goal from MIA 10
The Patriots put together one of their most impressive drives of the game late in the third quarter, getting all the way down to the Miami 10. N'Keal Harry awoke on the drive, chipping in three catches for 24 yards, including two first downs, but his fourth catch ended in one of the biggest swings in the game.
Harry came across the formation underneath as Newton came off the play action and hit him in stride with the pass. The defender, linebacker Jerome Baker, was able to catch Harry and force him to fumble out of the end zone, ending the Patriots attempt to put the game away early.
It was a frustrating play for Harry, who was looking at a promising start before this play. You'd love to see the second-year receiver break the tackle and make it into the end zone, or at least get close to the goal line. It couldn't have gone much more wrong and he'll be looking to bounce back next week. There's no question, the Patriots passing offense needs Harry to develop into a playmaker.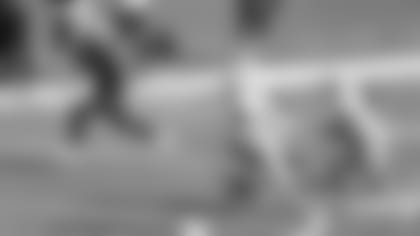 Julian Edelman gets the game-sealing drive going
Situation: 4th quarter, 14-11 NE, 1st-and-10 from NE 25
With the Dolphins scoring off the Harry fumble and closing the score to three points, the Patriots immediately got on track on the ensuing drive with an end-around to Julian Edelman that picked up 23 yards, plus an additional 15 due to an unnecessary roughness penalty on Miami. Just like that New England was set up on Miami's 37 and poised to regain a two-score lead.
We've see plenty of this play over the years with Edelman and it often catches defenses by surprise. Josh McDaniels did a phenomenal job keeping the Dolphins on their heels with clever play calling that featured plenty of play action and misdirection. Not surprising to see Edelman set up a strong Patriots response after Miami made a comeback.
"It was a counter end-around and no one was there," said Edelman after the game. "I tried to get up field and make some yardage and try to get out of bounds. He hit me a little late. It was something that our coaches probably were keen on seeing how we were handling things here and there with certain motions and that was a good play call by Coach [Josh] McDaniels and the team."
Cam Newton converts 4th-and-1
Situation: 4th quarter, 14-11 NE, 4th-and-1 from MIA 4
Just a handful of plays after Edelman got the drive started, the Patriots faced a 4th-and-1 from the Miami 4. A successful conversion and the Patriots would likely seal the game, a failed one and the Dolphins would have the chance for another long drive to at least tie the game with a field goal.
There was little doubt about what New England would do. They packed the line with their heaviest set possible with only fullback Jakob Johnson in the backfield. Johnson motioned to the offensive left and then Newton followed the sealing block of rookie Michael Onwenu and the kick out block of Johnson, with pulling guard Shaq Mason and lead blocker Ryan Izzo showing up strong.
It was just enough to pick up the first down and Sony Michel would take it in on the next play. For a team that struggled in the red zone and in short yardage situations last season, this was an excellent play to get on track early this season and it shows how much Newton is a game-changer in those situations.
"Coach Bill always talks about being mentally tough," said Newton of the final Patriots scoring drive. "So at that time we knew it was favorable for us to be mentally tough in that situation, not allowing the moment to be too big for us. That's just a feel-thing. I'm just glad that those guys still trust in me to have the ball in my hands in that particular situation and for the offensive line to sell out like they have done, man, over the last, not just today, but over the last couple of weeks, man, we have just been becoming a very tight knit group that each and every opportunity like we had today is just going to keep making us better."
Playmaker Points
This season, we'll give out points for players who make plays that have a significant impact on the outcome. It won't be a perfect science but over the season we'll track who the playmakers are, especially on critical third and fourth downs.
Michel (4) - Short yardage conversions were key
Newton (3) - Cam was effective converting first downs
Edelman (2) - Big end-around and some key third quarter drive starters
Taylor - Showed good burst in pro debut
Burkhead - Effective running from Burkhead, including a conversion
Onwenu - Key block on 4th down late in game
Izzo - Much improved, nice catch
Phillips (2) - Interception, was very involved
Gilmore - Interception, important third-down pass defense, 4th down PI penalty costs him one.
Jackson - Game-sealing interception
Williams - Nice third-down pass defense on TE Gesicki
Simon - Pressure helps D get off field
Brooks - Nice third-down run stop
Wise - Pressure helps force INT
Winovich - TFL sets tone early
Leftover Notes & Quotes
The opening drive of the second half was a thing of beauty as two play action passes to Edelman and an underneath dumpoff to White quickly picked up 35 yards. Newton finished it off with his second TD of the day, a well designed QB bootleg that saw him catch the inside of the pylon for the score.
Most improved players: Ryan Izzo, Chase Winovich.
J.J. Taylor looked like he belonged, showing explosion and craftiness through the hole. He could be a fun playmaker to watch develop.
Best newcomers: Cam Newton, Adrian Phillips.
Solid as they come: John Simon, Lawrence Guy, O-line.
Star in the making: J.C. Jackson.
Things to work on -- capitalizing off of takeaways, deep and outside passing game, protecting Newton from overuse in run game, pass rush.
Did Their Job -- Offensive play calling, short-yardage blocking, run defense.
Though the Dolphins scored in the 4th quarter on third down, it was an impressive stand on first and second down by the Patriots defense in short yardage. Wasn't expecting them to be quite so stout and show that much fight but they did.
Bill Belichick on J.C. Jackson's performance:
"I thought J.C. really competed well today. He showed a lot of mental toughness and a real competitiveness of the game, and then for him to make that play at the end just sealed the win, along with the run that we had there to get the first down to run out the clock. But the interception that J.C. had in the end zone, I thought he showed a lot of mental toughness and a high level of competitiveness in today's game. So, I just wanted to personally congratulate him for that because that was good."
Stephon Gilmore on his interception:
"I just played with good technique, kept my leverage and I ran the route for him. I saw the ball before he even saw it and was able to make a play on the ball. It was good leverage, good technique and a play that we needed. Happy to make that play."