The Patriots recovered nicely from top in-house free agent Jakobi Meyers's departure by signing former Pro Bowl wideout JuJu Smith-Schuster to a three-year deal, according to reports.  
My goal is certainly not to trash Meyers on the way out. He was ridiculously reliable for the Patriots as a home-grown talent who out-performed all expectations and players at his position who were far more hyped than him. There's a lot of love for Jakobi here. But the bottom line is that the Pats offense needs to be more dynamic, and JSS overlaps enough with Meyers that they will keep those elements in the offense.
It's easy to envision offensive coordinator Bill O'Brien using the 26-year-old as a power slot who mostly wins between the numbers on digs, crossers, and quick-hitters. But there's more upside with the former Steelers and Chiefs wideout to produce on the outside and as a ball carrier, where he averaged 5.9 yards after the catch and forced eight missed tackles in 2022. 
Although the box score production was comparable, and it remains to be seen if Smith-Schuster can build a similar repertoire with quarterback Mac Jones, the Patriots needed a move like this. 
Let's take a deep dive into Smith-Schuster's film to break down the receiver the Patriots are getting:
WINNING BETWEEN THE NUMBERS & OUT OF THE SLOT
When you look at Smith-Schuster's route tree and targets from last season, he wins in extremely similar areas to Meyers on short and intermediate routes between the numbers.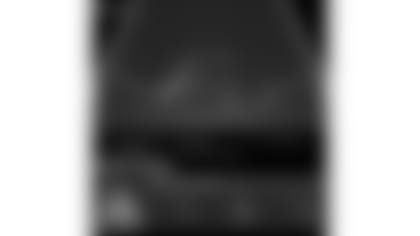 For example, here is Smith-Schuster's NextGen route chart from Super Bowl LVII. As you can see, all his targeted routes were run within 20 yards of the line of scrimmage, and many of his catches were in the middle of the field. Overall, his average target depth on the year was 7.1 yards, the highest since the 2019 season when he was with Pittsburgh.
Smith-Schuster uses all 6-foot-1 and 215-pounds to box out coverage defenders at the catch point effectively and has above-average separation quickness to go along with a bigger frame. Although 40 percent of his routes came from the slot, Smith-Schuster also wins between the numbers when he starts on the perimeter.
Let's start with an explosive play against former All-Pro corner Stephon Gilmore on a concept the Pats also run regularly. Smith-Schuster caught 75.9 percent of his targets against man coverage at 12.6 yards per reception last season as a legit option against single coverage.
With his help to the middle of the field in a single-high structure, Gilmore plays in a trail technique with outside leverage. That allows Smith-Schuster to get the inside track, and the safety help goes with the deep crosser in the opposite direction, so Mahomes picks on the one-on-one matchup. JuJu climbs to the proper depth in his route while leaning into Gilmore at the break point to snap off the dig route. Then, Smith-Schuster holds his line coming across the field and catches the football through contact with Gilmore trying to undercut the route. Once Gilmore fails to break up the pass, Smith-Schuster has room to run down the sideline.
Another Patriots staple under O'Brien and others are two-man route combinations off play-action fakes where the deeper vertical route clears out space for an intermediate crosser.
Smith-Schuster was often the intermediate route-runner on these concepts, where he showed a great feel for settling into pockets between zone defenders and making himself QB-friendly. JSS caught 12 of his 16 crossing route targets for 122 yards a year ago.
The Pats new wideout has always run a fair share of his routes out of the slot, and this is where things really get exciting. Last season, Smith-Schuster ranked 11th out of 32 qualified receivers in yards per reception out of the slot (13.4), tacking on 6.4 yards after the catch per slot reception. He also set a new career-high in open target rate at 47.4%, and here's where that shows itself.
As we've outlined numerous times, O'Brien hunts matchups out of spread (or empty) formations to get his quickest receivers open on the inside. For those like me that get jazzed up just by hearing its name, here's where HOSS Juke comes in with JSS. Smith-Schuster is an excellent option to run the juke series in O'Brien's staple play. He sells whip routes exceptionally well, sinks and explodes on the cut, and can turn upfield to add more YAC.
The separation quickness is all over his film on what the Patriots would call "return" routes, and now he'll have the option to break inside or out based on the cornerback's leverage. The Chiefs would find different ways to get him into advantageous situations to run whip routes, whether he was in the slot or motioned into stacks to get clean releases off the line.
New England has a role in their system that is tailor-made for Smith-Schuster, making the transition into Bill O'Brien's offense hopefully smooth.
MORE PRODUCTION AS AN OUTSIDE RECEIVER
Although Smith-Schuster will make his living in the middle of the field, he ran 60 percent of his routes and caught 49 passes for 544 yards playing on the boundary for Kansas City.
The former second-round pick is not a burner with only modest speed. But he has excellent body control and contested-catch ability when he gets one-on-one reps outside the numbers.
Here, Smith-Schuster sees single coverage against Rams starting cornerback David Long. Los Angeles appears to be in a match-quarters scheme, which is essentially man-to-man on the outside, and Mahomes and Smith-Schuster connect on a pretty back-shoulder fade.
Along with working the sideline on back-shoulder targets, Smith-Schuster often ran out-and-ups when he'd align outside the numbers in the Chiefs offense last season. Above, the 49ers are in man coverage across the board, and Smith-Schuster makes a great adjustment to an underthrown pass to work back to the ball and haul it in through contact.
Furthermore, Smith-Schuster's most-run route was a hitch pattern. The Chiefs like running different variations of smash, where an inside vertical route (usually a corner from Kelce) presents easy completions for the outside receiver on a hitch. Smith-Schuster ran 120 hitch routes, nearly double the next route, catching 26-of-29 targets for 231 yards.
Smith-Schuster gives the Patriots alignment flexibility to line him up at the X spot or as an outside receiver (F) on the strong side of the formation, with his primary role likely as the Z receiver.
SCHEMED TOUCH ELEMENT IS AN ADDED BONUS
Lastly, Smith-Schuster separates himself from the Meyers's of the world as a ball carrier. He added plus-141 yards after the catch over expected last season, the eighth-most in the NFL, and his average YAC (5.9) was seventh-best among wide receivers.
With O'Brien returning to direct the Patriots offense, the hope is that New England's playmakers will be schemed into more open space to generate big plays with the ball in their hands. Kansas City would throw JSS the occasional screen pass, while he was highly efficient on slants that were often a part of RPO concepts (9-of-10, 157 yards, 117 YAC).
Here, the Chiefs ran an outside-zone RPO. Mahomes is reading linebacker Tremaine Edmunds to the two-receiver side. The route is a slant with a slight pick by the point man. Smith-Schuster catches it in stride, breaks the tackle attempt by the safety, and is off to the races.
Smith-Schuster was also a viable ball carrier on screen passes, especially the Chiefs middle screens, where he'd play on the wing tight to the formation. His three receptions on screens went for 24 yards, giving the KC offense a nice change-up to their usual screen targets.
The Patriots entered the offseason searching for offensive weapons to surround third-year quarterback Mac Jones. Although the work can't end here, Smith-Schuster is a legitimate number two receiver in a good offense who should upgrade a high-volume role in the system.
New England needed to fill the void left by Meyers with a more explosive playmaker, and that's what they're getting with Smith-Schuster in the fold.
DISCLAIMER: The views and thoughts expressed in this article are those of the writer and don't necessarily reflect those of the organization. Read Full Disclaimer