The combine is in the books, and free agency is right around the corner as the roster-building begins in the NFL this offseason.
After spending a week in Indianapolis, the landscape for the 2023 NFL Draft is nearly set. There are still Pro Days and Top-30 visits before the end of April's final exam, but we're closing in on the final board for Bill Belichick's Patriots.
The last piece to the puzzle is determining New England's needs post-free agency. The Pats will follow the veteran market to add to their roster, which could drastically change their approach to the draft, especially in the first three rounds.
Although the roster is still uncertain, we can forecast potential future Patriots based on the team's current state and likely needs.
Here is our second stab at a seven-round Patriots mock draft after taking in the NFL Combine last week:

Anton Harrison, OT, Oklahoma
Height: 6-4 | Weight: 315
Along with head coach Bill Belichick being a wildcard, it's also difficult to predict where the Patriots will go with their first-round draft pick until after free agency. The biggest need on their roster is offensive tackle, and there's value in having starting-caliber talent on a rookie contract at that position. But the free-agent class is also good, and they might be in-between picks for the rookie class. With the consensus top three expected to go early, New England might be caught between the first wave and the second tier at OT. Still, it's easier to envision Belichick filling out the trenches with a pick in the top half of the first round than a skill position.
Harrison might be more realistic in a trade-down scenario into the early 20s. But he checks every box for a prototypical left tackle with excellent athleticism, proper length, and overall size (6-4, 315 pounds, 34 1/4 inch arms). On film, Harrison has excellent footwork and range at the position with significant depth out of his kick slide. His foot speed and change of direction in pass protection are top-tier in this class, while he can make blocks on the move in outside zone, pin-pull, screens, and second-level climbs. Harrison will generate more movement with better pad level and hand placement in the run game, but it's not a functional power or effort issue. Harrison should be a long-term starter on the left side, and that's worthy of the 14th pick.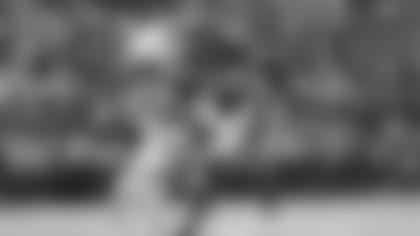 Yup, it's happening, at least in theory. There was enough buzz around the combine linking Hopkins to the Patriots for this to be more than a pipe dream. It's also more likely for the Pats to swing a trade for a bonafide star receiver than use a first-rounder on a rookie. Hopkins is known for his excellent hands, contested catches, and body control, but he's one of the most underrated route-runners in football. Belichick's had an affinity for the player who has requested a trade, so he calls up former Pats staffer Monti Ossenfort. New England gets its number one receiver that everyone is clamoring for, and the Cardinals acquire a top-50 pick for a player who reportedly is ready to move on from Arizona – the best-case scenario for both teams.
With Hopkins stressing defenses on the perimeter, quickness between the numbers is the other name of the game for the Patriots under new offensive coordinator Bill O'Brien. O'Brien loves finding advantageous matchups and favorable leverage for quicker receivers out of the slot. LaPorta is a legit separator with excellent agility and route-running skill for a 245-pound tight end.
LaPorta ran a 6.91-second three-cone at the combine, ranking in the 88th percentile with elite quickness for a tight end. When you watch his tape, you see a very fluid and sudden receiver who can get in and out of breaks to feast on lesser cover talent as the only dangerous playmaker in Iowa's offense. He's an impressive receiver who would fit right into O'Brien's "F" tight end role and move the chains—Third-and-LaPorta incoming.
Darius Rush, CB, South Carolina
Height: 6-2 | Weight: 201
Rush's combine might push him into the first three rounds, but based on the film, he's a solid early-day three type of guy. Rush fits the mold for the Patriots as a size-speed prospect at 6-2, 198 pounds with a flashy 4.36-second 40-yard dash. Rush's ball skills, speed, and physicality to carry verticals down the boundary are currently pro-ready as a converted wide receiver. He needs to cut down on wasted movement at the line of scrimmage and improve his footwork to stay glued to receivers through the break point on horizontal cuts. But with some technical refinement, he can become a full-time starter on the boundary while serving in a matchup-based role early on in his career against vertical threats on the outside.
Jartavius Martin, S, Illinois
Height: 6-0 | Weight: 195
With Devin McCourty announcing his retirement, the Patriots need to invest significantly in replacing the future team Hall of Famer. Martin has experience playing nickel and deep safety roles in the Illini's secondary, which is producing big-time DB talent lately. With size, range, and explosiveness, Martin can play as a single-high defender with smooth flip-and-run talent to range over the top and a 44-inch vertical to go up and make plays on the ball. He also has several impressive reps as a slot corner where he can match inside receivers in man coverage. Martin needs some seasoning when it comes to angles and leverage as the last line of defense, but he fits in nicely with the Pats do-it-all mentality in the secondary.

Deuce Vaughn, RB, Kansas State
Height: 5-5 | Weight: 176
Returning to adding quickness to threaten underneath coverage, Vaughn's pro comparison is easy as it's a fellow K-State alumnus: Darren Sproles. Vaughn's size might push him down the board into late day three, but we see a matchup playmaker with jitterbug quickness and sudden bursts of speed to pull away from defenders. Other than his size, some have long speed concerns with Vaughn on film, but you only house an 88-yard run against Alabama in the Sugar Bowl with some great speed. Vaughn projects right into a James White-like role in the Pats offense, which needs to fill that void with someone who can beat linebackers in coverage and provide a safety blanket out of the backfield for quarterback Mac Jones. Here's your guy.

Warren McClendon, OL, Georgia
Height: 6-4 | Weight: 300
It's a decent tackle draft, and we like the idea of the Patriots double-dipping to fill out the depth chart. McClendon had a solid Senior Bowl week and projects as an NFL-ready run blocker immediately. McClendon can back up multiple spots, play tackle in a pinch, and potentially start at guard due to his playing strength and tempo to fit into blocks.

Demario Douglas, WR, Liberty
Height: 5-8 | Weight: 170
Another draft pick focused on adding quickness to the Patriots offense. Douglas impressed at Shrine Bowl practices with his burst and separation quickness, backing up that speed with a 4.44-second 40-yard dash. Douglas needs to improve his route-running technique to maximize his physical tools. In particular, better pacing to his routes where he changes gears would make him a tougher receiver to cover. But he has the slot receiver athletic profile that'll fit with the Pats.

Michael Turk, P, Oklahoma
Height: 6-0 | Weight: 227
The Patriots released former All-Pro punter Jake Bailey, making it a lock that they'll address the position in the draft. Patriots special teams coaches Cam Achord and Joe Houston worked with Turk at the Shrine Bowl, the nephew of former Pro Bowl punter Matt Turk. Turk is a typical power punter with a huge leg. He'll need to prove he can control the ball consistently, but he's got a boomer, and that'll do.