The Patriots are projected to have 11 picks in this April's NFL Entry Draft, plenty of ammunition to radically improve a team that just missed out on the playoffs in 2022 and has a number of significant holes to fill. Atop the list are positions made uncertain by a collection of pending free agents, with offensive tackle, wide receiver and cornerback getting plenty of attention in all the pre-Free Agency mock drafts.
With no trades and a lot of pre-Combine uncertainty here's my first mock of the season, one that personally gets me excited about the number of impact acquisitions the team can make, ones that can really reshape the outlook for this fall.
Jordan Addison, WR, USC
Pick 14 | Height: 6-0, Weight: 175
Kicking things off with the assumption that the top three offensive tackles are off the board, leaving the decision between a top wideout and a top cornerback. Devon Witherspoon and Christian Gonzalez are two personal favorites that warranted consideration, however, I've become truly enamored with imagining what Addison could do for the Patriots offense. In my view, this is the pick that instantly upgrades the team the most, giving Mac Jones a reliable target who is a threat to score every time he touches the ball. Then there's the Bill O'Brien angle, as this pick would hand the offensive coordinator a fun toy to play with and scheme around. O'Brien would certainly excel at generating touches for Addison, a polished separator with plus-level smarts. His frame at 175 is certainly a concern to highlight, as is a dip in production at USC after winning the Biletnikoff Award at Pitt, and those issues could drop him into the 20s, but with DeVante Parker's size on the outside, along with the speedy potential of Tyquan Thornton, Addison could be freed up from aggressive press coverage. Between Mac and BOB and the pieces around him, Addison could be the kind of game-changing weapon the team has been desperate for in recent seasons. You see far more corners and tackles develop from Days 2 and 3 in the draft anyway, and while there have been some of those receivers in recent years as well, Addison stands above the rest in this class and his value should only continue to rise after he runs at the Combine.
Kelee Ringo, DB, Georgia
Pick 46 | Height: 6-2, Weight: 210
Ringo has snuck into the first round in some mocks so maybe this is optimistic to get him at 46 but he's the kind of big, physical cornerback that would instantly change the dynamic for the undersized group that currently exists. With plenty of SEC battles under his belt, Ringo is no stranger to facing some of the best receivers in the country and has the potential to be a true number one matchup cornerback that the Patriots have lacked since Stephon Gilmore's departure. The questions have to do with the further he gets away from the line of scrimmage, sticking with receivers downfield, but his other traits overshadow those issues for me. With the elite coaching that the Patriots provide their secondary, Ringo could truly put his physical skills and temperament together with a next-level understanding of the game that would make him an elite player.
This was a tough call between tackle and cornerback in this spot, with the depth and potential at corner a little deeper and more promising here in the second round.

Jaelyn Duncan, OT, Maryland
Pick 77 | Height: 6-5, Weight: 298
Unfortunately, it took until the third round to fill this significant need, with a good possibility that Duncan is taken before this slot if there's an early run at the position but the mid-range depth is still pretty good though it's unlikely at this point the Patriots find a Day One starter, even on the right side. Duncan was a four-year left tackle at Maryland and has plus-level athleticism. The question is how much power he packs with his 6-foot-6, 298-pound frame and if he can hold up on the left side in the pros. Along with tackle prospects like Matthew Bergeron and Lazar's pick Tyler Steen, there are some appealing prospects who could hang around into the third round and it seems like an ideal place for the Patriots to pounce. Duncan has a lot of upside but would likely need some time to develop, illustrating the tackle need would probably be one that must be first solidified for the 2023 season via free agency in this kind of mock draft scenario.

Brandon Joseph, S, Notre Dame
Pick 108: Height: 6-1, Weight: 196
With Devin McCourty's status up in the air at free safety but two talented strong safety types in Kyle Dugger and Adrian Phillips in the mix, an experienced and trusted player like Joseph would be the perfect complement to what is already in place in the New England secondary. Joseph's smarts and ball skills are on the plus end, with experience at Northwestern helping to round out his work in a different pro-style defense. How well he runs in Indy will play a big part in his status, as a defense that plays a lot of single-high safety will want a back-end safety with sideline-to-sideline range. He'll need some developmental time before he could take over McCourty's vital and sizable role, but he checks a lot of boxes needed to do it.
Garrett Williams, DB, Syracuse
Pick 118 (Projected) | Height: 6-0, Weight: 189
Williams is coming off an ACL tear in his final season at Syracuse but if he was 100 percent healthy he'd profile as one of the top corners in this year's class. His physicality and aggressiveness stand out, as Williams fully looks the part of the NFL cornerback with solid size and a track background that showcases his ability to run. At this point in the draft, and with a player like Ringo already in the fold, the Pats could afford to take a shot on a player like this, and it wouldn't be surprising to see him and Ringo making a fearsome starting twosome on the outside in 2024.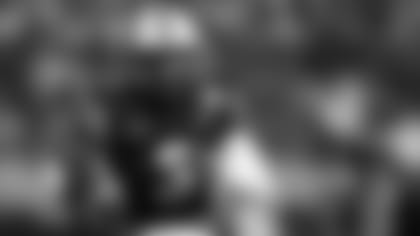 Trey Palmer, WR, Nebraska
Pick 136 (Projected) | Height: 6-1, Weight: 190
Yup, we're double dipping at wide receiver and for good reason, you can never have enough explosive weapons and Palmer is a mid-round target worth taking a flyer on. He was Nebraska's big-play threat, with the kind of deep speed that helped him break 1,000 yards in his final season with nine touchdowns. Throw in his established special teams experience that began in the SEC at LSU and Palmer would be a fun addition for the Patriots offense who can help stretch the field from the slot as he did in college. Combine his speed and explosiveness with that of Addison and the Patriots offense would really inject some life into their passing attack.
Ryan Hayes, OL, Michigan
Pick 185 (Projected) | Height: 6-7, Weight: 305
Hayes was Michigan's left tackle but is likely headed to the right side or inside at the NFL level. Last year, the Patriots took a late flyer on Michigan teammate Andrew Stueber and it's easy to see the 6-7 Hayes having similar appeal. He's a power player who could potentially fill in at multiple positions. He'll need time to develop his feet but has a good starting point given his size and experience in college. If he can get his technique to match his size the Patriots could have a developmental swing backup. With tackle being one of the biggest long-term needs, a double dip early and late makes a ton of sense, especially considering the success they've had with lineman drafted on Days 2 and 3.
Brenton Strange, TE, Penn State
Pick 188 (Projected) | Height: 6-3, Weight: 247
In a quality class of tight ends, I'm a little disappointed to strike so late but there's a lot to like about the Pats making a second-straight "Strange" pick. Brenton has full "Y" potential with the size and temperament for in-line blocking at the next level, however it's his athleticism that makes him an intriguing fit for the offense. He has strong hands and in the open field he's a runaway freight train that is difficult to bring down. With Hunter Henry entering the final year of his deal it seems imperative that New England taps this deep and talented class. They should have a year to develop a player behind the scenes, but it's not hard to imagine a player like Strange making an immediate impact as a receiver and H-back in certain situations. He'd bring added athleticism to the attack and could become an every-down player but his second or third year.

Cameron Young, DT, Mississippi State
Pick 193 | Height: 6-3, Weight: 315
The Patriots have gotten two pretty good years out of situational nose tackle Carl Davis, but with Davis hitting free agency again someone like Young could provide a younger, cheaper and potentially better option. Young is a big, powerful prospect with experience two-gapping and long arms that help him attack blockers and defeat them. His value on passing downs might not be that high, but with an aging interior defensive line, he'd make a nice pairing with Christian Barmore while allowing Davon Godchaux even more freedom in his usage. There are quite a few potential nose tackle fits in the draft, including Siaki Ika from Baylor at the high end and Jerrod Clark of Coastal Carolina. All are big men who can control the middle of the line.

Dorian Thompson-Robinson, QB, UCLA
Pick 211 (Projected) | Height: 6-1, Weight: 205
The Patriots got and up close and personal look at the UCLA quarterback at the Shrine Bowl and he has enough developmental upside that New England should consider taking a quarterback in the draft for the third year in a row. Simply put, it's good business and less of a reflection on Mac Jones or Bailey Zappe. At 6-foot-1, 205 pounds, DTR is undersized but he's otherwise the full package with a quick release and plus athleticism that fits the mold of many new-era quarterbacks. He raised his draft status in Vegas and has some intriguing potential, especially when paired with Bill O'Brien, whose early work with Deshaun Watson could help the Patriots develop a new twist at the position. At the very least, Thompson-Robinson would bring immediate practice value helping the team prepare for the bevy of mobile quarterbacks they must face every season.

Brayden Willis, TE, Oklahoma
Pick 260 (Projected) | Height: 6-4, Weight: 240
Willis is a versatile H-back, tight end, special teams contributor who is the perfect kind of seventh-round value for the Pats. He even played some Wildcat quarterback while catching 39 balls for 503 yards in 2022. Willis is an aggressive lead blocker but for a low-round prospect he also has some plus athleticism with the ball in his hands. Clearly, there would be a number of avenues for a player like Willis to contribute in New England. Special teams is easy, but he has so much offensive experience there's quite a bit of potential to play with as he develops for a season or two behind the scenes.