One thing has to come to every undrafted rookie's mind when they get a call from head coach Bill Belichick; they will get a chance to make it in the NFL with the Patriots.
Dating back to when the 19-year streak of an undrafted free-agent making New England's initial 53-man roster started with cornerback Randall Gay in 2004, first-year pros who didn't hear their names called during the seven-round NFL Draft have gone on to thrive in Foxboro.
Table inside Article

| Season | UDFA(s) to Make Initial Roster, Last 10 Seasons |
| --- | --- |
| 2013 | Joe Vellano, Kenbrell Thompkins, Zach Sudfeld, Josh Kline, Chris Barker, Ryan Allen |
| 2014 | Malcolm Butler |
| 2015 | David Andrews, Chris Harper, Justin Coleman |
| 2016 | Jonathan Jones, D.J. Foster |
| 2017 | Adam Butler, Cole Croston, Jacob Hollister, Harvey Langi |
| 2018 | J.C. Jackson |
| 2019 | Jakobi Meyers, Gunner Olszewski |
| 2020 | J.J. Taylor |
| 2021 | Quinn Nordin |
| 2022 | Brenden Schooler, DaMarcus Mitchell |
The Patriots give these undrafted rookies a fair shot to make the roster in training camp competitions, presenting a path for 38 players with the likes of David Andrews, Jonathan Jones, Malcolm Butler, Jakobi Meyers, J.C. Jackson, Adam Butler, Brandon Bolden, Brian Hoyer, and Gunner Olszewski making the team. Last season, special teamers Brenden Schooler and DaMarcus Mitchell extended the streak to a 19th season.
"It's the culture here that guys get a fair shot," cornerback Jonathan Jones said, pointing to Malcolm Butler's success as a factor in his decision to sign with New England in 2016.
After selecting 12 players in the draft and having 75 veterans under contract, the Patriots have a thinner-than-usual group of undrafted rookies this year. Still, the three undrafted rookie signees can earn roster spots like their predecessors did.
New England's UDFA additions this season are quarterback Malik Cunningham (Louisville), tight end Johnny Lumpkin (Louisiana), and linebacker Jourdan Helig (Appalachian State).
Here is a breakdown of the three rookie signings and their best avenue to make the initial 53-man roster this summer:
QB Malik Cunningham, Louisville
The discourse around the Patriots quarterback situation beyond QB-coach relationships relates to current NFL trends; the traditional pocket passer versus a toolsy dual-threat quarterback.
The top of New England's quarterback depth chart featuring incumbent starter Mac Jones and second-year QB Bailey Zappe is made up of stationary throwers. Although the young QB1 and backup aren't completely immobile, their legs aren't a threat to the defense. Furthermore, their middling mobility limits Jones and Zappe's playmaking ability out of structure.
The lion's share of quarterbacking is still done from the pocket, where accuracy, decision-making, and in-rhythm throwing trump all. However, the recent wave of second-reaction playmakers at the position, such as Patrick Mahomes and Josh Allen, has many wanting more.
Nowadays, the question is, is it enough to be a smooth operator from the pocket who runs the offense efficiently while avoiding turnovers, or do you need more juice to the squeeze? The old prototype can succeed when surrounded by a well-crafted system plus elite playmakers. But the examples of that skill set propping up an offense are evaporating.
The Patriots hope that offensive coordinator Bill O'Brien and improving skill talent will propel Jones toward a highly efficient point guard at quarterback. At their peaks, you can win with that.
Still, even as an undrafted free agent, Cunningham presents the other side to the QB dilemma as an undersized (6-0, 192) but elite runner with 4.53-second speed, bringing an added dimension.
Before we get into what Cunningham brings to the table as a prospect, it's important to remember that he went undrafted because of his slender frame and just okay arm talent. Cunningham doesn't have an Allen or Mahomes-like arm cannon to make magic happen out-of-structure and off-platform. If that's what you're hoping for, he is not that.
Instead, Cunningham is a better-than-advertised in-structure thrower with good touch and rhythm to the first two levels. He'll also add dynamic designed QB runs and scrambles to your offense.
For example, Cunningham does a nice job of finding his matchup and throwing with touch+accuracy to a moving target here. Louisville uses a switch release to match a wide receiver on Florida State's MIKE linebacker. Cunningham recognizes the mismatch and lofts the throw over the trailing linebacker to hit his receiver in stride.
Cunningham had an adjusted completion rate of over 70 percent in his collegiate career because he can take a little off the short game to throw a catchable ball and mostly throws on time. Plus, his mobility can alter a defense to open up easier short competitions.
In this play, the mesh crossing concept fails to develop at first when Cunningham comes off his initial read to head into scramble mode. As he looks to take off, the second-level defender (no. 3) has no choice but to respect his running ability, stepping toward the line of scrimmage. With the defender vacating his zone to track the quarterback, it opens up a passing lane for Cunningham to hit the shallow crosser for a huge gain.
Cunningham is also an electric ball carrier on scrambles, designed draws, or read option concepts aimed to use him as a running threat.
Here, Louisville sets up an RPO draw for the quarterback where receivers run routes, giving Cunningham a quick-game option with lead blockers in case he decides to take off running. This time, Cunningham runs the draw, eluding three tackles on his way into the end zone.
The Patriots rookie can also turn the corner when defenses collapse on inside runs against read-option designs. Above, the defense flows to the running back on a third-and-one zone read, and Cunningham recognizes the edge is vacated and easily moves the chains.
According to reports, Cunningham is open to switching positions to get his dynamic ball-carrying ability on the field if he can't make it as a quarterback. Cunningham's middling arm talent shows up in his subpar deep completion rate (31.3 percent last season), and there are other areas he needs to improve as a passer, too.
Those additional areas of improvement were bringing defenders to his intended target with his eyes, a tendency to drift backward rather than seek avenues to step up in the pocket, and a shot-put release and narrow base that could explain his sometimes inconsistent downfield accuracy.
Although Cunningham is far from a finished product with a few potentially fatal flaws at quarterback, there's enough foundational talent and instincts for the position to keep him at QB. For now, I'd hold off on the position switch and see how he develops as a passer.
At the very least, Cunningham has an extremely helpful skill set as a scout-team quarterback and could develop into a fringe starter with continued development.
TE Johnny Lumpkin, Louisiana-Lafayette
Although Cunningham is the most exciting prospect from this year's UDFA crop, Lumpkin has the easiest path to making the initial roster.
Currently, the Patriots have two locks at tight end with Hunter Henry and free-agent addition Mike Gesicki, who both project as impact players in offensive coordinator Bill O'Brien's system.
Last season, with Jonnu Smith in Gesicki's spot, the Pats only carried two tight ends into the regular season, with Matt Sokol and eventually Scotty Washington stashed on the practice squad after releasing 2020 third-rounder Devin Asiasi.
The decision to carry just two tight ends, rather than the conventional three, was made with the understanding that Henry and Smith would dominate the snaps, rendering a third tight end a wasted roster spot. Ultimately, the Pats could see it the same with Henry and Gesicki this year.
However, unlike Smith, Henry and Gesicki aren't ideal run blockers as in-line tight ends. Belichick has referred to Gesicki as a big wide receiver while he was with the Dolphins. Before Mike McDaniel arrived in Miami, Gesicki led all tight ends with in snap rate while detached from the formation in the slot or out wide in 2021 (82.2%).
As for Henry, the eighth-year pro is a reliable receiver with solid route-running ability and hands. But he struggled last season with a below-average 48.3 run-blocking grade via Pro Football Focus.
The need for a true in-line blocking tight end for power situations brings us back to Lumpkin, who offers that exact skill set as a potential TE3.
Lumpkin measured 6-foot-5 and 264 pounds at his Pro Day. His receiving upside comes mainly in the form of shallow drags and leaks into the flat as a check-down option, who can be a handful to bring down after the catch because of his immense size.
Primarily, he's an extension of the offensive line as a run blocker. Lumpkin's size translates in the running game where he has noticeable hand pop and upper-body power, light feet to gain advantageous angles, and can hold his own against defensive ends and outside linebackers.
The Pats rookie tight end has the tools to be a serviceable blocker with the body composition of a slimmed-down tackle. He's very reminiscent of former Patriots utility blocker Michael Williams.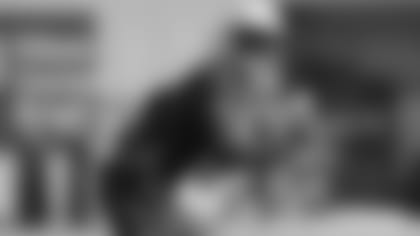 LB Jourdan Heilig, Appalachian State
Heilig's path to an NFL team's 90-man roster is unconventional, making him one of the league's surprise signings in undrafted free agency.
In four seasons at Appalachian State, Heilig only logged 40 snaps on defense, mainly as an edge rusher. With one more year of eligibility, Heilig entered the college football portal while considering transfer offers to the FCS level to find more playing time on defense.
Instead, the Patriots came calling because Heilig was a four-year core contributor on special teams for the Mountaineers, regularly appearing on four units in the kicking game. According to Pro Football Focus, Heilig graded out as an above-average kick coverage ace with 27 career tackles, which caught the eye of the Patriots college scouts.
Although it's challenging to assess special teamers, they often project based on body types, and Heilig has good size in a similar frame as former ace Nate Ebner. At 6-2, 220 pounds, Heilig is close in size to Ebner (6-0, 215) or maybe a thicker Brenden Schooler (6-1, 205).
After a disappointing 2022 season in the kicking game, New England added two new specialists in fourth-round kicker Chad Rhyland and selected punter Bryce Baringer in the sixth round. The Pats also signed stud special-teamer Chris Board in free agency, while special teams coordinator Cam Achord confirmed that former special teams coach Joe Judge would lend a hand.
The Patriots are making a concerted effort to revamp their special teams' units this offseason, with Heilig joining fellow rookies Ameer Speed and Isaiah Bolden as potential coverage aces.
DISCLAIMER: The views and thoughts expressed in this article are those of the writer and don't necessarily reflect those of the organization. Read Full Disclaimer