Dont'a Hightower's pivotal fourth quarter strip sack in the Patriots' Super Bowl LI victory over the Atlanta Falcons, coupled with Julian Edelman's miraculous bobbling catch with less than three minutes to play in regulation, both helped drive New England to its second league title in the last three seasons.
February 5, 2017 surely marked an important date in the football careers of the two Patriots veterans, but that isn't the only notable anniversary Hightower and Edelman share.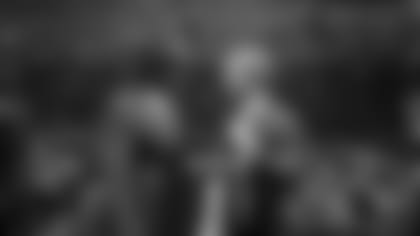 On this day, April 26, five and nine years ago, respectively, Hightower and Edelman were selected as New England Patriots draft picks.
It was five years ago today that Dont'a Hightower was sitting in New York beside his family, teammates and close friends when the New England Patriots traded up to obtain the 25th pick of the 2012 NFL Draft from the Denver Broncos. The Patriots selected Hightower as their second of two first round selections.
Head coach Bill Belichick knew what he had in the Alabama product, noting his defensive leadership and versatility following the selection.
"Of course [Dont'a] Hightower has been in a great program for a great coach, won a couple National Championships and has been the signal-caller and leader of that defense," Belichick said that night.
Hightower, too, was excited about the system he was buying into.
"I didn't really grow up watching NFL football, really, but I watched because of the style of defense and the Patriots were one of those defenses I watched a lot, mainly because we did a lot of the same things," he said.
"Coach Belichick is a genius when it comes to football, let alone defense, so to play under somebody like that and to gain more knowledge after playing with Coach [Nick] Saban, that's something that's going to help me and my game a lot."
Since the day in April 2012, the 6-foot-3 linebacker has amassed 17 sacks and over 350 tackles in a New England uniform. In 2016, the two-time Super Bowl Champion was a named a defensive co-captain and was selected to his first career Pro Bowl.
Here's a look back at what Hightower had to say before it all began:
Q: Were you surprised it was the Patriots?
DH: You know, I was on the second one. I thought they might have picked me the first time, but they traded back up the second time and grabbed me, so I'm grateful for that.
Q: You had four sacks last season. Can you talk about your role as a pass rusher in the Alabama defense?
DH: I would come in on third down and put pressure on the quarterback. Depending on down and distance, sometimes I would stand up and drop to be an extra zoner; sometimes we'd switch up different roles and have me do some of the other stuff.
Q: Is that something you think you can do at the next level – rush the passer?
Q: A lot of guys who have played for Coach Saban and who have come up here to play in New England say there are some similarities. Do you anticipate any similarities and did Coach Saban talk to you about the Patriots at all?
DH: No, Coach Saban never really talked to me about the Patriots at all.  There are a couple of guys up there in New England that I do know that I've talked to and said that things are very similar.
Q: Did you have any idea that the Patriots were interested?
DH: I had a small amount [of an idea]. I met with those guys at the Combine and I met them at one of the Pro Days, so I knew that they were kind of interested in some of the defensive players that we had at Alabama.
Three years to the date prior to bringing Hightower to New England, the Patriots were just as hopeful when they selected Edelman in the seventh round of the 2009 NFL Draft.
"We see him as a player who has some versatility, probably as a receiver, maybe a running back," Bill Belichick said on the night of April 26, 2009. "We'll see how that goes."
"He also played in the kicking game, so we kind of took him as an athlete," the head coach added. "We'll just see how all that works out."
Following the pick, there were some questions as to whether or not the 5-foot-11, 198-pounder would be considered too small.
Eight years later, Edelman's impact on New England continues to come up big.