I was disgusted by the game (SNF) and though we lost I felt jobbed. We did not lose because of the refs but they sure made it harder. I can live with the penalty in the end zone (I think Def Holding) but the mugging Talib put on our sure first down in OT has to be called fairly and it was not. I feel disgusted by that and it will be tough to keep home-field advantage from Denver for the remaining games. I do feel however that not battling for an undefeated season is a help to us. I don't believe in a 'good loss' but I do think a change in that pressure is going to help. Your thoughts on the officiating (specifically the offensive line holding calls and non-calls) and the relief of not fighting for 16-0?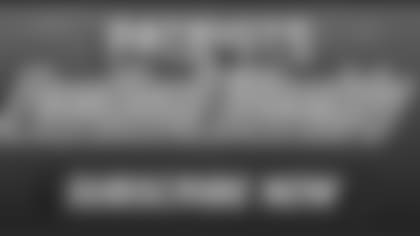 I don't think the officiating was very good in Denver. It hasn't been good in a lot of games I've watched this season, both those that have included the Patriots and plenty of others that did not include New England. It's been a terrible year for the officials. I think everyone would admit that. That said, I didn't have a big problem with the Talib play you brought up in overtime. NBC didn't show a good replay of the coverage, but nothing I saw on the TV tape or the coaches' film made it look like an obvious pass interference, although both Tom Brady and Brandon LaFell were certainly calling for the flag. As for the loss, I've never thought of a loss as a good thing. I don't think the 2007 Patriots lost the Super Bowl because they were undefeated heading into that big game. I don't think it's good that New England's air of invincibility has been removed for this season. I also don't think it's good that the team could now be in a fight for seeding if it loses another game as it has lost the potential tie-breaker with the Broncos. Maybe a decision would have had to have been made if the team were 15-0 heading into the finale in terms of resting players. That's a decision I would like to have to make every season. For me, you try to win every game you play, are disappointed when you don't win and like being the guy taking the best from every opponent. Losing is bad. I'll never be convinced of anything to the contrary.
Andy Hart
Is Harper's release a product of dropping the punt, Amendola's (hopeful) return, or both?
It's probably a little bit of both, especially considering the reported addition to the roster of return specialist and receiver (Eagles, Texans) Demaris Johnson. I initially thought that Harper's departure from the roster after just one game was likely due to the fact that Amendola might be ready to return and the team could need to add a body to another position like tight end or linebacker. But by adding Johnson it certainly makes it look more like it was a reaction to Harper's costly muff in Denver. It's too bad, I thought he had a nice preseason and even did a decent job on punts against the Bills. But, they do call it the Not For Long league when you make big mistakes.
Andy Hart
OK I am sure you will hear this all week but what is your take on passing to Gronk with just over two minutes and having just got a first down? I mean why even have Blount? I get he wasn't killing it on the ground but it's first down, we run and make them use a time out, we run again to get to the two minute warning and probably have a manageable 3rd down. If we get a first, game over. To top it off BB acts like he's offended to even be asked about this, your take?
Even given how poorly Blount has run the last three weeks, I was surprised the Patriots didn't run the ball in the situation you are referring to. Assuming the first play isn't too quick, you indeed force Denver to use its timeout and get under two minutes. On Belichick's conference call on Tuesday he said the team considered all its options, as well as how the Broncos were playing defense, and did what it thought was best. The Broncos were indeed loading the box with eight defenders on the pass play to Gronkowski that resulted in the tight end's injury. Still, I probably would have erred on the side of running the ball in that spot clinging to the 21-17 lead and the limited weapons left in the passing game. As for Belichick's comments postgame, it is what it is. He doesn't have to deal with losses too often and doesn't always do a good job of it. But I can't imagine it's easy in the immediate aftermath of defeat to have to answer for every decision you made minutes earlier in a competitive, fast-paced environment. He's not the only one who doesn't come off well in those situations.|
Andy Hart
I understand all the injuries that took place but there was one huge mistake the coaching staff made that probably cost the game. I was screaming at my TV at the end of the first half, we had over two minutes left, the two minute warning and three time outs. At this point the Patriots were only up by a touchdown, I believe. I know us fans "don't know anything" but what was the logic behind run, run, punt with that much time on the clock? Please give us some insight.
Second, is it safe to assume either Brady or McDaniels really wanted Chandler to get the ball down the sideline? Brady must have tried that play three times in the fourth! Trust your eyes, that wasn't slow motion video, Chandler can't run very fast.
The situation at the end of the first half was indeed different than the way the Patriots usually handle those spots. Holding a 14-7 lead, three timeouts, set to get the ball in the second half and with the best kicker in football working in light air it seemed like a spot to try to increase the lead. Instead the Patriots ran five straight times seemingly content to go to halftime with the seven-point advantage. Belichick lumped this decision in with the one in the fourth quarter when asked about the situation on his Tuesday conference call. He said the team considered all its options and the way the Broncos played the situation before going with what it thought was best. I would have played it differently and the Patriots certainly have played it much differently in the past, but without Julian Edelman and Danny Amendola maybe the comfort wasn't there for a two-minute drive in that situation when it wasn't absolutely necessary. As for Chandler, clearly both Brady and McDaniels believe they need the veteran tight end to be a productive part of the offense and they are working to get him to that point. Brady said as much after the game, and given all the injuries they are probably right. It wasn't pretty, for the most part, but it's an investment now that may pay off later. I don't understand why getting Chandler involved lobbed deep balls down the right sideline, but I agree that I didn't care for it, repeatedly.
Andy Hart
The injury bug that sidelined Pats entire skilled offence revealed two issues which the impressive offence was covering up till now. 1. Pats cannot power-run the ball on quality defenses. 2. Pats are missing a quality CB. BB had a chance to address CB situation but decided not to. So my question is about running the ball - if Pats have a top-tier RB like Peterson instead of Blount, would they still struggle to make yards behind this O-line?
Hi guys, late submission, so will probably not make it. My question is what is happening with our run offense?  Blount seems to be dancing around in the backfield with no sense of power. Of course our O-Line is having problems, but a bit more "show of life" by Blount would seem appropriate. Hope we can keep Gronkowski out of the lineup against a depleted Philadelphia team this week. Thanks.
The Patriots have not run the ball well in recent weeks. A lot of that has to fall on Blount. I do think he's danced around a bit too much in the backfield, especially against a very good Broncos run defense that has speed at linebacker. But, to be fair, he's done that in games when he's been very productive as well. What has been missing are the longer runs that he usually breaks to balance out the production. He hasn't had a 20-yard run in the last three games, each of which he averaged 3.5 yards per carry or less. Some of that has been on the line, but certainly an elite back like Peterson would have created more production. I even wonder if a guy like a healthy Stevan Ridley would have been a better option. But, alas, that's not an option. Blount is the lead back and he needs to be better. He'll have a chance to do that against an Eagles defense that allows 4.4 yards per carry on the ground this season. Or, maybe it's time for either Brandon Bolden or James White to get a few more traditional running chances.
Andy Hart
The goal of any NFL team is to win the Super Bowl. However, it seems to me that the Patriots also had another goal this season, to go undefeated. Judging by the exuberant reaction by Brady and Belichick after the Giants win, and Brady saying after the loss to the Broncos that it is the most pissed off he's ever been after a game (not to mention Coach Belichick's demeanor in the post-game press conference), it seems that the Pats were on a mission to go undefeated. Do you agree? As a fan there is nothing I would have liked better than to finish off the perfect season. Now that there's no chance for that, hopefully the Pats can complete another 18-1 season, but this time with a win for the last game.
I don't think the feelings of Brady and Belichick were related to an undefeated season. They were simply about a tough loss in a key AFC game, a game they very easily could have and probably should have won. I also think some of that emotion/animosity was thanks to the officiating. Neither guy is a very good loser, which is probably part of why they don't lose very often. I think they try to and plan to win every time they take the field. That's on a game-by-game basis, not some goal to go undefeated. They lost. They don't like to lose. The showed that. And as I said earlier, I don't really think the loss gives them a better chance to win the Super Bowl. That's crazy to me. In fact, the loss actually pushes them closer to potentially having to fight for the bye, which is important.
Andy Hart
Negative Jeff is back and here goes. The refs certainly did not do us any favors and certainly had an impact on the game. But that's not why we lost. The king of situational football, BB, had an undrafted free agent rookie out there to return a punt in critical point in the game. Why would he point someone so inexperienced out there and then release the player the next day like it was solely Harpers fault they lost? How about the defense showing up for once? Why is it that every time we have a lead towards the end of the 4th quarter in a big game, the defense falls apart? Under 4 minutes to go and defense gives up 90-yard touchdown in just a few plays. The Broncos also scored 3 running touchdowns on the same play. Why does Patricia still have job? The defense has been unable to close out big games (minus the miracle interception in Super Bowl thanks to bonehead play call by Carroll) for years now. In a tight game, 4th quarter, I have no confidence in our defense. I am not upset we lost, just with the way we lost. We killed ourselves and the refs just poured salt on the open wounds. Have major concerns with this inept defense. Thanks.
You are Negative Jeff and sometimes I am Angry Andy. I'm often described as Angry Andy when I'm declaring my doubts for the defense. I think the unit still has to prove that it can make a big play or big stop in the passing game. I think the defensive backs are still a question mark. But, that's not a popular thought in a Patriots Nation that's been building up the secondary all year. The group has been good enough for the most part, but does that mean they are good and capable of winning when the game in on the line? I have my doubts and those fears played out on Sunday night. As for Patricia, I think he's a very good coach and does a good job blending into Belichick's philosophies. But Belichick always get the defensive credit for success on defense, so I also give him the blame for failures in that area. Just seems fair. And for Harper, he had done a solid job on punts in the preseason and against the Bills. With Edelman and Amendola down, he was probably the next best option, although Keshawn Martin was another possibility. It was a tough mistake for the rookie and a learning experience. I hope he gets another chance down the road.
Andy Hart
Hi guys, avid reader from Ireland, love your stuff! My question is Matthew Slater a really terrible receiver? I know he's a great ST contributor but is he really bad as a wideout and that's why he never lines up for snaps on the offense? 
This is a good question, especially after seeing Brady throw a number of deep balls to LaFell and Chandler in the loss on Sunday. Slater has one career catch. He's not a refined route runner. But he has the speed to run deep, a way the team has used him in the past. One problem with his deep threat abilities is that it's pretty much a giveaway when he's on the field because he's not used in other ways except occasionally as a blocker. Slater did get decent reps this summer in joint practices with New Orleans and looked OK. Belichick also emphasized recently that the veteran special teams captain runs routes – both New England's and on the scout team – at times in practice. But he's not a great pass catcher or much of an offensive option, at least that's the way the team feels based on the way it uses him. Based on the limited I've seen from him over the years as a pass catcher, I don't disagree.
Andy Hart
Was it just me or were the referees absolutely terrible again Sunday night? They missed major DPI calls against the Broncos (covering LaFell twice if my memory serves me) and the calls that they DID make were more often than not borderline calls at best. They really changed the momentum and ultimately the outcome of the game. Also, what is up with the Gronkowski OPI calls? I didn't see anything there that would merit a yellow hankie. Why do I feel the Patriots frequently get stuck with the worst officiating crews in the NFL?  Is there any solution to this madness?
Pats fan stuck in Indiana*
While normally this email may sound like sour grapes, after Sunday night it doesn't seem that way. First, we now have proof that the NFL gives the Patriots the worst officiating crews. Peter Morelli's crew that was being punished for its horrific performance last week in the 49ers/Cardinals game was taken off its previously scheduled role on Sunday night football and reassigned to the Patriots game against the Eagles. It would be funny, if it were not true. The crew is apparently not good enough for a Sunday night game that the entire world will watch but is good enough for a Patriots game. Wow. Just wow. That said, the NFL is clearly trying to crack down on offensive pass interference this year. That includes regular plays and rub or pick routes. They seem to be focusing on Gronkowksi as the most physical, dominating pass catcher in the game today. Gronkowski certainly believes that to be the case. He's now had six OPI calls against him this year. Some were earned. Some very questionable. Yet many officials seem to allow the big tight end to be molested all over the field by defenders. It reminds me of how the NBA used to allow Shaq to be treated. It's not fair, but I guess it happens when you are one of the biggest, most dominant athletes to every play a sport.
Andy Hart
What's up with the Broncos targeting the knees on any Patriots player in possession of the ball. There were multiple hits where the Broncos defender had an open lane to make a tackle and choose to tackle full speed while intentional targeting the knees. WTF?
I don't agree with this assertion. The Patriots wouldn't seem to either as both Brady and Malcolm Butler expressed postgame that the hit on Gronkowski was not dirty. Tackling low is the way the game is played today, by all teams. Defensive backs certainly have to go low on a player like Gronkowski if they have any chance at success. The Broncos tried to go high on him early in the game and both safeties were brushed off as Gronkowski trotted into the end zone for a touchdown. I know fans are emotional seeing Gronkowski get hit low and get carted off. It stinks. But it's the way guys have to tackle in the game today and against a player like Gronkowski. If guys like Brady, who lost his best weapon, and Butler, who has to tackle guys like Gronk, don't think it is dirty that we can't really see it that way either. Regardless of how emotional we get.
Andy Hart
Hi guys, super job you do, please continue. Patriots fan from France here!
As last year I ask the same question as we will enter a period of time when some teams will drop some games to have a better draft choice. Why not change it ? To keep all teams focused until week 17. I propose to give #1 draft choice to best record team just missing play off and until #20 pick to the lowest record team. And after to give #21 draft choice to lowest record team making the play off until #32 pick for SB champion. What you think?
I don't love it. I know there are issues at times – more in the NBA than the NFL – but I still think the top pick should go to the worst team. It's really hard in this competitive world of football to decide to tank a season for a certain player. Usually that happens very late in a year for a team that's already well on track for the top pick because they actually do stink. I don't think borderline playoff teams should be strengthened at the cost of worse squads. That's a way to ensure that the same teams remain bad for long periods of time. That's not fair or a good business plan in my opinion. I understand leagues trying to make sure the process if fair, but the draft still has to be a way for bad teams to get better.
Andy Hart
Everyone is talking about the PI call on Gronk and the holding call on Chung as plays that altered the outcome of the Broncos game and they did. However there are two other calls and one non-call that also drastically altered the outcome of the game. The first is the holding call Tre' Jackson on Von Miller that negated a 51 yard completion by Brady. All Jackson did was maul Miller and smash him to the ground. One play later the Patriots had to punt from deep in their own territory. The one noncall was the first play of overtime when Aqib Talib obviously held Brandon LaFell and wasn't called for it. Two plays later the Patriots were forced to punt. But what I really want to know is how can an official rule Denver's ball on the muffed punt when Nate Ebner came out of the pile with the ball? The official was at least 15 feet away with several players obstructing his view and he was already ruling Denver's ball. Disgusting!
The officials were not very good in Denver, we have established that. That said, I thought the Jackson call was an obvious hold. Miller got through Jackson's inside shoulder and had a path to Brady but was held from that point on till the rookie regained leverage to take him to the ground. When you have a guy's jersey and he gets to the side so your hands are outside of your frame it's going to get a flag just about every time. I also didn't see enough on the Talib play to call for the flag that both the receiver and his quarterback were lobbying for. I do think there was a very quick declaration of Denver's recovery on the muffed punt. The Broncos coverage player should have recovered it easily, but I'm not sure he did. It looked like the all was always moving under him and Ebner wrestled it away. It was one of the quickest declarations of possession I've seen in such situations. I think Ebner and the Patriots have a beef there.
Andy Hart
I have heard many Pats fans complain about our secondary. If you ask me Butler and Logan Ryan are playing at an extremely high level forcing teams to use no-name players to make plays. We have the best defense (in terms of points) in the NFL. I think it's time to start giving these two young players more credit especially considering the corners we lost last year and how these two may become two of the best corner combo in the league in the near future.
I will have to respectfully disagree here. I think Butler has been up and down. He was great against Odell Beckham Jr., for example, but struggled against Eric Decker and others. Ryan, in my opinion may have had his best performance on Sunday night and even then it took a lot of Demaryius Thomas drops for that to come to fruition. I think Butler has an intriguing future, but more than half way through his third season I think Ryan is probably best suited as a backup cornerback. I certainly can't see them as the best cornerback tandem in the NFL – now or ever. But, we all have the right to our opinions. Mine is that with the game on the line in Denver the Broncos went right at the Patriots secondary and got the big plays they needed to get the job done.
Andy Hart