There were more than a few folks who were surprised when the Patriots selected Bailey Zappe in the fourth round of the recently completed draft. Zappe was not one of them, and neither was his offensive coordinator/quarterbacks coach Ben Arbuckle.
To hear Arbuckle tell it, the only surprise was that Zappe (pronounced ZAP-ee) was still available when the 137th pick came around.
"There was no surprise at all. When the draft came there was no doubt he was going to go," Arbuckle explained. "The only question was when and where. Being around him for four years and seeing his work habits every day he is the ultimate pro. Who's going to take a chance and get steal?"
Given that lofty praise, why was Zappe considered a surprise when Bill Belichick gave him a call? There are a couple of reasons for that, not the least of which is his modest size. Zappe stands a tad under 6-1 and 220 pounds, which is less than ideal for a traditional pocket passer, which he is. He also played most of his college career at FCS Houston Baptist before moving to FBS Western Kentucky of Conference USA as a graduate transfer in 2021.
His lack of size coupled with the lower level of competition likely caused a few suitors to look in other directions. But Belichick liked what he saw, and Arbuckle believes he made the right choice.
"The one thing about Bailey is I think he's always kind of been the underdog," Arbuckle said. "He was super under-recruited out of high school. He only had one offer and that was at HBU. He played really well there and came to us with something to prove – both to Western Kentucky and all of college football and the NFL. It was like he was saying, 'I belong with you all.' He has always found a way to come out on top.
"I don't know if relentless would be the right word, but he does not lack for confidence, and I mean that in the best way possible. He's the most confident guy you'll ever meet in your life."
To say Zappe proved he belonged at a higher level in college is an understatement. In his first foray into the big time, Zappe passed for nearly 6,000 yards (5,967 to be exact) and 62 touchdowns while leading the Hilltoppers to a 9-5 record and a conference title. He earned C-USA MVP honors and led the team to a 59-38 victory over Appalachian State in the Boca Raton Bowl.
One huge factor in his success was his familiarity with the offense. Zach Kittley left HBU to assume the offensive coordinator post at WKU, and Zappe joined him. Kittley spent time at Texas Tech and learned Mike Leach's Air Raid offense (and has since returned to Lubbock as OC of the Red Raiders), allowing Zappe the opportunity to continue his development in the system.
Arbuckle says he and Kittley were fortunate to have such an experienced quarterback at the helm and they enjoyed the benefits as a result.
"Bailey had full autonomy of the offense," Arbuckle explained. "He sees things really well. He sees the field and gets into plays that would make us successful. Coach Kittley would call a play and he'd recognize pre-snap if it would work or not. He'd check in and out of plays, change the protection completely or get into an entirely different route concept, or switch it to a run. That's something he does at an extremely high level.
"He manages the game and sees the field so well, and at the end of the day he's just a gamer. That was really evident at HBU as well. It was one of those deals where we didn't win a whole of games but we always had a chance because we had Bailey."
In addition to his ability, Zappe showcased a toughness during his college career – both on and off the field. His leadership is apparent and was particularly impressive during his one season at WKU where he immediately took control.
Those traits were on display during a key matchup with Marshall late in the season when the Hilltoppers were trying to clinch the C-USA East title.
"The first half of that Marshall game was awful," Arbuckle said. "We didn't have much going on offense. He really wasn't in his rhythm. Coach Kittley looked at him at halftime and challenged him. He said everything we want is there. You just have to lock it in. Everyone else is doing their job. You just have to lock it in.
"Some guys can get defensive in moments like that but Bailey just nodded his head. He just looked at us and said, 'Yes sir' without flinching. He put his helmet on, walked out the door and threw for four touchdowns in the second half and about 340 yards and led us to the championship. That was a really cool, defining moment for him."
Obviously the Patriots are just one season into the Mac Jones era after drafting their starter in the first round in 2021. Where Zappe fits into the mix remains to be seen, but with Brian Hoyer approaching his 37th birthday and Jarrett Stidham entering the final year of his deal, the rookie has an opportunity to stick around. 
If he does, it won't be much of a surprise to Arbuckle.
"Bailey is the best quarterback I've ever been around," he concluded. "Whenever I look at a quarterback, I want them to be just like Bailey."
Patriots Draft Pick Profile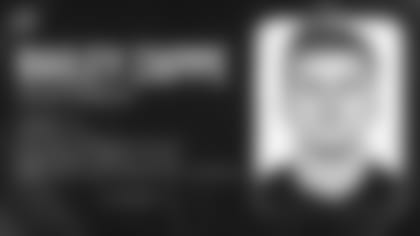 Strengths: Poise in the pocket … Shows sound decision-making, particularly pre-snap where he recognizes coverages quickly … Attacks both zone and man coverages … Likes to climb the pocket to escape edge pressure rather than prematurely running … Excellent touch downfield … Moves well within the pocket … Excellent leader with intangibles to match.
Weaknesses: Lacks the size of a typical pocket passer … Not the quickest delivery … Lacks the arm strength necessary for off-platform throws … Struggles to fit the ball into tight windows … Can be inaccurate on shorter, quick throws due to poor footwork … Lacks the quickness necessary to escape the pocket consistently.
Personal: Began his career at Houston Baptist playing in the "Air Raid" offense under Zach Kittley, who spent five years learning that system at Texas Tech … Named Conference USA MVP in 2021 … Twitter handle is @baileyzappe04 … Played his high school ball at Victoria East HS in Victoria, Texas … Passed for 3,770 yards and 37 touchdowns as a senior.
Comparable NFL player: Case Keenum, Cleveland – Long-time backup whose mental gifts outweigh his physical limitations.
Table inside Article

| YEAR | GP-GS | COMP. | ATT. | YARDS | TD | INT | RUSHES | YARDS | AVG. | TD |
| --- | --- | --- | --- | --- | --- | --- | --- | --- | --- | --- |
| 2017 | 10-9 | 150 | 266 | 1,548 | 5 | 10 | 81 | 50 | 0.6 | 2 |
| 2018 | 11-11 | 252 | 436 | 2,812 | 23 | 13 | 118 | 179 | 1.5 | 1 |
| 2019 | 12-12 | 357 | 560 | 3,811 | 35 | 15 | 53 | 0 | 0.0 | 0 |
| 2020 | 4-4 | 141 | 215 | 1,833 | 15 | 1 | 19 | 14 | 0.7 | 0 |
| 2021 | 14-14 | 475 | 686 | 5,967 | 62 | 11 | 51 | 17 | 0.3 | 3 |
| TOTALS | 51-50 | 1,375 | 2,163 | 15,971 | 140 | 50 | 322 | 257 | 0.8 | 6 |
Played at Houston Baptist from 2017-20. 2021 at Western Kentucky.
Table inside Article

| PLAYER NUMBERS | COMBINE AVG. FOR POS. |
| --- | --- |
| Height: 6-1 | 6-2 |
| Weight: 220 | 216 |
| 40 yards: 4.88 | 4.77 |
| Vertical jump: 30 | 31.4 |
| Long jump: 9-1 | 9-8 |
| Shuttle: 4.40 | 4.33 |
| Cone: 7.19 | 7.13 |
What they're saying …
"Zappe has a quick release and is an accurate short-to-intermediate passer when throwing in rhythm. He shows a good feel for where pressure is coming from and moves well within the pocket. He struggles to drive the ball vertically and is not nearly as consistent with his ball placement when throwing on the move. And he doesn't project as much of a running threat in the NFL." – ESPN.com's Steve Muench