[wysifield-embeddedaudio|eid="394736"|type="embeddedaudio"|view_mode="full"]New England got back on the winning track Sunday night in Houston, in part, because of an impressive physical effort on both sides of the ball.
The offense was somewhat balanced as LeGarrette Blount, before leaving to injury, and Brandon Bolden each topped 50 yards on the ground.
Defensively the pass rush battered Brian Hoyer and knocked him from the game, while overall holding the Texans in check with virtually everything Bill O'Brien drew up.
So it was no surprise that during his weekly day-after-game conference call with the local media Patriots head coach Bill Belichick had some positive words for his running game and overall defensive effort that led to victory over the Texans.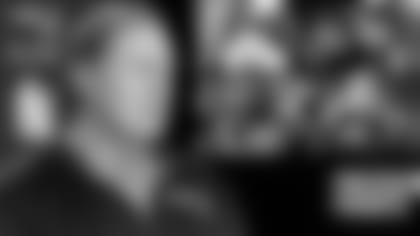 But, it wouldn't be a weekly Monday chat without a question about the health update of various injured players, which this week included Blount (hip), Jonathan Freeny (hand), Dominique Easley (thigh) and Devin McCourty (ankle). Belichick said simply, "It's too early to tell."
He also had plenty to say about the replay reviews that New England lost in Houston, especially a James White sideline catch that was overturned sparking Belichick to reiterate his belief that the league needs cameras along the sidelines/end lines/goal lines for such plays.
And how will the Patriots balance keeping players healthy for the postseason and trying to win games over the next three weeks of regular sees action? Well, the coach seemed glad to be asked as he delivered a message to the media that just as easily could have bene sent to his players.
All that filled out an interesting, informative conference call following Belichick's team getting back into winning form with a 27-6 victory Sunday night in Houston.
1. "Lot of good things on defense": Houston had just six first downs, six points on two field goals, one red zone trip, 189 yards and converted a mere three third downs against Sunday night's impressive effort for the New England defense. O'Brien's offense just never got anything going with any consistency, and even when the unit hit a couple big plays that accounted for about half of the total limited production on the night, the Texans couldn't do anything with it.
"We had some good things, did some good things on defense," Belichick said, before acknowledging it wasn't perfect. "The big plays weren't as damaging as they could have been because we had great field position on defense due to the offense and the kicking game. So they were playing on a long field even when hit a 50 yarder they were still 25 yards away from the goal line, things like that. The three big plays were obviously not good. But the third-down and fourth-down defense combined and the red area defense were really, they saved us. That put the offense back on the field. It helped us with time of possession. It kept field position for us. So that was big.
"We had a lot of good plays (defensively) in the running game. We had good pressure on the quarterback. We had the ball out. We could have turned it over a little bit more than we did. But we were attacking the ball. So there were a lot of good things on defense. There are still things we can improve on and need to be a little bit more coordinated with. But there were plenty of good things, too. Any time you can hold a team to six points, especially playing on the road and a quality team like Houston that's well coached, that has a good offensive attack, you have to feel good coming out of there with six points and turnovers and things like that. That was good."
2. "We competed in the running game": Blount had 53 yards on 10 first-half carries in Houston. Bolden had 51 yards on 16 carries, the bulk coming in the second half after Blount left with his hip injury. And James White capitalized on his only carry of the night for a 2-yard touchdown. While it was far from a dominant effort on the ground, New England's rushing attack did enough to achieve the balance the team clearly was looking for heading into the Sunday night battle with the Texans.
"We tried to stick with it, make them play it," Belichick said of the running game. "We had our moments. There were times when we were able to punch out some plays and some important plays. The touchdown run on third-and-2, that was a big play for us. We had a third-down conversion on Bolden's sweep there on third-and-4 or 5. That was another big third-down conversion. So there were plays like that that were kind of timely plays. Houston is a tough team to run against. They have a lot of very disruptive players. Vince [Wilfork] is a big guy in the middle, obviously. But between [Jadeveon] Clowney and [J.J.] Watt on both edges plus [Whitney] Mercilus they are really athletic and explosive and powerful out there. So it's a tough matchup. They got us from behind a couple times when we had decent blocking, actually good blocking on a couple plays, and they just got us from behind. I'm not sure there are too many players in the league that could have made the plays that Watt or Clowney made on a couple of those running plays.
"I thought we competed in the running game. I thought we blocked better. Josh [McDaniels] and the offensive staff had a couple scheme plays where we were able to create some yardage with a little easier access. But they are a tough group to block. Then we had a couple good runs where backs really didn't have a lot. LG, Brandon there at the end of the game, they made some plays on their own with good vision, or good cut, or broken tackle, whatever it was. Did a good job there. So I'd say it's a combination of all those things. But they were hard-fought yards. I'll say that. There wasn't a lot of easy yardage against the Texans in the running game."
3. Replay views, "If we need to raise money…": New England lost a pair of replay review challenges by the Texans, one wiping out a Danny Amendola diving grab and the other taking away a nice White catch on the sideline. Each call was debatable and, at least in terms of the latter, had Belichick once again lamenting the available camera angles even on a big Sunday night game and the need to add cameras to improve the calls on such plays.
"In particular the White play it goes back to the whole issue of the angle of the camera and was his heel actually on the white or was his toe on the ground and his heel above the white or how close it was. I think I just would say what I've said many times before that I think because of the plays on the sideline, on the goal line and on the end line that the league ought to have cameras there," Belichick said. "I don't think we should be worried how much it costs. If we need to raise money and get those set so that on those kind of plays we have an absolute, down-the-line angle of the play and not … I would say the angles that I saw, shown up on the screen, which none of them had that. None of them were down the line. They were all coming either from behind or from the field or from kind of the sideline. I think that leads to the … if 100 people saw that play it might be 55-45. I don't know. There are some that we can all look at and say yeah it's this or yeah it's that. But those ones that are kind of really close call and a toss-up. It's one thing when it's really close, it's another thing when you don't have a really good angle to see it and then therefore you can't make a good decision. So I would still like to see a sideline camera on that so that we get the call right, whatever it is. Whether he was in bounds or out of bounds. Let's just get an angle on those plays. On the sideline to not have an down-the-line angle on plays like that or on a goal line play or an end line play that are scoring plays, I think we should have those in place."
4. Don't want to "just lay an egg every week": Sunday's win over Houston clinched a playoff spot for New England while also putting the team back into the driver's seat for the potential No. 1 seed in the AFC and home field playoff advantage. But given the team's ever-growing list of injuries, Belichick was asked how he'd be balancing getting his players healthy for the postseason with trying to take care of business in the final regular season games. The coach pounced, in his own way, on the question.
"First of all we're not…definitely as of yesterday we hadn't qualified for anything. And we still haven't," Belichick said. "I mean you have to win games in this league. If you don't win games, then that setting the table for something else doesn't really mean much. You have to continue play at a high level throughout a 16-game regular season schedule. It's hard to win them all. Everybody has a few slip-ups along the way or something, but you have to play at a good level. So that's what we try to do every week is play at a good level. I don't really know any other way to coach the team. I don't think we want to go out there and just lay an egg every week. I don't really think that's a good formula. So we try to compete very week at our highest level."