Of all the undrafted rookie free agents that have made Bill Belichick's Patriots, none have played more games with the team than running back Brandon Bolden. Bolden made the 53-man roster out of Ole Miss in 2012, playing six seasons and winning two Super Bowl rings and, after spending 2018 in Miami, Bolden re-signed with New England this offseason on a two-year, $3.7 million deal. He now sits on the verge of playing his 100th NFL game.
The Patriots missed Bolden in 2018, struggling on special teams early in the year and having to use Cordarrelle Patterson at running back when injuries struck. Making matters worse was when Bolden ripped off two touchdowns against his former team in the Miami Miracle game.
Now back in New England, Bolden was quick to credit those around him and the hard work that took him from undrafted unknown to embarking on his eighth season in the league. What made it possible?
"A lot of hard work and a bunch of great teammates," said Bolden. "I've been blessed in my eight years. Those guys they push me and they allow me to get better and push me to be better. I appreciate every last one of them, without them I wouldn't be here."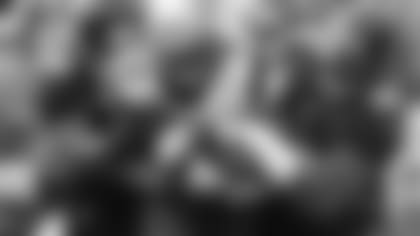 For the past 14 seasons an undrafted rookie has made the Patriots roster. Malcolm Butler might be the most well-known of the bunch, while players like Kyle Love and Kenny Moore have had notable success after New England. Moore was cut out of camp by the Pats, but caught on with the Colts, signing a lucrative extension this offseason. Brian Hoyer is another who has put together a nice NFL career, playing on five other teams and starting 37 career games before returning to where he started.
Bolden has chipped in at key moments when needed and carved out an important role, one that earned him a return trip to the Pariots this offseason. Now, he's watching other undrafted rookies starting on the same path he helped blaze. What advice did Bolden have for those undrafted rookies like early-camp standout and roster favorite Jakobi Meyers?
"You gotta take every day like it's your last because you don't know what's going to happen. You don't know what's going to come so you gotta enjoy it. You gotta do everything you can to make the team. Head down, stick to the grind, trust in yourself. Do what got you here. Don't do too much, don't do too little."
Table inside Article

| Undrafted Player | Games Played (with Patriots) |
| --- | --- |
| Kyle Love | 100 (41) |
| Brandon Bolden | 99 (83) |
| Benjarvus Green-Ellis | 84 (53) |
| Mike Wright | 81 |
| Ryan Wendell | 80 |
| Malcolm Butler | 75 (59) |
| Randall Gay | 71 |
| Brian Hoyer | 65 |
| David Andrews | 60 |
Bolden got a taste of what it's like outside of the walls of Gillette Stadium during his sabbatical year with the Dolphins, but brought his same Patriots-inspired work ethic with him.
"You're in New England for 6 years it's kinda embedded into your DNA," Bolden told me after a recent practice. "Being from New England, everybody wants to know the ins and outs of it. It's not so much what I can tell you, I just know how to carry myself and I know how to go about things. Just trying to lead by example. This is how we used do it, this is how we look at it, some guys take to it, some guys don't.
Bolden should be a roster lock, giving the Patriots the same player who can play all special teams, both running back roles and maybe even some emergency quarterback like he did in high school. When asked what his favorite thing to do on a football field, Bolden loves all of it.
"Just being out there. I'll never forget in one of my draft meetings, they asked me what I wanted to play and I told them it doesn't matter as long as I'm able to go out on the field."
An undrafted rookie always makes the team, but many flame out quickly. Bolden is one of the few to make a full career from that lowest possible starting point and has been a valuable, if underappreciated, role player who sums up the level playing field that exists under Bill Belichick.