…New England did a nice job of stopping the run on the game's opening drive. DE Chandler Jones got good backfield penetration on the first play to help drop the ball carrier for a three-yard loss. DT Vince Wilfork then plugged up the middle on the next run to limit the rush to four yards. On third-and-long, CB Alfonzo Dennard made a nice reach-around play to knock QB Kyle Orton's pass away from intended receiver Robert Woods.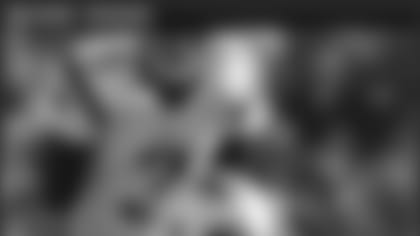 ](http://www.pjtra.com/t/R0BKSkdIREBKSElGRUBISEtERw)…On New England's first possession, QB Tom Brady tried to hit WR Brian Tyms on a deep ball near the end zone that was overthrown by a good five yards. Brady actually had good protection from his fourth starting offensive line of the year and was able to plant and follow through on his through without rushing himself. At the snap, Tyms got a good release off CB Stephon Gilmore, who then let Tyms get by him because he knew he had safety help deep. Had Brady's throw been more accurate, it's unclear if Tyms would have been able to make the play with a defender right on him, but the fact that Brady looked for Tyms on such a play so early in the game was noteworthy, and it foreshadowed good things to come from the two of them later in the afternoon.
…That opening drive for the Patriots ended with a 3rd-and-15 draw play to RB Shane Vereen that was bottled up almost instantly by the Bills front, which wasn't fooled by the play call.
…A nice read by LB Jerod Mayo, who shot the A-gap on a Boobie Dixon carry, slowed down the runner in the backfield and allowed the rest of the defense to catch up and eventually drop him for a 1-yard gain. Good contain technique by DE Rob Ninkovich on the next play gave CB Darrelle Revis the chance to come up and drop C.J. Spiller for a 1-yard loss on the defensive left side at midfield. Overall, a good job in rush defense by the Patriots in the first quarter.
…On New England's second series offensively, Brady had a great play-action fake that gave him lots of time to throw on 1st-and-10 from his own 38. He actually had WR Aaron Dobson deep, with a Bill or two in the vicinity, and the QB saw this, yet he elected not to take a chance like he did with Tyms on the previous possession. Instead, Brady checked down to TE Michael Hoomanawanui on the right sideline for a 15-yard gain.
…While the makeshift o-line did a solid job pass protecting, they didn't fare as well in run blocking against Buffalo's stout front 7.
…Long snapper Danny Aiken was flagged for a false start on K Stephen Gostkowski's 31-yard field goal attempt, and it was a fair call. Aiken flinched both arms before he snapped the ball. His next snap was low and behind holder Ryan Allen, who managed to get the ball down just in time for Gostkowski, but the late spotting of the ball probably contributed to the kicker pulling the ball wide left.
…LB Jamie Collins' interception of Orton was a great individual effort by Collins. He stayed put in his pre-snap position, but kept his eyes on Orton the whole time. Reading where Orton was going with the ball, Collins dropped into pass coverage and stepped in front of the pass. Textbook technique.
…Brady was nearly sacked a couple of plays later when LT Nate Solder was bull-rushed back into Brady by DE Manny Lawson. Brady was able to unload the ball for an incompletion just before being taken down.
…TE Tim Wright's 1-yard touchdown catch, set up by a blatant pass interference penalty by the Bills, was a classic play-action fake. Brady had RB Stevan Ridley and FB James Develin in an I-formation. TE Rob Gronkowski and Hooman were in three-point stances to the left of the jumbo package. Wright was in the same on the right. Brady's play-fake to Ridley froze the defense. No defenders followed Wright, who fired out of his stance to the back corner of the end zone. Brady easily floated a pass his way for the score.
…A nice form tackle by Dennard on Woods stopped the receiver short of a first down and forced a three-and-out punt by Buffalo on the next series. Form tackling and missed tackles have been a weakness of the Patriots in recent years, and in the Bills game, but this one was a classic example of how basic technique can make a significant difference.
…Brady was brought down for the first of two sacks against the Bills when New England took over the ball. He had a balanced formation with Ridley the lone back behind him, a receiver and tight end on each side of the o-line in what looked at the snap like a possible running formation. Brady in fact play-actioned out of it. No sooner did he turn to look downfield, though, than DE Jerry Hughes was in his face and burying him into the artificial turf. Hughes got there so fast because Solder hesitated at the snap, unsure of whether to assist with a double team on the inside. He may have thought he was going to get help from Hooman, but the tight end was otherwise occupied with a Bills rusher of his own. Solder's brief indecision allowed Hughes to take off at full speed and Solder was left flailing in vain trying to recover.
…Buffalo got on the board with a TD on their next possession, thanks in part to a long drive heavy on up-the-middle runs and a big pass to TE Scott Chandler, whom the Patriots have always had trouble covering. Chandler was lined up close to the line of scrimmage in a two-point stance and released at the snap at a 45-degree angle toward the sideline. No one covered him and Orton lobbed a soft pass to him. Picked up 28 yards down the left sideline.
…Orton was in the shotgun on 2nd-and-goal from the 7. Woods was in the slot right, manned up by Dennard. Woods ran to the goal line and feinted to the outside before turning back inside. Dennard had inside position, but had his back turned to the quarterback. Woods ran a precise route and Dennard was there, but just a step late in reacting. Woods split Dennard and safety Devin McCourty and Orton fit the ball right in that empty space.
…Gronkowski's 3rd-down catch that was ruled incomplete on the ensuing Patriots possession was a close call. Looked to me like he had the ball secured, made a couple of steps, then had it stripped by safety Duke Williams. Gronk recovered the ball for what would have been a first down. Official ruling was that he never had control in the first place. Really close call, but I would have ruled it a catch, fumble, and recovered fumble. Instead, Patriots had to punt.
…Didn't really matter, though, because the Patriots got the ball right back on the next play from scrimmage. Orton was in the gun. Chandler Jones, from a stand-up position, put a strong move on LT Cordy Glenn at the snap, rushing him head on and shoving him back with a one-arm shot to the upper body. This unbalanced Glenn, and Jones ripped underneath him, dove at Orton from behind, ripped the ball loose, and pounced right on it. Orton was otherwise under no pressure. Great individual display by Jones.
…DE Rob Ninkovich got the next Orton sack on the next series. He was actually stifled by two blockers at the snap, but they both released him after making initial contact. RB Fred Jackson was the hot receiver and peeled off to give Orton an option. RT Seantrel Henderson looked around for Orton and lost sight of Ninkovich. Orton began scrambling around in the backfield. Ninkovich saw this and was in perfect position to bring Orton down.
…McCourty forced a fumble on Buffalo's final possession of the half. He simply put his helmet right on the ball as he tried to wrap up Spiller on a carry up the right numbers. Didn't appear that McCourty was going for the strip, necessarily, just the tackle. But his helmet made contact with the football in Spiller's right hand and it popped right out. Rookie DL Zach Moore dove over a pile of bodies to make the recovery for New England.
…At the start of the second half, Brady went back to Tyms on that play that nearly struck gold in the first quarter. This time, the safety was still playing deep, but somehow wound up trailing Tyms and Gilmore down field. Cornerback Leodis McKelvin came over from the defensive left side to help out, but he appeared to slow down as he got close to the receiver, too. Nevertheless, Brady's pass was much more precise this time around. Tyms displayed tremendous concentration as Gilmore got an arm in his face and a hand on his right arm as the ball arrived. Tyms maintained possession the entire time as he stumbled across the goal line and was entangled with Gilmore as the two players fell to the ground.
…Chandler made another great catch on the next Bills drive. He was blanketed in coverage by safety Tavon Wilson, but Orton lobbed the ball over both their heads. Chandler, though, reached up with his left arm and brought the ball into his body. Play gained 22.
…Gilmore was the man responsible on the next Patriots possession for injuring Ridley's right knee. Gilmore came up to make a tackle on Ridley by throwing his body at Ridley's legs. He hit Ridley directly on the right knee as the back tried to bounce out of the way. Tough break, though it's still unclear just how bad the injury is. Looked quite serious, however.
…Rookie LB Deontae Skinner registered his first NFL sack when he was unblocked on the first play of Buffalo's ensuing possession. Skinner, from his inside linebacker position, initial tried to rush up the right of center, but then saw an unoccupied alley to the left. He hooked under a mess of bodies and shot through the opening directly at Orton, who didn't appear to see him coming until the last moment. Orton stood still looking downfield as Skinner wrapped up his midsection and threw him down.
…Ninkovich garnered a second Orton sack on the last play of the quarter. Coming this time from Jones' normal spot on the right side of the defensive line, Ninko had his hands on the ground and fired up from there. He engaged Glenn, who was kick-sliding back in pass protection mode. Ninko grabbed Glenn by the shoulder pads and tossed him aside. Rookie left guard Cyril Richardson was directly next to him in the backfield and doing battle with Moore. This shielded Ninko from Orton's view momentarily, so, the QB didn't see Ninko coming from his left side to make the easy takedown.
…Jordan Devey's holding penalty on Gronk's called-back touchdown looked like a legit call by the officials.
…On WR Brandon LaFell's first TD catch, in the red zone, it looked like a simple crossing pattern in a Buffalo zone. Williams turned his back to Brady to help double-cover Gronk, who was running a post pattern. This cleared out the left side of the zone into which LaFell was heading. Brady spotted this and hit LaFell with a short pass that the receiver then turned up-field and took straight to the end zone.
…Buffalo converted a 4th-and-2 in their own territory with a huge 35-yard pass on the next series. There was a trips right package, with Chandler in the middle. At the snap, he executed a perfectly timed and legal screen of Dennard, who was covering Woods. Chandler didn't make contact, but got in Dennard's way just enough to free Woods down the numbers. Orton just had to throw an accurate pass over Dennard's head, which he did.
…Two plays later, Orton hit WR Chris Hogan on a corner route to the right side of the end zone. Just an insufficient man-coverage job of defending by CB Kyle Arrington.
…New England's final score was from a trips right bunch package. LaFell was the outside man, covered by McKelvin, who didn't do a great job of jamming LaFell at the line of scrimmage. LaFell easily got separation from McKelvin and, after making the catch down the right sideline, gave McKelvin a stiff-arm to the facemask which turned his in-and-out pattern into a 56-yard catch-and-run score.
DO YOUR JOB - Rob Gronkowski – The big tight end always has good days when he returns to his hometown of Buffalo. Sunday was no exception. Gronk caught 7 passes for 94 yards, and would've added a touchdown and more yards to that total were it not for a holding penalty by the o-line. Gronkowski also took a number of big hits, yet was able to stay in the game and be a force in the passing game for the second straight week.