It is tough being a Patriots fan outside of New England and not a car ride away from Foxborough, but one young fan made the pilgrimage to Gillette Stadium in epic fashion. Carlos of Tustin, Calif., had the chance to train on the turf at the stadium, dine with some players and have a private tour of the facilities. 
Carlos, 16, was a winner of Gatorade's Sweat with the Best contest, which allowed contestants to train with and tour the facilities of an NFL team of their choice. For Carlos, the choice was easy.
"It's amazing, I don't even know," Carlos said. "It's great. The stadium is bigger in person obviously, but just being here puts a smile on my face."
Carlos, his mother and cousin started the day in the visiting team's locker room before heading to the field. There they were greeted by former Patriots Joe Andruzzi, Troy Brown and Sammy Morris, as well as Head Strength and Conditioning Coach Moses Cabrera and Assistant Strength and Conditioning Coach James Hardy.
He and his cousin Alfonso were put to the test during warm ups and drills.  
"Is it easy being a Patriot? That's just the warm up, man," Troy said with a smile during a water break.
He learned quickly it is not. 
"It was intense," Carlos said. "It was pretty crazy."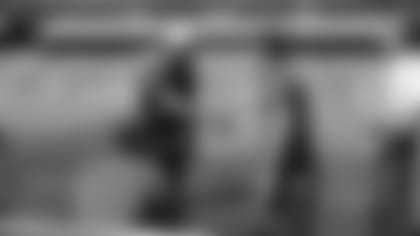 The drills were followed by a VIP tour of Gillette Stadium and lunch with Matthew Slater, Sebastian Vollmer and Nate Solder. Julian Edelman and Danny Amendola even stopped by to say hello.
Though California has four NFL teams, Carlos said he realized the Patriots were his team when he was around 9 years old.
"I was watching a game with my uncle, and they were all just moving as one unit, like a team, like they're supposed to," he said. "After a few games, they were on a winning streak. I said that's my team."
Even as a young fan, he has seen the team through some highs and lows, but his favorite Patriots moment was Tom Brady's flea flicker pass to Julian Edelman, who launched the ball downfield for a Danny Amendola touchdown during against the Ravens. 
Yessenia, Carlos's mom, said the day was one she and her son won't soon forget.
"It's been great. I am so thrilled to see him smiling and so excited," she said. "He couldn't sleep last night. It's been a great experience for him."
Check out the fully gallery from Carlos's Sweat with the Best experience below.
One fan from California got a once-in-a-life experience at Gillette Stadium through Gatorade's Sweat with the Best contest.