The National Football League recently launchedTOGETHER WE MAKE FOOTBALL - YOUR STORY, an invitation to anyone who has been touched by the game of football - whether as a player at any level or as a fan - to share a story of why they love the game. The campaign will unfold across multiple platforms throughout the NFL season, culminating with a nationally televised NFL Films documentary featuring the stories of five people who will be honored and celebrated in New York and New Jersey at Super Bowl XLVIII.
At the heart of the project is the newly launched microsite TogetherWeMakeFootball.com, a digital community where fans can share their story and see thousands of others. Those wishing to submit a story can upload a video of up to five minutes or an essay of no more than 1,000 words accompanied by up to five images. Once the submission is approved and appears on the microsite, the storyteller can share it across social networks. Stories submitted through Tuesday, November 5 will be entered into the contest that will ultimately select five winners.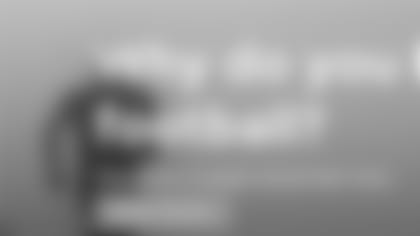 ](http://www.togetherwemakefootball.com/contest.html) Following the deadline for submissions, an NFL panel will select 10 finalists whose stories will be turned into short features by NFL Films that will be unveiled on Thanksgiving weekend and air during games throughout the month of December. Fans will be able to vote for the finalist story that they believe is the most engaging on TogetherWeMakeFootball.com through Monday, December 23. The five winning storytellers will be announced during the NFL Playoffs.
Football is America's favorite sport by a wide margin. There are more than three million kids who play youth football, more than one million high school football players, more than 600 college football teams with more than 67,000 players, as well as all their parents and siblings. There are 163 million college football fans and 185 million NFL fans, according to the 2012 ESPN Sports Poll. For more than four decades, according to The Harris Poll, the NFL has been the most popular sport in America and football (professional and college) is the favorite sport of nearly half of America's sports fans (45 percent). Together We Make Football - Your Story is seeking stories that show why the millions who play and watch at all levels love the game, from the backyard to the Super Bowl, from Friday Night Lights to Thanksgiving Turkey Bowls, and everything in between.
The campaign begins tonight with a nationally televised message premiering on NFL Network's Thursday Night Football featuring SAMANTHA GORDON, the 10-year old youth football viral video sensation. Last year, Samantha's father posted a highlight video of her starring in her youth football league. It went viral and was viewed by nearly five million people within three days of being posted, beginning a whirlwind journey that led to NFL COMMISSIONER ROGER GOODELL inviting the Gordon family to be his guests in New Orleans for Super Bowl XLVII. Samantha's experience became both the inspiration and the blueprint for TOGETHER WE MAKE FOOTBALL - YOUR STORY.
"Last year, something extraordinary happened with this amazing little girl," said NFL Films supervising producer KEITH COSSROW. "We want to find and celebrate the stories of everyone who loves football and is connected to the game in some way."
Featured Patriots Fan Stories:
Marybeth, a Patriots fan and breast cancer survivor shares her love of the team and appreciation for team/league support.
See her story >>
Paige, a Patriots fan, whose love for football is a prized inheritance from her recently deceased father.
See her story >>
Heidi, inspired by Tom Brady's ability to overcome doubters, a young animator blazes her own trail.
See her story >>
Tyrone, a Patriots fan deployed in Afghanistan talks about the joy and escape of playing while deployed.
See his story >>
No purchase necessary. Open to legal permanent residents of 50 U. S. & DC 13 . Void where prohibited. Subject to Official Rules available at togetherwemakefootball.com or by sending SASE for receipt by 1/28/14 to: Together We Make Football - Your Story Contest RULES, c/o NFL Properties LLC, 345 Park Avenue, New York, NY 10154. Sponsor: NFL Properties LLC.