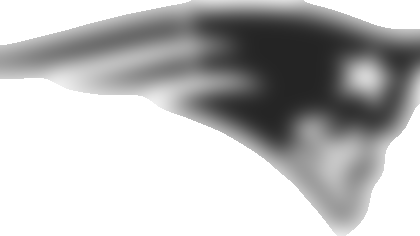 What workedAny concerns about Tom Brady's health were quelled when he threw for 4,398 yards and 28 Touchdowns. Favorite targets Randy Moss and Wes Welker continued to terrorize opposing defenses, with Moss grabbing 13 touchdowns and Welker pulling in 123 receptions in 14 games. Draft day trades that brought in right tackle Sebastian Vollmer and wide receiver Julian Edelman paid off as both rookies stepped into the starting lineup at times and performed well. For all the cracks in the NFL's Roman Empire (Brady's health, Moss, running back situation, defense), they still won ten games. That's impressive.
What needs work
Lack of depth at receiver and linebacker and an inconsistent running game. The Pats gambled on Joey Galloway in free agency and lost. Trading away Mike Vrabel and losing Tedy Bruschi to retirement in the offseason, only to call on the ageless Junior Seau, showed how thin the linebacking corps was. Trading Richard Seymour hurt in the short term, as the pass rush was virtually non-existent. Fred Taylor was brought in but injuries prevented him from providing the offense with a Corey Dillon-esque presence. Welker suffered a torn ACL in the final game of the regular season. He was missed in the wild-card loss to the Ravens and his absence will be felt even more if he's not ready to go for the start of 2010.
Locking up WilforkPro Bowl nose tackle Vince Wilfork has been franchised, presumably to buy the team more time to put together a long-term deal to his liking. Wilfork is definitely in line for a maulti-year pay riase. He plugs the middle by taking on two blockers, thus freeing up playmakers like linebacker Jerod Mayo. But franchising Wilfork without a long-term contract may ultimately prove counterproductive and reminiscent of cornerback Asante Samuel's final days in New England. If history repeats itself, the team's best defensive player could be donning a different uniform in 2011.
Lack of pass rush holding defense back
The Patriots are in need of a pass-rusher. Tully Banta-Cain got to the QB 10 times, but he's no DeMarcus Ware. While the Pats' offense has been racking up the stats the past few seasons, during the early part of the decade it was Bill Belichick's defenses that were the hallmark. In back-to-back losses to the Saints and Dolphins, lack of a pass rush doomed the team. The brain trust of Belichick, Nick Caserio and Floyd Reese need to address this through free agency and the draft. A potential sleeper could be LB Tyrone McKenzie, who missed his rookie year with an ACL tear.
Finding a ground game to compliment the pass
Moss' age and Welker's health are important, but those aren't the biggest issues on offense. Consider: the Pats have not had a 1,000-yard rusher since Dillon in 2004. The team has been making due with the running back committees for so long. Utilizing the ground game could take a lot of the pressure off the pass, which, with all of its screens, has become an extension of the porous running game. Do the Pats spend a draft choice on one of the many available running backs? Or do they give the keys to Laurence Maroney or Sammy Morris?
Unrestricted:DT Vince Wilfork, RB Kevin Faulk, TE Ben Watson, CB Leigh Bodden, DE Tully Banta-Cain (pictured), DE Derrick Burgess, DE Jarvis Green, P Chris Hanson, G Stephen Neal
Restricted: K Stephen Gostkowski, G Logan Mankins, LB Pierre Woods
If you've watched any playoff football the last six years or so, then you recognize a lot of these names. All of these guys have contributed to one of the better decades a team has put together in league history. Losing Banta-Cain would hurt. This team doesn't have a pass rush, and while he is not known to all of the fantasy geeks, his sack production would be tough to replace.
With the 22nd pick in the first round and three second-round picks, the Pats can address needs at linebacker. Bill Belichick and Co. are no strangers to draft-day trades and will stick to their guns in looking for players who fit their profile. In a deep draft, a pass rusher like Jerry Hughes in the first round and RB Dexter McCluster in the second could be good starts.
346
Workhorse Wideout
Wes Welker's total receptions over the past three years, 39 more than the next closest...Denver's Brandon Marshall. If Welker isn't ready in September, how do the Pats replace his production?
Home:Buffalo, Miami, N.Y. Jets, Baltimore, Cincinnati, Green Bay, Minnesota, Indianapolis
Away:Buffalo, Miami, N.Y. Jets, Cleveland, Pittsburgh, Chicago, Detroit, San Diego
He's always been a fighter. He's going to attack whatever he needs to do as hard as he can. That's why he's always been successful. You never bet against a guy like Wes, because his heart and commitment to what it takes is stronger than just about anybody else's."
- QB Tom Brady on Welker's recovery from major knee surgery