FOXBOROUGH, Mass. – It has certainly been an off-season full of celebrations for the New England Patriots and defensive end Chandler Jones took some time on Friday, April 10, to participate in a different type of celebration.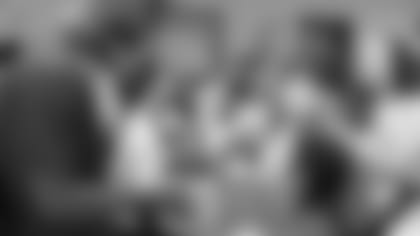 Jones made a special visit to Holliston High School to celebrate more than 80 athletes from Ashland, Holliston, Medfield, Medway and Millis who were participating in a Five Town School Day of Special Olympic games for the third consecutive year.
The athletes met at Stoddard Park on Norfolk Street in Holliston and they were escorted through the town to Holliston High School by the Holliston Police and Fire departments. Upon arriving at the school, the athletes made their way to the cafeteria where Jones led stretching and warm-up activities.
From there began the parade of athletes. All of the participants were led through the school by Jones, police and firefighters. The entire student body lined the school's hallways to applaud the athletes as they made their way to the field house for the opening ceremonies which featured the passing of the torch, national anthem and the Olympic oaths.
"It was an amazing event to be a part of," said Holliston High School Principal Nicole Bottomley. "To have our entire student body and faculty come together to support these athletes and to have these athletes shine in so many different events was amazing."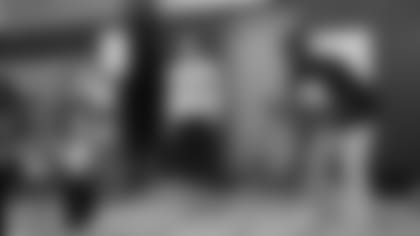 For the event, the athletes divided up into groups and rotated through eight different stations, including the 40-yard dash, long jump, an obstacle course and more. The participants, ranging in age from seven to 18, walked tall and stood proudly before their friends and family members in attendance. Jones was an active participant in the opening ceremonies and led athletes through the obstacle course station.
"I had a great time," said Jones. "For me to have the opportunity to put a smile on these kids' faces, it means a lot to me."
"Participation in the Special Olympics Five Town School Day Games brings immense joy to area athletes," said Meg Hoffman, director of community development for Special Olympics Massachusetts. "Practicing for months - these athletes get to experience a higher level of competition through these events and see all their hard work pay off. Just like their champions, the New England Patriots, Special Olympics athletes prove hard work, determination and overcoming life's obstacles are possible with the love and support from their teachers, families and volunteers like the New England Patriots Charitable Foundation."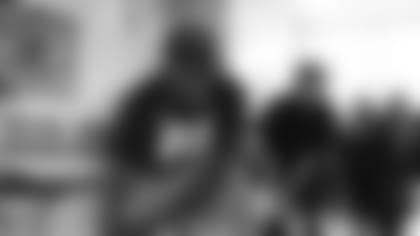 From providing words of encouragement to waiving the starting flag and running through the obstacles, Jones engaged with the athletes throughout the event and looked to be having just as much, if not more fun than the athletes.
"I feel like I actually have more fun than these guys," Jones said. "They bring a lot of energy. I enjoy working with them, taking pictures with them and if I could, I would stay and take pictures with them all day. It was a great time and I'm really happy that I had the opportunity to do it."
This was the first time that Holliston played host for this annual event and for Principal Bottomley it took a group effort to put it together.
"This event was a year in the making," said Principal Bottomley. "We had a great committee that was working together to organize the event and we could not have done it without the support of our faculty and students throughout the district as well as the five towns. We're just so pleased with how the event went, how it came together and the fact that the athletes had the opportunity to showcase their talent."